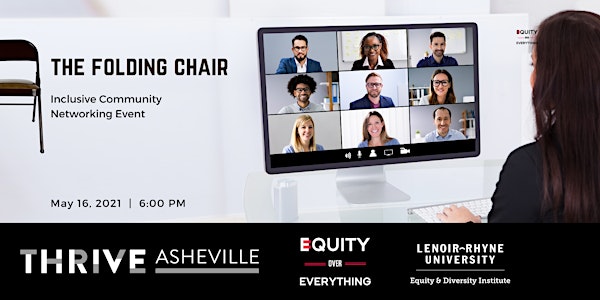 Equity Over Everything: May 2021 Folding Chair Session
Join us , LREDI, and THRIVE Asheville as we network and discuss issues concerning our communities.
About this event
The more varied the perspective, wider is the scope.
The wider the scope, the greater the impact.
The greater the impact, the stronger the community.
May's Virtual Folding Chair, hosted by Aisha Adams and the Lenoir-Rhyne Equity and Diversity Institute (LREDI), will center one of the largest issues facing our community: affordable housing.
The panel discussion and networking event will unveil findings from Thrive Asheville's "Finding Home: Recommendations for Affordable, Healthy, and Connected Places for Families," a community engagement project to clarify the path to affordable housing and homeownership in the Asheville area. This work has been made possible by a collaboration between Thrive Asheville, Children First/Communities in Schools of Buncombe County and Aisha Adams Media.
You will leave this event with tools and information that will empower you to become a more effective affordable housing and equity advocate in our community.
"If they don't give you a seat at the table, bring a folding chair." -Shirley Chisholm