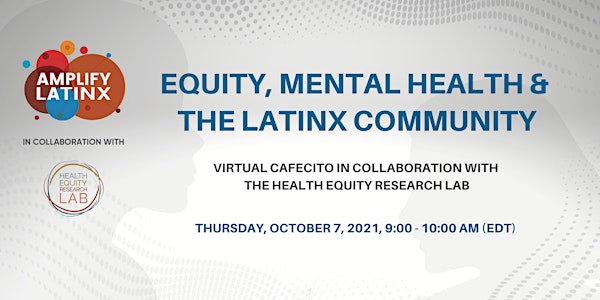 Equity, Mental Health & The Latinx Community - Virtual Cafecito
Join Amplify Latinx & HERLab for a virtual cafecito to explore how discrimination has affected persons of color pre- & during the pandemic.
About this event
Cafecitos Description: An examination into health disparities among racial, ethnic, and linguistic populations (REL) and sexual and gender minorities in the areas of mental illness and substance abuse pre-pandemic, and how COVID-19 has exacerbated existing inequities.
What Audience Can Expect: To learn how discrimination has affected persons of color pre- and during the pandemic, with particular emphasis on the Latinx population.
The Health Equity Research Lab is an interdisciplinary group of researchers, clinicians, and community partners conducting research to improve physical and mental health in diverse communities. We are part of Cambridge Health Alliance, a safety net health care system in the Boston metro-north area, whose mission is to improve the health of local communities with a longstanding commitment to vulnerable and diverse populations. Striving to achieve health equity, the Lab:
Develops and evaluates high-impact interventions to reduce health disparities.
Identifies the mechanisms and factors of resiliency underlying health in the face of social and economic adversity.
Fosters collaboration among researchers, clinicians, and community members.
Trains junior investigators (post-docs and junior faculty) to produce actionable research.
These activities are grounded and guided by engagement from patients, their family members, and patient advocates.
Moderator & Panelists:
Moderator: Dr. Dharma Cortes at the Health Equity Research Lab.
Panelist(1): Dr. Daniel Jimenez at the University of Miami.
Panelist(2): Dr. Michael Flores at the Health Equity Research Lab.
Panelist(3): Dr. Benjamin Cook at the Health Equity Research Lab.

About Amplify Latinx
Amplify Latinx is a trusted, culturally responsive, and bilingual organization that is driving systemic change through a relentless focus on promoting equity for the Commonwealth of Massachusetts' diverse Latinx communities. We convene, connect, educate, and strengthen an inclusive and high-impact leadership network of professionals, entrepreneurs, change-makers, disrupters, and advocates. Working collectively with members of our coalition, Amplify Latinx is working to increase Latino representation in decision-making roles across multiple sectors, foster racial equity, advance economic mobility, and impact other priority issues challenging the Latinx community.
In just 4 years, Amplify Latinx has achieved significant accomplishments, which include: growing our network to include 6,000 Latinx leaders, 250 cross-sector partners, and over 170 Latinx businesses; featuring 235 Latinx businesses in our PowerUp Directory to elevate visibility and opportunity; and advancing 300+ Latino leaders onto government and nonprofit boards, commissions, elected office and executive leadership.
Waiver & Release:
I understand that photos/recordings may be taken during this event. By registering, I consent to Amplify Latinx's reuse of any images/recordings captured during this event for publicity/advertising purposes.