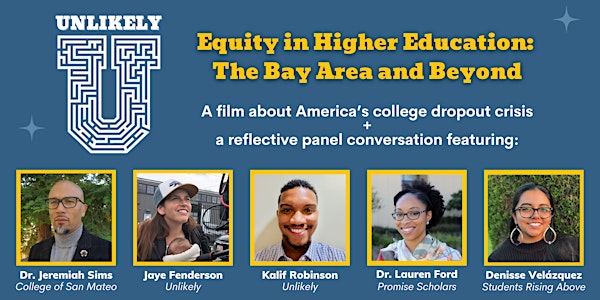 Equity in Higher Education: The Bay Area and Beyond
Equity in Higher Education: The Bay Area and Beyond
About this event
Set in the cities of Akron, Atlanta, Boston and Los Angeles, five individuals failed by the higher education system fight for a second chance at opportunity.
An award-winning feature documentary from Three Frame Media filmmakers Jaye & Adam Fenderson, Unlikely investigates America's college dropout crisis and the barriers students face in their pursuit of an education and meaningful career.
The documentary will be available to stream from May 14-21. The panel discussion will be on May 19 at 4 pm.
All proceeds will benefit the Jobs for Youth Al Teglia Scholarship fund. Every year, the Jobs for Youth Al Teglia Scholarship program provides 20 youth from San Mateo Couty with $1,500 each. The Jobs for Youth Scholars are incredible--they have dreams of changing the world through engineering, psychology, medicine, and more. They strive to make their lives, and the lives of those around them, better. Join us as we help these youth Rise with Courage.
The full cost of your tickets goes directly into the Jobs for Youth Al Teglia Scholarship Fund. Your generous contribution is tax deductible. Our tax ID is 94-6000532.
Moderator Dr. Jeremiah Sims: Dr. Jeremiah J. Sims, inaugural Director of Equity for the College of San Mateo, was born in Oakland and raised in Richmond, California. Because of his own life experiences, Jeremiah has devoted his career to the realization of educational equity for hypermarginalized students. Jeremiah is an alumnus of the University of California, Berkeley where he earned a B.A. in rhetoric, with honors, as well as an M.A. and Ph.D. in education.
Panelist Jaye Fenderson: Jaye Fenderson is an award-winning director and producer with credits spanning feature-length documentaries, commercial & branded content, and acclaimed shows for ABC, NBC, FX, Lifetime, and MTV. A former admissions officer at Columbia University and passionate advocate for college access and success, Jaye has presented internationally at conferences, universities, and on Capitol Hill.
Panelist Kalif Robinson: After sharing his story as one of the students in Unlikely, Kalif Robinson successfully completed a Bachelor of Arts degree in Economics, with a minor in Arabic, at Georgia State University. He then completed a Master of Science in Foreign Service degree from Georgetown University before joining the U.S. Department of State as a United States Diplomat. He has work experience ranging from public diplomacy initiatives in South Africa to cultural competency and diversity initiatives in collegiate and professional settings. Kalif has a passion for education activism and youth development.
Panelist Dr. Lauren Ford: Dr. Lauren Ford currently serves as the Director of Strategic Initiatives and Planning in the San Mateo County Community College District. Throughout her 10+ years in higher education, Dr. Ford has held positions in both public and private universities in California and Texas and has focused on supporting multi-college completion program implementation, development of college access programs and PK-14 partnerships, and supporting students with post-college employment.
Panelist Denisse Velázquez: Denisse Velázquez currently works as the Career Development Program Lead for Students Rising Above (SRA), a 501c3 that lies at the intersection of racial equity, education, and workforce development. In her role, she works closely with graduating college seniors to ensure they have the personalized support they need to confidently and successfully transition into the workforce after graduation. Originally from the South Bay, Denisse graduated from Smith College in Massachusetts with a Bachelor of Arts degree in Latin American Studies and History.
Have questions about the Equity in Higher Education: The Bay Area and Beyond event? Check out our FAQ page.
Celebrate the Jobs for Youth Scholars