A Community of Practice for Human Capital and Diversity, Equity & Inclusion within Government Service
About this event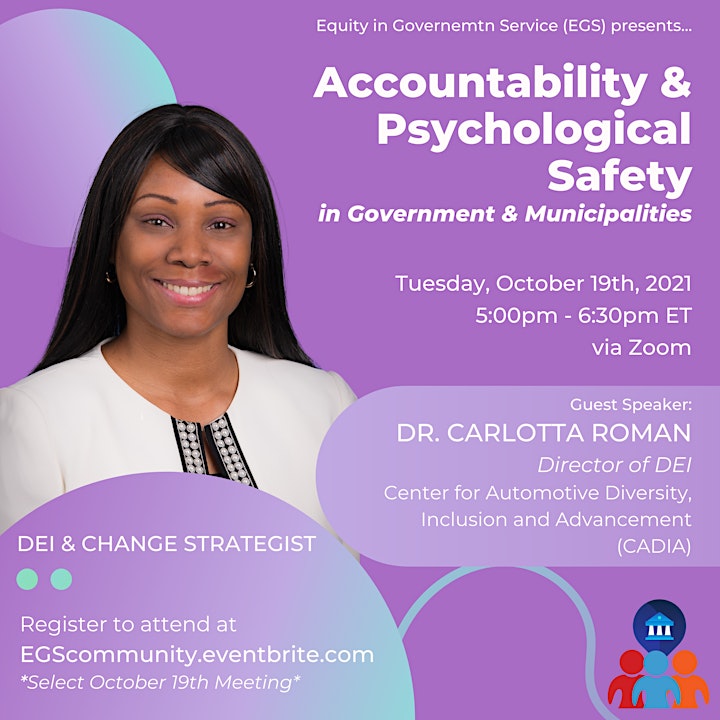 Upcoming Meeting Topic: October 19th, 2021
Accountability & Psychological Safety
Guest Speaker:
Dr. Carlotta Roman is a Speaker, Business Psychologist, and the Director of Diversity, Equity, and Inclusion at the Center for Automotive Diversity, Inclusion and Advancement (CADIA). Dr. Roman has served as a board member on the Lake County, IL Workforce Development Board since 2013, co-chairs the Workforce Equity Taskforce, and is a member of the Illinois Workforce Innovation Board's Equity Taskforce. Dr. Roman has a Ph.D. in Business Psychology focused on Consulting from The Chicago School of Professional Psychology. Her dissertation research focused on understanding the lived experiences of chief diversity officers' perceptions of their authority, power, and influence within higher education. She also holds two Master's degrees in Human Resource Management and Public Service Management.
As a Diversity Strategist and certified Prosci Change Management Practitioner, her professional practice focuses on implementing strategic plans with measurements, frameworks, and processes to support systemic organizational change. Dr. Roman has a diverse background in consulting and coaching business leaders and HR management on change management, diversity, organizational development, and learning and development initiatives in corporate, manufacturing, higher education, non-profit, for-profit, and government organizations.
What is Equity in Government Service (EGS)?
Equity in Government Service (EGS) is an established Community of Practice that focus on the disciplines of Human Capital and Diversity, Equity & Inclusion within Government Services. This is a space for persons who have a passion for social equity and diversity; to serve as an incubator for folks to share, engage and challenge each other in a generative manner; and to be the sounding board and venting room for folks who have to sacrificially navigate spaces to bring about equitable change.
Who can join EGS?
This community was established for persons who have a responsibility and or interest in the disciplines of Human Capital and Diversity, Equity & Inclusion within Government Service.
What does EGS offer?
This community will engage in:
Networking Events
Best Practice Sharing
Speakers & Presentations
Open Discussion
Mentorship, Support & Guidance
Career & Professional Development Tools
and so much more!