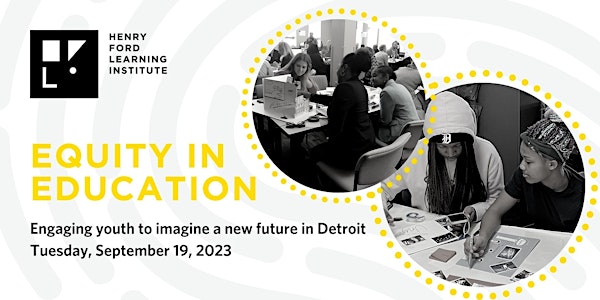 Equity in Education: Engaging youth to imagine a new future in Detroit
Use Design Thinking tools and methods, hear from students, and collaborate with others to imagine new futures for education in Detroit.
By Henry Ford Learning Institute
Date and time
Tuesday, September 19 · 3:30 - 7:30pm EDT
Location
Grand Valley State University Detroit Center 163 Madison Street Detroit, MI 48226
About this event
What does equity mean, particularly in education? We first invited Detroit to consider this question during the 2018 Month of Design. In the time since that event, the challenges in education have been beyond imagination, and as students live with the indelible impacts, they want their voices heard. Join us for an inclusive, hands-on workshop to re-consider the complicated question of equity in education. Using Design Thinking tools and methods, you'll hear from students, and collaborate with others to imagine new social, economic and political futures for education and contribute to a positive and productive discussion around our city's need for equitable opportunities. Whether you are a middle or high school student, parent, designer, educator, entrepreneur, nonprofit leader, neighbor/resident, government official or employer, your experience and voice matters.
By registering for this event, you agree to the following media release:
I hereby grant to Henry Ford Learning Institute and its partners permission to use images of me and/or my work product to promote Henry Ford Learning Institute, its partners, and affiliates. I hereby grant the right to use, display, reproduce, sell, distribute, edit, and modify the videos in such manner and in such media as it, in its sole discretion, deems appropriate, throughout the world, in perpetuity.
About the organizer
Henry Ford Learning Institute believes that every person deserves the opportunity to build the skills needed to understand and solve problems. Founded by Ford Motor Company and The Henry Ford in 2003, HFLI is deeply rooted in creating schools and transforming the education system. Today, we advance equity by providing hands-on programs for educators, young people, and nonprofit leaders to catalyze creative thinking, build confidence with practice, and support people to take action for real impact. Our design and delivery approach – Deeper Learning by Doing® - is a common thread that runs through all HFLI programs and incorporates culturally responsive principles + design thinking + high-level instructional practices.