Panel discussion & attendee break out groups, to understand the landscape of equitable access to active transportation in Waterloo Region.
About this event
Background:
Active transportation means any method of travelling to a destination that uses primarily human power, such as walking, cycling, or rolling. This includes trips made using, or propelled, by your body, a mobility device, a bicycle or tricycle (with or without assistance from an electric battery), a skateboard, or a scooter.
In 2015, nearly half (49%) of our community's GHG emissions came from how we move people and goods. Furthermore, short distance trips of less than five kilometres make up nearly 50% of all travel by residents within the region that could generally be achieved using active forms of transportation.
Not all individuals and communities have the resources to transition to low or no emission transportation, such as active transportation. Programs to address diverse barriers must be implemented so that all residents can travel easily and safely to their destinations. These programs must be designed in partnership with equity-deserving groups, and consider interconnected barriers such as safety, funding, education, and community design.
Equity in Active Transportation | Discussion & Review
The goal of this event is to facilitate discussion and create a comprehensive list of projects occurring in Waterloo region which support equitable access to active transportation.
Agenda: Moderated panel discussion with 4 panelists, followed by break out rooms to extend the conversations from the panel.
Panelists:
Joe Mancini, Director at The Working Centre
Arcy Canumay, Bicycle Mayor of Waterloo and TravelWise Manager
Samantha Leger, PhD Candidate and Urban Planner at CIMA+
Kornel Mucsi, Transportation Planning Manager at The Region of Waterloo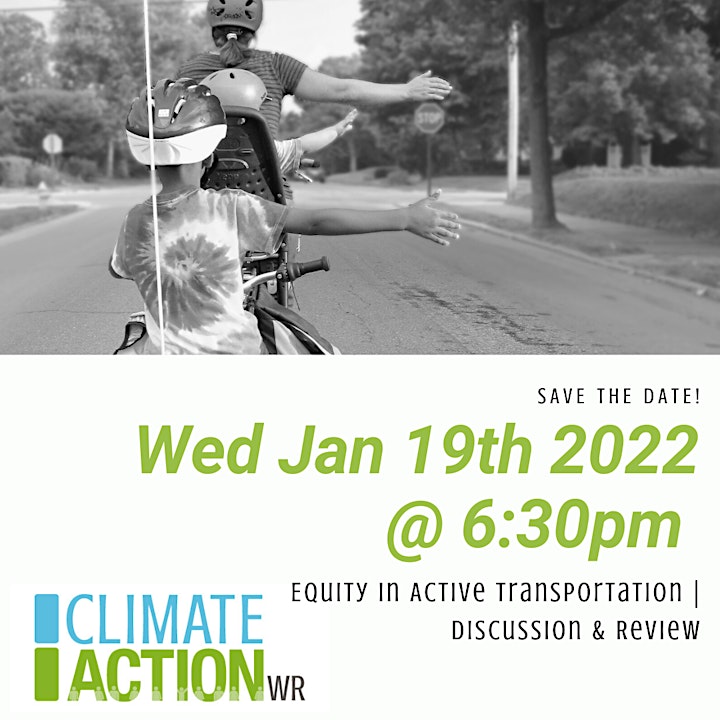 This event is being hosted by ClimateActionWR's Transportation Sector Committee.
About ClimateActionWR:
ClimateActionWR is a collaboration between local organizations, community members, and municipalities in Waterloo region, focused on climate change mitigation, led by Sustainable Waterloo Region and Reep Green Solutions. It coordinates the activities of our community's climate action plans with a current greenhouse gas (GHG) emission reduction target of 80% GHG reduction by 2050.