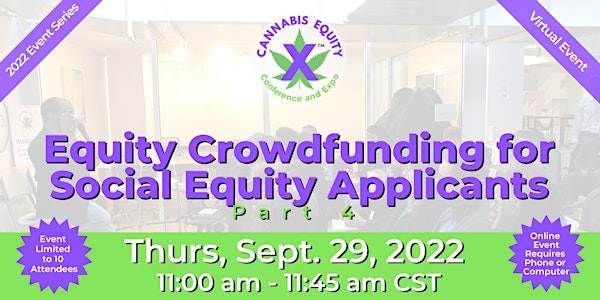 Equity Crowdfunding For Social Equity Applicants - Part 4
Join CannabisEquityX Conference and Expo in our 2022 Virtual Event Series: Equity Crowdfunding for Social Equity Applicants. RSVP Now!
About this event
ILLINOIS CANNABIS LICENSING UPDATE: August 26, 2022
IDFPR has began issuing Conditional Licenses to eligible applicants by BLS Region. For the latest information please visit IDFPR's website here: https://idfpr.illinois.gov
FINANCING IS CRITICAL
The number one barrier to entry for Social Equity Applicants (SEAs) into the $1.5 Billion Dollar Illinois Cannabis market is CAPITAL. This event will educate SEAs about Equity Crowdfunding as a viable option for financing a Cannabis Business Enterprise.
LEARN ABOUT EQUITY CROWDFUNDING
Unique to our state is an Illinois Crowdfunding Exemption. There is also a securities exemption available for Illinois Worker Cooperatives. There's even a federal Regulation Crowdfunding (RegCF) exemption.
AGENDA (Subject To Change)
11:00 AM - 11:05 AM - Early Admission Intros & Networking | Technical Support
11:05 AM - 11:10 AM - Late Admission Intros & Networking | Download Agenda and Summary PDF
11:15 AM - 11:20 AM - Organizer Introduction, Welcome and Illinois Cannabis Industry Update
11:20 AM - 11:25 AM - Using My Own Domain to Drive Traffic to My Crowdfunding Campaign
11:25 AM - 11: 35 AM - Presentation by Main Speaker or Panel: To Be Announced
11:35 AM - 11:45 AM - Q&A Session / Event Wrap Up
11:45 PM - END OF EVENT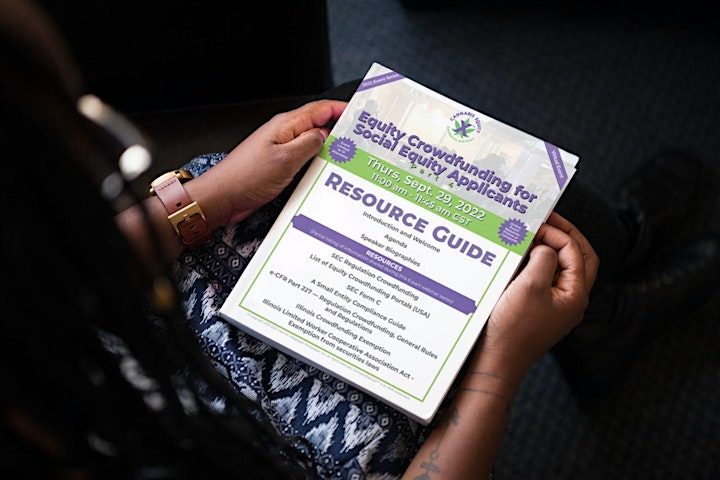 RESOURCE GUIDE - PDF Download
Each attendee will receive a companion Resource Guide containing the following partial listing of content:
Introduction and Welcome
Agenda
Speaker Biographies
SEC Regulation Crowdfunding
List of Equity Crowdfunding Portals (USA)
SEC Form C
A Small Entity Compliance Guide
e-CFR Part 227 — Regulation Crowdfunding, General Rules and Regulations
Illinois Crowdfunding Exemption
Illinois Limited Worker Cooperative Association Act - Exemption from securities laws
And More
Dante Hamilton - Moderator
Dante Hamilton is founder of Internet Webpages Newspaper, Inc. IWN is an Illinois certified DBE, MBE, BEP and Section 3 (HUD/CHA) business established in 1998.Dante is also founder of the Cannabis Equity Meetup Group, with over 400+ members.
CannabisEquityX™ Conference and Expo was launched in 2019 and conducted a series of informational panel discussions, workshops and events aimed at educating Women, Black and Brown people about how to get into the cannabis business.
ZOOM VIDEO REPLAY - July 14, 2022
VIDEO: 54:13 (just under 55 Minutes long)
Dante Hamilton, moderator of Part 2 of Equity Crowdfunding for Social Equity Applicants, discusses how to get started with this option for raising funds for a business.