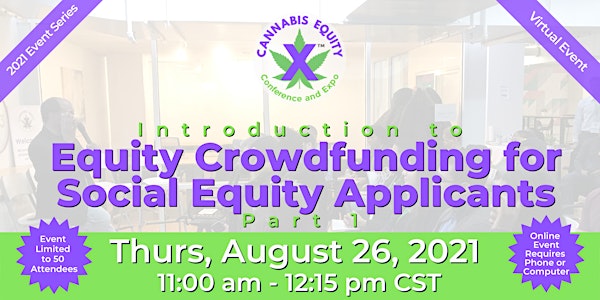 Equity Crowdfunding For Social Equity Applicants - Part 1
Sales Have Ended
Registrations are closed
Attendees will be notified via email prior to the event how to access the online website and view the presentation.
Sales Have Ended
Registrations are closed
Attendees will be notified via email prior to the event how to access the online website and view the presentation.
Join CannabisEquityX Conference and Expo in our 2021 Virtual Event Series launch: Introduction to Equity Crowdfunding for SEAs. RSVP Now!
About this event
ILLINOIS CANNABIS LICENSING UPDATE
The Illinois Department of Professional and Financial Regulation (IDFPR) has conducted two lotteries. The first was a QUALIFIED APPLICANT LOTTERY on July 29, 2021. The second was a SOCIAL EQUITY JUSTIC INVOLVED LOTTERY on August 5, 2021. The third and final TIED APPLICANT LOTTERY will be held on August 19, 2021.
Due to the ongoing lotteries, the date for this event has been changed until after the final lottery has taken place.
FINANCING IS CRITICAL
The number barrier to entry for Social Equity Applicants (SEAs) into the $1Billion Dollar Illinois Cannabis market is CAPITAL. This event will educate SEAs about Equity Crowdfunding as a viable option for financing a Cannabis Business Enterprise.
LEARN ABOUT EQUITY CROWDFUNDING
Unique to our state is an Illinois Crowdfunding Exemption. There is also a securities exemption available for Illinois Worker Cooperatives. There's even a federal Regulation Crowdfunding (RegCF) exemption.
AGENDA (Subject To Change)
11:00 AM - 11:10 AM - Early Admission and Technical Support
11:10 AM - 11:15 AM - Late Admission / Download Agenda and Summary PDF
11:15 AM - 11:20 AM - Organizer Introduction and Welcome
11:20 AM - 11:30 AM - Equity Crowdfunding and Cannabis Industry
11:30 AM - 12: 00 PM - Presentation by Main Speaker: Guy Zajonc (see bio below)
12:00 PM - 12:15 PM - Q&A Session / Event Wrap Up
12:15 PM - END OF EVENT
Featured Presenter: GUY ZAJONC
Guy Zajonc will be our featured presenter for Equity Crowdfunding for Social Equity Applicants - Part 1 on August 26, 2021. Guy Zajonc will start his presentation at about 11:30am. It will be a conversational format as Guy will speak from his recent experience in setting up a RegCF crowdfunding campaign currently active on an equity crowdfunding portal.
Dante Hamilton, lead organizer of CannabisEquityX™ Conference and Expo and founder of the Cannabis Equity Meetup Group will moderate this event and open up the session at 11:00am.
About Guy Zajonc - Featured Presenter
Guy Zajonc holds a B.S. degree from Southern Illinois University, 1974, in Administrative Sciences and a Juris Doctorate from Gonzaga University School of Law, 1977. He was a 33-year member of the Washington State Bar Association (retired 2010). As a business lawyer, Zajonc has counseled numerous start-up, early-stage and public companies. Since February 1995, Guy has participated in sonar expeditions and submersible dives to the deepest shipwrecks ever discovered and visited by human beings. These dives were documented for National Geographic (1999) TV, magazine and others. Guy has made submersible dives on the Titanic in 2000 (12,500 feet/3,800 meters), the 1810 Atlantic Wreck in 2001 (16,000 feet/4880 meters) and the wreck of the WWII Japanese submarine I-52 in 1998 (17,200 feet/5,250 meters).
August of 2003, through 2006, General Counsel - Odyssey Marine Exploration, Inc. Odyssey Marine discovered the wreck of the SS Republic and recovered over 51,000 gold and silver coins worth an estimated $70 million. Odyssey Marine Exploration, Inc. now trades on NASDAQ under the trading symbol of OMEX.
In 2007 Guy formed his own documentary film and TV production company, Deep Sea Ventures, Inc in April of 2006. In September 2006, submersible dives off the Olympic Coast of Washington resulted in a high-definition, 3D film, Dive – Manned Submersibles and the New Explorers.
As the founder of Five By Five Media, Inc., a full service television and feature film production company, Guy served as CEO from 2008 until 2014. He oversaw all aspects of taking the company from an idea on paper to over $100M in topline revenue.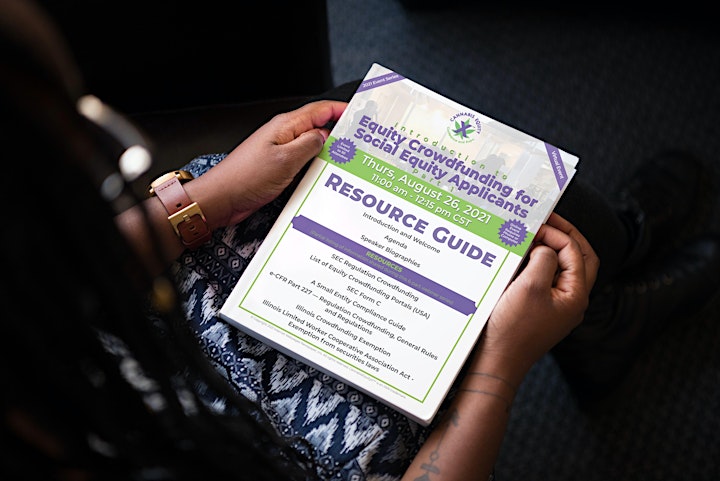 RESOURCE GUIDE - PDF Download
Each attendee will receive a companion Resource Guide containing the following partial listing of content:
Introduction and Welcome
Agenda
Speaker Biographies
SEC Regulation Crowdfunding
List of Equity Crowdfunding Portals (USA)
SEC Form C
A Small Entity Compliance Guide
e-CFR Part 227 — Regulation Crowdfunding, General Rules and Regulations
Illinois Crowdfunding Exemption
Illinois Limited Worker Cooperative Association Act - Exemption from securities laws
And More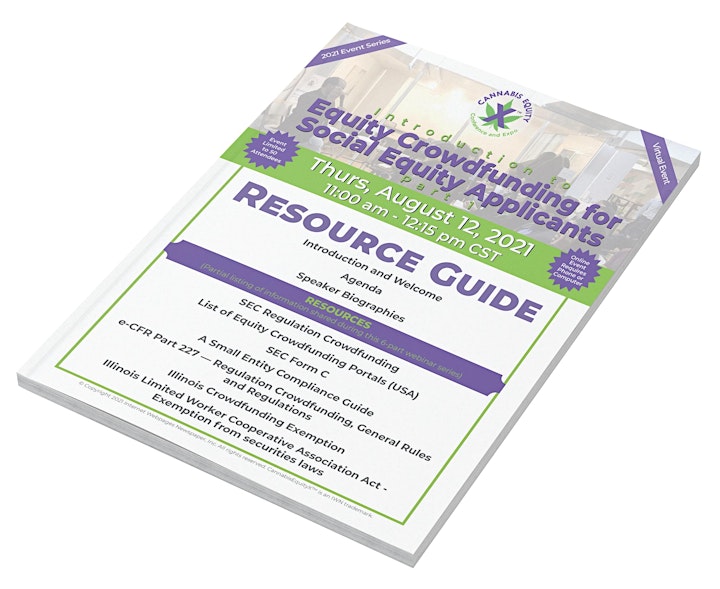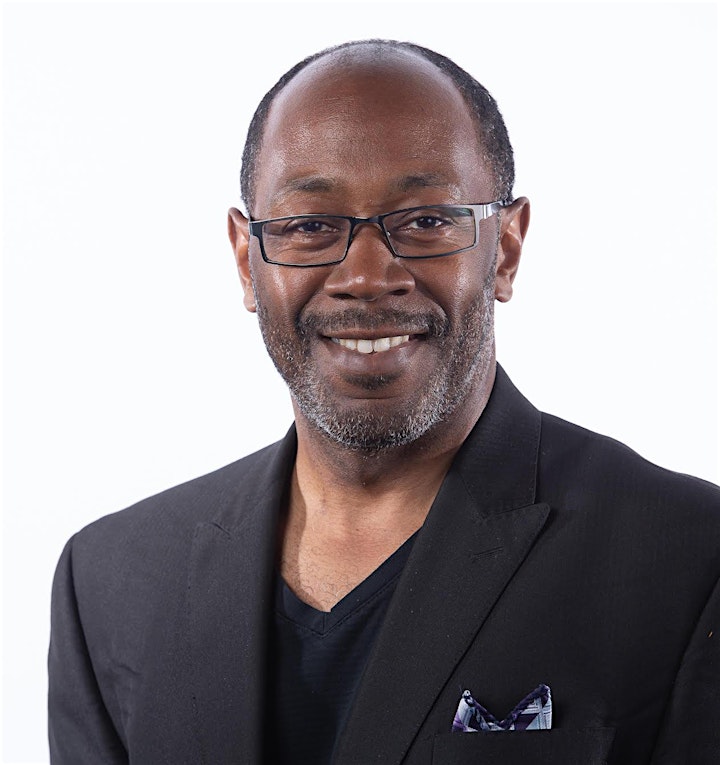 Dante Hamilton - Moderator
Dante Hamilton is founder of Internet Webpages Newspaper, Inc. IWN is an Illinois certified DBE, MBE, BEP and Section 3 (HUD/CHA) business established in 1998. Dante is also founder of the Cannabis Equity Meetup Group, with over 400+ members.
CannabisEquityX™ Conference and Expo was launched in 2019 and conducted a series of informational panel discussions, workshops and events aimed at education Women, Black and Brown people about how to get into the cannabis business.