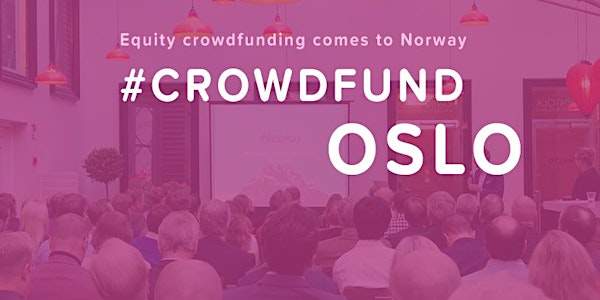 Equity Crowdfunding Breakfast
When and where
Location
Fintech Mundi, Havnelageret Langkaia 1 Oslo Norway
Description
Looking for financing to boost your company's growth? Looking to engage your network in your company's growth story?

Invesdor, Fintech Mundi, BDO and Bakken&Bæck welcome you to join a breakfast at Havnelageret to learn more about equity crowdfunding!

The event is targeted to startup and growth company enterpreneurs, investors and board members and everyone that helps companies on their growth journey (accelerators, incubators, consultants, accountants etc.)

The program currently looks as follows:

Agenda:
8.00 Breakfast
8:30 Introduction & welcome

Susanne Hannestad, CEO of Fintech Mundi
8:35 Funding landscape in Norway
Anne Worsøe, Portfolio Manager Bakken &

Bæck

, Founder Nordic House
8:50 Introduction to equity crowdfunding
Lasse Mäkelä, CEO and co-founder of

Invesdor
9:05 First online equity crowdfunding in Norway
Axel

Sjøstedt

, CEO and co-founder of Cloud Insurance
9:15 Upcoming equity crowdfunding campaign
Marius T. Kristiansen, CEO and founder of Bad Norwegian
9:25 Panel discussion
Axel

Sjøsted (Cloud Insurance)

, Anne Worsøe (Bakken & Bæck), Lasse Mäkelä (Invesdor), Anna Taran

Tjølsen (BDO)

Susanne Hannestad moderator

Q&A from the audience
Ending at 10:00

Hope to see you at the 24th of May. Welcome!
Speaker Profiles:
Anne Worsøe
Anne works as a Portfolio Manager at Bakken & Bæck, a world-class team who turn big ideas into great products and companies. She has experience as a co-founder, angel investor, member of Board of Directors for startups, VCs and communities, focusing on early stage ventures, business development and internationalization. She is passionate about empowering female co-founders and helping companies scale their impact.
Susanne Hannestad
Susanne is an experienced international executive in the industries of Financial Service, Management & IT Consultancy, Insurance and Payments. She has held several EVP and SVP positions at Nordea, she was the board member at MasterCard Europe Advisory Board and the Executive Chairman of Zwipe. Susanne is CEO of Fintech Mundi, specializing in scaling fintech companies for the global markets, and she is chair of several boards.
Lasse Mäkelä
CEO and co-founder of Invesdor Ltd, has more than 16 years of experience in finance, banking and building businesses. Beginning his career as an investment banker at Merrill Lynch in London, Lasse was involved in various capital raising initiatives, stock exchange listings and company mergers and acquisitions. From Merrill Lynch, Lasse moved on to become a partner in Icecapital Securities in Helsinki specialising in capital raising and acquisition projects. After eight years in investment banking, Lasse moved to KONE Corporation, where he was responsible for company acquisitions and alliances. Lasse has also been on Consti Group and Corbel Holding's management groups, with responsibilities in acquisitions, finance and business development.
Axel Sjøstedt
CEO and co-founder of Cloud Insurance, Axel holds an MsC degree from NHH Norwegian School of Economics and UC Berkeley, with a major in strategy and leadership. He is in his final semester pursuing a BsC degree in Informatics at University of Oslo. In addition to taking part in several IT ventures, he has worked three years in the Norwegian Armed Forces as the National Conscript Trustee. Axel learned to operate a computer the same year he learned walking, and has a great interest in the role of technology in society.
Marius T. Kristiansen
CEO and co-founder of Bad Norwegian, Marius is an army veteran and with a management consultancy background. He came up with the idea of a skin-care brand dedicated to men whilst on safari in South Africa then once back in Norway teamed up with Castilnano Simoons, a like-minded established designer and visionary who shared his vision. Together they conceived BAD NORWEGIAN, the male skincare and lifestyle brand that endeavors to combine the values often associated with Norway- integrity, honesty, and quality- with a rogue, confident undertone.
Anne Taran Tjølsen, Lawyer/Senior Manager at BDO
Anne Taran works with company tax and company legislation. She has many years of experience within tax areas connected to the SMB marked, primarily with all kinds of reorganizations, mergers/demergers, equity transactions etc. In the period of 2002-2014 she was a member of appeals for petroleum tax. Anne Taran is an experienced lecturer, and is a co-author of the book «Utbytte».