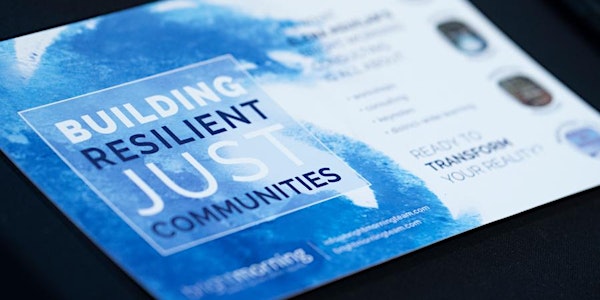 Equity by Design | Brooklyn, NY
Join us at our newest workshop, Equity by Design, for two days of highly interactive and transformational learning.
When and where
Location
Brooklyn Historical Society 128 Pierrepont Street Brooklyn, NY 11201
Refund Policy
Contact the organizer to request a refund.
About this event
Grow your capacity to ensure every child's needs are met, every day.
What to Expect:
Together, teacher leaders and administrators explore how current systems of oppression affect our students and how to strategically, and compassionately, interrupt those through relationship-building, policy-making, and intentional practice. This very practical workshop allows participants to engage in interactive experiences to build knowledge and skill around key ways of being, beliefs and behaviors to develop an inclusive and thriving school.
Workshop Outcomes:
Ground in the identities and beliefs informing your work
Understand how your leadership is conducive to creating equitable spaces
Examine how the systems, structures and policies in your local context may hinder equity efforts
Learn new strategies and approaches to compassionately interrupt and stop inequitable practices
Refine the leadership required of you to create and maintain equitable learning spaces
Activities Include:
Exploration of identities and origins of beliefs
Interrogation of existing policies and systems
Growing strategies for building relationships with students
Refining approaches to classroom visits and hiring practices
Deepening understanding of leadership
Observing a transformational, equity-centered coaching conversation
The Details:
Duration: 2 days
Who Should Attend: Teacher leaders, coaches, administrators and anyone else who has coaching or supervision conversations
Prerequisites: None
Trying to Decide Between Equity by Design and Coaching for Equity? Here are a few key differences:
The foundation for both Coaching for Equity and Equity by Design are very similar in that learning begins with self-reflection and exploration of our own identities and systems of oppression. However, the learning experiences and each workshop is different.
Coaching for Equity is centered around the coaching conversation and building participant capacity for coaching others.
Equity by Design spends more time looking at the practices (classroom, leadership) and policies (classroom, school-wide) and supports teacher leaders and administrators to interrupt those policies and practices that are not serving all students. It does also touch on the coaching conversation, given this is a key method, but that is much less of a focus.
What Participants are Saying:
"I am deeply grateful for the care and expertise Jessie provided us. I learned a great deal and have very useful provocations to improve my practice and the teaching and learning of the teachers and administrators I work with. I'm eager to share and use my learning at my school to make a real positive difference for the students we serve. Thank you!" - Sima, dean, Oakland
"I was dubious about broader (district level) engagement with the content, but the engaging format and comfort of the presenter seemed to pull leaders into dialogues. Most importantly, I was thrilled to find the work deep and rooted in personal beliefs and commitments, role play, and genuine cultivation of practice instead of a dry overview of learning, pitch for product, etc." - Adrienne, coach, Charlottesville
"I discovered that I owned not only the language but also the confidence to "call a thing a thing." Jessie made it SO clear that we always have to remember that we are advocates of children who are often voiceless." - Lonie, coach, New York City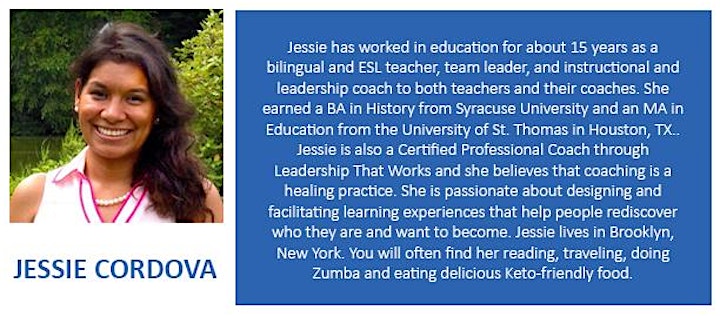 Ticket Types:
Individuals:
Individual: $925
Individual Early Bird: $825 - register 2+ months in advance of the workshop start date to take advantage of this special offer!
Groups of 6 or more paying together:
Group: $825/person
Group Early Bird: $725/person - register 2+ months in advance of the workshop start date to take advantage of this special offer!
Work Trade: $450
Our work trade program allows those interested in attending but unable to afford the full ticket price the opportunity to attend at a reduced rate in exchange for providing on the ground logistical support over the course of the workshop. There are a very small number of these tickets available at each of our events.
Frequently Asked Questions
Do you have suggestions for lodging? Due to the wide range of personal preferences for lodging accommodations, we do not provide recommendations.
Is food included? Lunch is provided and there will be vegetarian options for those who have indicated a vegetarian diet. We are very sorry but specific food allergies or sensitivities can't be accommodated at this time. Please bring your own lunch if you believe your dietary needs may not be met. There will also be coffee, tea, and morning snacks.
Is there pre-work? There is a small amount of pre-work that will take 1-2 hours to complete. This will be sent to you three weeks prior to the workshop.
What should I bring? A pen, a notebook (optional) and your pre-work.
What is the attire? Dress comfortably and in layers so you can adjust if room temperature changes. We want to respect that some people are sensitive to strong scents or have environmental allergies, so please refrain from wearing products with strong scents.
Am I able to transfer my registration? Yes, you may transfer your workshop registration up to one week prior to the workshop start date. There is a $50 processing fee for all transfers. Within one week of the workshop registrations are non-refundable and non-transferable as we are unable to adjust catering, materials and space requirements at that point.
What happens if I can't attend?
Refunds requested more than 30 days before the workshop start date will be honored minus a $150 cancellation fee.
Within 30 days, and up to 1 week in advance of the workshop start date, a one-time registration transfer can be made to an alternate participant or another workshop. There is a $50 processing fee for all transfers.
Within one week of the workshop registrations are non-refundable and non-transferable as we are unable to adjust catering, materials and space requirements at that point.
A missed workshop is non-refundable and non-transferrable.
I have questions that are not answered here. Who should I reach out to? We're happy to help! Email info@brightmorningteam.com
Please note: Participants at our workshops are strongly encouraged to go low- or no-tech. We encourage participants to write by hand and ask that cell phones are tucked away except during breaks and lunch. We strive to create a focused and safe learning space and ask participants to be fully present.