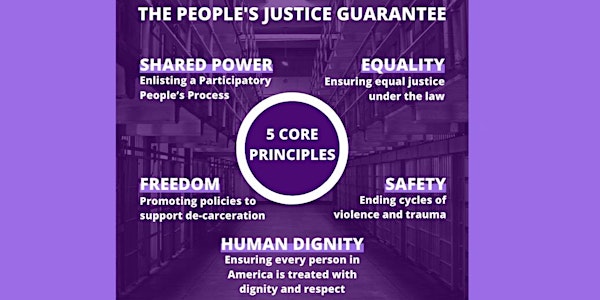 Equity Agenda: The People's Justice Guarantee Resolution
When and where
Location
Available Upon RSVP*
Description
In November, Congresswoman Pressley introduced comprehensive, people-centered, decarceration-focused legislation, H. Res. 702, The People's Justice Guarantee. Congresswoman Pressley's resolution lays out a bold, new vision for justice in the American criminal legal system. The resolution aims to outline a framework that will transform the U.S. criminal legal system to one that meets America's foundational yet unfilled promise of justice for all. The People's Justice Guarantee lays out the framework needed to create a fair, equitable, and just criminal legal system and emphasizes the need for a participatory "peoples process" as a critical aspect of effective policy-making. Ultimately, the resolution calls to substantially reduce the number of people incarcerated and transform the purpose and experience of the criminal legal system.
With that in mind, we want to invite you to join friends and neighbors on Sunday, December 15th for our next Equity Agenda Event focused on The People's Justice Guarantee and the impact of mass incarceration on families.
Our Equity Agenda Event Series is an interactive narrative sharing, group learning, and policy building workshop. We aim to bring together community members to answer the question: In a world with no barriers, what does Equity in the Massachusetts 7th Congressional District look and feel like? And to work in partnership with community members to build people-centered policy that gets us closer to realizing that vision.
We welcome guests of all abilities. Contact Luz at Luz.Villar@mail.house.gov to discuss the accessibility and adaptations necessary to fully participate in this event. The event venue is wheelchair accessible and Spanish language interpretation will be provided.
Questions? Please email Luz at Luz.Villar@mail.house.gov