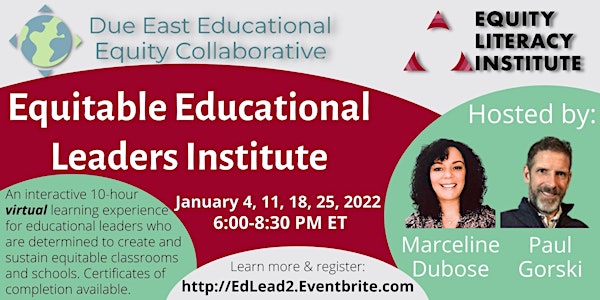 Equitable Educational Leaders Institute
An intensive 10-hr experience for educational leaders determined to eliminate racism and sustain antiracist schools and districts.
Refund Policy
Refunds up to 30 days before event
Eventbrite's fee is nonrefundable.
About this event
The Equity Literacy Institute and Due East Educational Equity Collaborative are teaming up to offer this 10-hour intensive learning opportunity for school and district leaders.
Do you want to do more to cultivate equity in your school or district, but aren't sure where to begin? We'll discuss that. Have you organized book groups and other learning opportunities, but know you ought to be doing more? We will explore how to move from learning to doing. Are you struggling to cope with resistance from families, staff, or perhaps even other leaders in your school or district? We'll discuss it. Are you ready to move forward, but feel you need more practice with equity leadership skills and actions? We'll work on that.
This intensive institute will include interactive opportunities to work through real-life scenarios, practice leading through various forms of resistance, and apply transformative equity knowledge related to sustained organizational change. We will focus on an array of equity and justice concerns including racism, sexism, genderism, heterosexism, ableism, classism and economic injustice, xenophobia, transphobia, and more.
Marceline DuBose (founder of Due East) and Paul Gorski (founder of the Equity Literacy Institute) have each been working with schools, educators, and school leaders for more than 20 years, each helping to faciitate this kind of equity and justice change. We'll give you tools and strategies and a push or two toward a transformative approach to equity leadership.
This institute is designed for leaders in the broad sense: principals, assistant principals, superintendents, department heads, DEI specialists and directors, and anybody else leading antiracism efforts in a school or district.
We will meet Tuesdays in January 2022. That's Jan. 4, 11, 18, and 25, 6-8:30 PM east coast time (with a break built in).
Participants will receive a 10-hour certificate of completion.
The morning of each session we wll provide a link to access that evening's sessions.
All sessions will be recorded. A link to the recording of each session will be to registrants the day after it is recorded. So, if you have to miss all or part of any session, you will still be able to see it. Note that recordings will be available for only one week, then taken down.
Series Facilitators
Paul Gorski is the founder of the Equity Literacy Institute and EdChange. He has more than 20 years of experience helping educators, nonprofit workers, and others strengthen their equity efforts. He has worked with educators in 48 states and a dozen countries. Paul has published more than 70 articles and has written, co-written, or co-edited twelve books on various aspects of educational equity including Reaching and Teaching Students in Poverty: Strategies for Erasing the Opportunity Gap and Case Studies on Diversity and Social Justice Education (with Seema Pothini). He is a a new father, published poet, a black belt in Tae Kwon Do, and the biggest fan of Buster, his cat.
Marceline DuBose has 20 years of experience in public education as a high school social studies educator, state and federal level policy administrator, professional development leader, strategic planning consultant, and curriculum writer. Her primary focus is equity leadership development and strategic planning, working with districts to improve systems for creating equitable schools and classrooms. Marceline also provides professional development to thousands of school professionals. Also a certified yoga instructor, Marceline intentionally incorporates historical and policy perspectives, systems change theory, adult learning theory, critical reflection, and key approaches from yoga philosophy as she works toward individual, organizational and societal change that supports the full potential of all learners.
What We Will Cover
1. A transformative vision for equity and justice in education that shifts the focus from responding to individual "incidents" to underlying institutional inequity.
2. How to pace equity and justice efforts in a school or district based on the basic principles of equity literacy.
3. How to manage resistance to equity efforts, including antiracist efforts.
4. How to engage staff, including other leaders, in conversations about equity and justice.
5. How to create systems of accountability and set clear equity expectations in your school or district.
Rather than simply discussing these things philospohically, we will practice them.