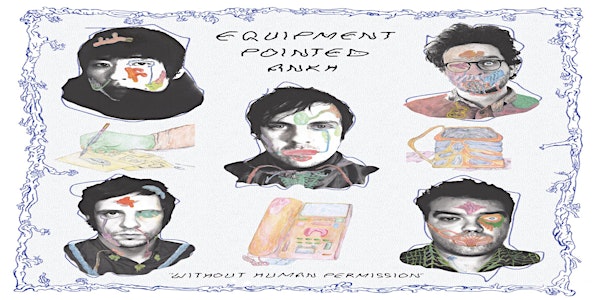 Equipment Pointed Ankh / Rob Frye's Exoplanet / Blue Lick
Event Information
Performers
Equipment Point Ankh
Rob Frye's Exoplanet, Blue Lick
Location
The Empty Bottle
1035 North Western Avenue
Chicago, IL 60622
Doors: 730PM / Show: 830PM
About this event
$10-$12 //21+
EQUIPMENT POINTED ANKH
Equipment Pointed Ankh is from Louisville Kentucky. Their latest album "Without Human Permission" was released in 2021 by Astral Editions, a sub label of jazz imprint Astral Spirits. Currently, EPA operates as the quintet of Jim Marlowe (Tropical Trash), Chris Bush (Flanger Magazine, Caboladies), Ryan Davis (State Champion, Cropped Out, Roadhouse), Shutaro Noguchi (Feeding Tube artist) and Dan Davis (Tropical Trash, Giving Up).
Of their latest album, the label says "Without Human Permission is a game changer. It is what I envision whenever I see the "New Weird America" phrase (and no it doesn't sound like that). Synths, woodwinds, drum machines, pianos, bongos and more vying for space in these uncharacteristically sparse tracks and patient tracks. Largely eschewing the "wall of sound"… melodies abound… and just spirals out into so many weird and wonderful ways - think ZNR meeting Pram and Gastr Del Sol. One of the more exhilarating & exciting sides of a record I've heard in ages, unadulterated sounds created by five brilliant Midwestern weirdos, using the studio itself as an instrument and somehow pieced together brilliantly by Seth Manchester."
Writer Byron Coley described the group as a "Louisville avant juggernaut" that "jam weird instrumental sweets somewhere between Zappa's "Lumpy Gravy" era & "Red Crayola."
Of the record, Foxy Digitalis said "I've been listening to this almost every day since it turned up and, simultaneously, I feel it in my bones and can't get my head around it at all. That's usually the best kind of art and Without Human Permission certainly fits the bill. Chalk up another Louisville weirdo classic."
Currently EPA is performing the new record, along with tracks recorded in 2021 at Chicago's Electrical Audio Studios for a forthcoming release.
ROB FRYE'S EXOPLANET
Rob Frye's Exoplanet has an atmosphere filled with drums, synthesizers, and improvisers. In the goldilocks zone of electronic and biotic components, convergent sonic evolution reveals hidden realms of knowledge back home on our own mysterious planet.
BLUE LICK
Blue Lick is poet/musician Havadine Stone and multi-instrumentalist Ben Billington. They've been performing live together since 2017 but recorded their debut record 'Hold On, Hold Fast' in late 2020 which was released by Chicago's American Dreams Records in September 2021. The project's current sound combines Stone's vocals and writing with Billington's roving modular synth soundscapes and percussion that oscillate between the caustic and the atmospheric, resulting in something singularly Midwestern - plainspoken but disorienting. There's a connection between Billington and Stone submerged in the realm that precedes creation - things like intention and ethos. Though there is a surrealism in both instrumental and vocal realms, the album circumvents the soft allure of dreaminess, firmly footed in reality, but distorting it through a lens.
Empty Bottle will require all staff, patrons, and performers to provide proof of full vaccination (two weeks after final dose). A negative test will NOT be accepted. Patrons will be asked to show their valid vaccination card (photocopy or digital photo is permissible) when they arrive at the door for entry. Additionally, masks will be worn by staff at all times and will be required of all attendees when not eating and drinking. We are applying these requirements to all future shows and will update the policy as needed or as new guidance requires.
This is a very difficult time for everyone to navigate and we understand that you may be frustrated. We are as well. Please bear with us as we try to keep our staff, artists, patrons, and the City of Chicago safe -- as best we can. Remember that we are all going through this together as a community, and we can beat this if we work together as a community.
RESOURCES
vaccines.gov
info@emptybottle.com
Performers
Equipment Point Ankh
Rob Frye's Exoplanet, Blue Lick
Date and time
Location
The Empty Bottle
1035 North Western Avenue
Chicago, IL 60622
Refund policy