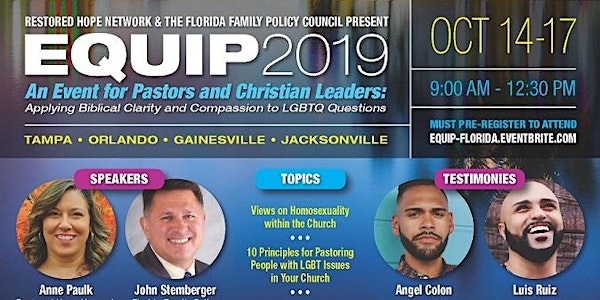 EQUIP | Florida - Oct. 14-17, 2019
Date and time
Monday, October 14, 2019 · 9am - 12:30pm EDT
Location
Various - see event details for info
Description
WALK-IN REGISTRATIONS ACCEPTED AT ALL LOCATIONS!
Pastors and ministry leaders, join Restored Hope Network and Florida Family Policy Council the week of October 14th-17th at one of the locations below for this essential half-day equipping event. There is no cost to participate (a freewill offering will be received), but you must register to attend.

Dates and Cities:
Mon. Oct 14 - Tampa
South Tampa Fellowship Church - 5101 Bayshore Blvd, Tampa, FL 33611


Tue. Oct 15 - Orlando
Metro Life Church - 910 S. Winter Park Dr, Casselberry, FL 32707


Wed. Oct 16 - Gainesville
Abundant Grace Community Church - 12505 NW 39 Ave, Gainesville, FL 32606


Thu. Oct 17 - Jacksonville
* Evangel Temple Assembly of God: The Lodge - 5764 Ramona Blvd, Jacksonville, FL 32205
Jacksonville EQUIP will start at 8:30am and end at 12 noon
The same event will be hosted at four Florida locations (see above for city and church details).

Topics include:
Views on Homosexuality within the Church

10 Principles for Pastoring People with LGBT Issues in Your Church

Equipping Leaders: Practical tips for addressing LGBTQ topics in the Church

Question & Answer time
Speakers:
Anne Paulk, Executive Director of Restored Hope Network

John Stemberger, Florida Family Policy Council

Testimonies will include two survivors of the Pulse Nightclub shooting: Angel Colon and Luiz Ruiz!
Event Summary:
Undoubtedly, you're aware that LGBTQ rights and ideology have been widely accepted, even celebrated, in our culture and is gaining momentum in the church as well. How do we as Christians love well, in a way that's biblically redemptive?
As a pastor or christian leader have you been equipped to effectively minister to men, women and youth experiencing unwanted LGBTQ feelings and identity struggles?
How are you teaching and equipping your congregation and those in your spheres of ministry influence to live with both love and Biblical truth toward those who are LGBTQ identified - in their family, workplace or neighborhoods?
Are you aware of all the ways that LGBTQ ideology is creeping into the evangelical church and shifting the gospel message of many churches?
About the organizer
Restored Hope Network is an interdenominational coalition of Christian ministries serving those who desire to overcome relational and sexual issues in their lives and those impacted by such behavior, particularly homosexuality.  We work alongside the body of Christ, the Church, and to connect those seeking help with local member ministries and other resources that are available, as well as support, equip and connect the local member ministries.