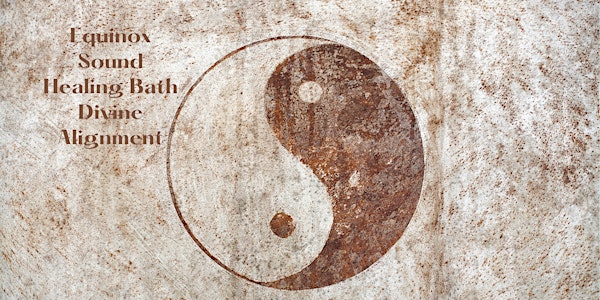 Equinox Sound Healing Bath - Divine Alignment
Sacred Sound, Light Language & Vibration Opening us to Align with Divine Intent & Empowering us to be our Highest Expression of Love.
Refund Policy
Contact the organizer to request a refund.
Eventbrite's fee is nonrefundable.
About this event
During this time of Equal Light and Dark; when the Sun rises due East and sets due West, a dimensional doorway is open to the Higher Realms; Join me for this sound healing journey. Together we open to the healing transformational energies that will be coming in for our personal and collective evolution. At this Autumnal Equinox we begin reaping our final harvests, we also let go of that which no longer serves and we set our intentions.
As we release, we allow the healing energies and sounds to bring us back in to divine alignment and balance. Balance of the light and the dark within; the feminine and masculine within and spirit and the physical. Together we align with Divine intent and blast our co-creative intentions through the equinox portal and open to our new reality.
In this intuitive sound healing journey, Autumn Austin of Sacred Beingness & Journey There Wands will play gongs, crystal and Tibetan singing bowls, tuning pipes, tingshas, rattles, drums and use her own voice for toning and Light Language to take you from a beta brain wave state (alert mind) to theta and delta states (deep meditation). Our guides, the Councils of Light and our celestial helpers will send healing, transformative love and light through the sounds and vibrations; empowering you to be your highest expression of Love in the world.
As you lie or sit, Autumn intuitively works with what each group needs, making each sound healing a unique experience. Come prepared with your intention for the session.
For the best possible sound please use stereo headphones. Although any speakers will work. Have a comfy place created for you to sit or lay uninterupted for 1.5 hours. Bring a candle, crystal or sacred item.