Equine Vision Journey to Your Next Chapter - Evergreen, CO Sept 15-16

Friday, September 15, 2017 at 9:00 AM

-

Saturday, September 16, 2017 at 4:30 PM (MDT)
Event Details
This life-changing retreat will help you discover your very essence and help you step confidently into the life you're supposed to live!  Held in the beautiful foothills near Evergreen, the Syzygy herd will lead the way.  Over the course of these two days, you will experience the power and wisdom of horse, as these sentient giants guide you into your next chapter in life.

Through reflective storytelling and deep personal exploration, you will tap into your inner joy and passions, opening inspiration to new possibilities.  You will connect to your strengths, values and all that delivers meaning to your life to define the essence of you, and take time to envision a future aligned to your very core.

In nature, and with the Syzygy herd, you'll slow down, engage your intuition and deeply listen to your inner voice, finding trust in the messages that are there. You'll reconnect to the very spirit of who are, and dance confidently onto the path you're supposed to live.

Isn't it time to gift yourself a regrounding – space to heal – space to dream – space to launch your next chapter!

Our time will be filled with self exploration, shamanic journey, creating and walking a medicine wheel, and one-on-one round pen sessions, all with the support and participation of the horses.  No prior horse experience is required to participate in Equine Guided Education.  All exercises are done on the ground and there is no mounted work.
"My mind and soul were liberated and I was able to open up to new possibilities in the future."
"This experience will be a touch point of strength for my life.  Through this exploration I have identified a solid set of healing forces that I can come back to when I need them – such as the smells of pine, sage and horses – centering my mind with yoga – and remembering all of the good I have achieved in my career and life."
"This weekend certainly shook me to the core.  I still feel the courage the horses gave to me burning in my soul.  I am like a fearless warrior right now."

"I was stunned by this experience.  It brought out more in me than dozens of other coaching sessions I have had.  The difference in this program is that you emphasize participants listen to their hearts.  This may seem superficial at first blush but it makes all the difference in getting to the core of the person and understanding what journey they are truly meant to undertake." more testimonials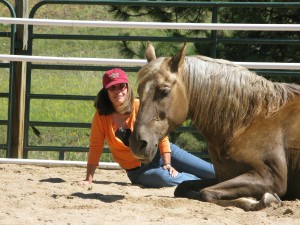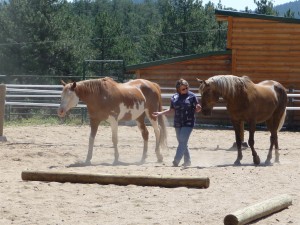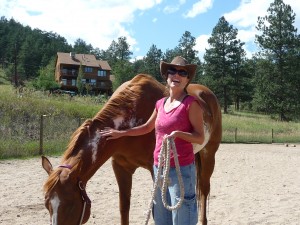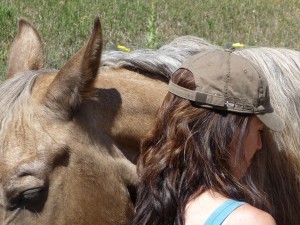 Your Facilitators:
Kami Guildner: Passions, purpose and the vision to align them. It is with these fundamentals that Kami Guildner founded Syzygy™ Coaching. Her experience of growing up in the Colorado mountains, streams and the wide open plains on the back of a horse painted views of possibilities and potential. Her deep understanding that nature, horses and the spirit of the spirit of the outdoors brings clarity, provides space to dream, and opens our eyes to views of worlds unseen before us, is grounded in Syzygy. She knew she had a gift for finding purpose and the grit to get there. She wanted to share this gift. And with this, Syzygy was born.
As an entrepreneur, Kami helps people uncover their passions and discover their purpose to guide them to an inspired future. Her unique consulting and coaching agency, Syzygy, is grounded in the experience of stories, nature, passions and the power of positive. These experiences bring lasting change and open the new door for new visions.

Sarah Bohnenkamp: For more 14 years, Sarah J. Bohnenkamp has been a champion for learning, process improvement, and leadership development. Her un-bridled passion for learning has made her an often sought-after facilitator, collaborator, and generation X & Y coach. She's directed Training and Development initiatives for large financial institutions in the West and was the Executive Director for a historic, Denver-based women's membership organization where she was responsible for building dynamic industry leaders and executing powerful advocacy programs.

Sarah offers coaching and consulting services for young rock star leaders and teams who are ready to step into new personal and professional leadership adventures. Part of her personal mission is to help a new generation of leaders do epic stuff!
When & Where

Syzygy Coaching Ranch
2998 S. Kittredge Park Road
Evergreen, CO 80439


Friday, September 15, 2017 at 9:00 AM

-

Saturday, September 16, 2017 at 4:30 PM (MDT)
Add to my calendar
Organizer

Kami Guildner is a life and leadership empowerment coach helping women around the world "Live Out Loud" into a passionate and meaningful life. Her boutique coaching agency, Syzygy™, guides her clients to connect to their inner gifts, discover new meaning and new paths, and step into intentional action fueled with vitality and courage. In addition, Kami founded Extraordinary Women Connect™ – a series of intimate events for wildly successful women connecting in meaning, purpose and shared support. For more information visit Kami's Website at www.syzygy-co.com or contact her at kami@syzygy-co.com.