Description
The Board's Role in Driving Innovation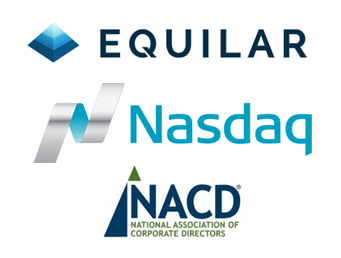 Equilar, Nasdaq and NACD are excited to host a one-day educational program for public company board members, general counsel and corporate secretaries.
In order to remain competitive in today's ever-changing, global business landscape, boards must keep their fingers on the pulse of innovation and strategy. Meanwhile, the rise of activist settlements and the continued emphasis on board refreshment and succession planning are reshaping the way boardrooms operate.
The goal of the Board Leadership Forum is to empower participants to build higher performing boards through strengthened evaluations and recruitment, as well as improved engagement with their shareholders.

February 2, 2017
Nasdaq Entrepreneurial Center
505 Howard Street, San Francisco, CA
---
AGENDA
---
8:00 – 8:45 AM
Breakfast and Registration

---
---
9:00 – 9:50 AM
Boards that Lead: What Do Investors Want to See from Directors?

---
Framing the Conversation: Innovation and Strategy as Part of a Board's DNA
---
---
10:55 – 11:45 AM
Activism, Innovation and Shareholder Value: Key Considerations for Boards

---
---
Board Evaluations and Succession Planning: Keeping the Board Cutting-Edge

---
Table Talk: Peer Insights on Director Recruitment

---
---
Acquiring Innovation: The Board's Role in Deal-making

---
Director Pay: Balancing Ownership with Objectivity

---
Maximizing Shareholder Support: The Keys to Effective Engagement

---
---
Cocktail Networking Reception