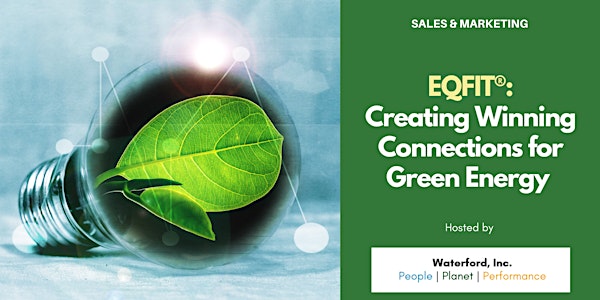 EQFIT®: Creating Winning Connections for Green Energy
EQFIT®: Creating Winning Connections for Green Energy Workshop will be held from Sept 22-24 (Online)
About this event
Creating Winning Connections for Green Energy
Join Beth Offenbacker at this EQFIT® Creating Winning Connections for Green Energy Workshop
Hosted by Waterford, Inc.
"A must have for aligning self-perception with customer perception to enhance your business success."-- Tim Biddle, Principal, CFI Advisory Services (ESG planning)
"I signed up for the EQFIT Road Map workshop to hone my sales skills. It had many great reminders as well as some new ways to look at consultative selling. I realized that I had fallen prey to complacency and wasn't really "active" in my sales approach. I think it's vital for anyone in business to continue their education and attend workshops like these to knock them out of a rut. The breakout sessions were beneficial, and I appreciated the thought of utilizing these in a virtual environment. Several "ah-ha" moments from these discussions will lead to my growth in sales. I will refer back to the workbook and the EQFIT report as I now know where I need to spend my time. Beth's insights and the other attendees will stay with me as I continue the work. I would highly recommend this workshop to anyone in business – not just salespeople." -- S. Crow
At the heart of sales success is the ability to connect with people in a meaningful way for desired outcomes.
This is an important time to advance your sales skills in the clean energy field, with significant growth in the call for wind, solar, distributed energy resources (DER), and ESG products and services, and many other sectors within the sustainability field. These opportunities are open to Green Professionals whose positions include sales duties -- and the small, medium, and large organizations they are a part of -- who are looking to advance clean energy goals in support of the Paris Accords and a greener, more sustainable future.
If you are a Green Professional, where are you experiencing sales success as part of the continually emerging green market? Where are you "leaving money on the table"? Where are your efforts falling short, on a periodic or ongoing basis?
This workshop focuses on developing and honing the key skills necessary for your sales success in the Green Industry.
Reports such as the July 2021 MarketWatch report indicate that globally, the "Green Technology and Sustainability Market will grow by US$ 29 Billion by 2024," with a compounded annual growth rate of 27% estimated for this period. The time is now to move into this market or expand your efforts to serve the growing market need for green industry products and services.
Participation in this workshop includes a personalized EQFIT® Sales Profile. This assessment provides a significant advantage in developing your sales skills, creating a true competitive advantage. Powered by the highly validated SEI assessment (Six Seconds), this real-time assessment measures the dynamic factors that drive success in sales.
The goals of the Creating Winning Connections for Green Energy workshop are
1. Understand Emotional Intelligence and how it relates to the buyer-seller dynamic
2. Describe the 8 EQFIT® Success Factors and recognize their impact on the sales process
3. Practice flexible applications of the 8 EQFIT® Success Factors with different types of buyers
4. Relate the buyer-seller dynamic, the 8 EQFIT® Success Factors, and different types of buyers with current and emerging Green Industry trends
Registration Includes
▪ A 20+ page EQFIT®Workbook with exercises, tools, and resources that expand your skills and knowledge for sales success
▪ Session recordings (all three days)
▪ Your personalized EQFIT®Sales Assessment, which measures what matters to grow sales – providing real-time data and a framework for growth toward peak sales performance
▪ One 90-minute review session with Beth Offenbacker, PhD, ACC about your EQFIT® Sales Assessment. Based on your customized report, she will identify/discuss with you specific strategies for improving your sales performance.
The instructor is Beth Offenbacker, PhD, ACC. Beth is the founder and CEO of Waterford, Inc., and she has worked with 500+ individuals over the course of her career on skill development in support of professional success, through classes, workshops, coaching and mentoring. She specializes in working with professionals and organizations in sustainability roles, including in renewables, clean tech, the natural and built environment.
This workshop is for you if you are seeking to
Clarify or refine your Sales Skills for Green Energy
Establish actionable steps that will move you forward on your sales goals
Identify your Sales Style and learn how to adapt it based on prospective client needs
Understand the Sales Success factors and how to apply them across varying types of client discussions
Practice applying the insights from the workshop with different types of buyers
Expand your knowledge of current and emerging market trends in Green Energy
Receive specific, customized insights about your current sales skills
Grow and expand your network of green professionals