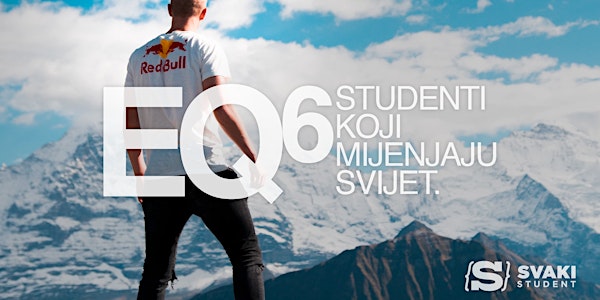 EQ6: Studenti koji mijenjaju svijet
Date and time
Saturday, October 27, 2018 · 10:30am - 4:30pm CEST
Location
Hotel Bristol bb Mostarskog bataljona 88000 Mostar Bosnia and Herzegovina
Description
EQ6: Studenti koji mijenjaju svijet
27.10.2018, 10:30h - 16:30h u Hotelu "Bristol"
Koje su to važne vrijednosti kada govorimo o vodstvu? Vjerujemo da su najbolje vođe oni sa jakim vrijednostima i svrhom koja je šira od njih samih. EQ6 je šesti seminar za studente koji organizira Svaki student u Mostaru. Ovaj seminar će pružiti priliku studentima da budu opremljeni i inspirisani da vode s vrijednostima i integritetom, hrabrosti, poniznosti i poštovanjem, na fakultetu, budućem radnom mjestu i u svom domu.
Govornici:
Todd Geist, financijski direktor, Procter i Gamble (www.pg.com) - Todd je završio Business Administration na Cedarville University. On je osnivač i predsjednik Global Leadership Partners, neprofitnom organizacijom koja internacionalno nudi treninge vodstva. Tod je predavao hiljadama učesnika koji su opremali buduće vođe putem svrhom vođenih i vrijednostima zasnovanim treninga. Tod je oženjen i ima dvoje odrasle djece.
Jeremy Pereira, prodajni direktor, Luxottica (www.luxottica.com) - Jeremy je završio financije na Cedarville University i magistrirao marketing na Xavier University. Posljednjih 10 godina je radio kao Luxottica SPA's Vice President of Sales i Client Management u North America i želi prenijeti nove ideje i strategije studentima. Trenutno živi u Cincinnati, Ohio, sa ženom i tri kćeri tinejdžerke.
John Featherstone, menadžer ljudskih resursa, Procter i Gamble - John Featherstone je završio U.S. Military Academy u West Point. John voli ohrabrivati i pomagati internacionalnim studentima - nešto što radi već više od 30 godina. John je bio Cincinnati area director for International Friendships, Inc (IFI) 5 godina, NVO koja pruža dobrodošlicu i prijateljstvo internacionalnim studentima. John i njegova supruga Cynthia su u braku od 1973 i imaju 3 sina i sedmero unučadi.
About the organizer
Sve što radimo, radimo zato što vjerujemo da istinsko pripadanje mjenja sve u životu. Mi vjerujemo da svaki student može imati pozitivan uticaj na okolinu u kojoj živi samo ako pripada zajednici koja ih izaziva i mijenja.
Svaka osoba traži mjesto gdje može pripadati. Kreirani smo da budemo društvena bića, i negdje u dubini je skrivena želja da budemo prihvaćeni i ohrabreni. Te stvari možemo pronaći samo u kontekstu autentične zajednice – one koja nas prihvaća onakve kakvi jesmo, ali također pred nas postavlja izazove kroz koje postajemo bolji.