Description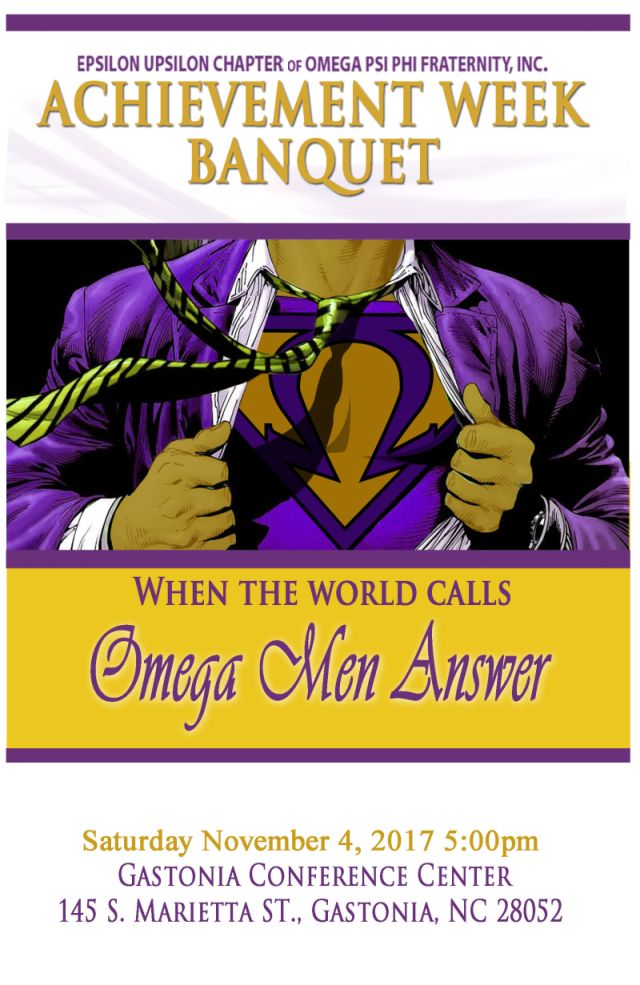 Achievement Week is observed each November and is designed to recognize those individuals at the local and international levels who have put their main focus on providing outstanding service and improving their
community by stimulating others to gain higher eminence.
This year's Achievement Week Banquet theme will be "When the World Calls: Omega Men Answer". We will celebrate the occasion at the Gastonia Conference Center. Our speaker for the evening will be Brother Willie Ramey, who is a past Basileus of the Pi Phi Chapter in Charlotte, NC. During the event, we will be awarding the following recipients:
Omega Citizen of the Year - Ronald Phillips
Omega Man of the Year - Geroge Partlowe
Neophyte of the Year - Reggie Moore
Please come join us as we recognize these outstanding citizens for the contributions they have made to their community. If you are not able to attend, please consider making a donation. Thank you in advance for your support and we look forward to seeing you.
*Dinner will be served during the award ceremony.
Date and Time
Location
Gastonia Conference Center
145 Doctor Martin Luther King Jr. Way
Gastonia, NC 28052
Refund Policy