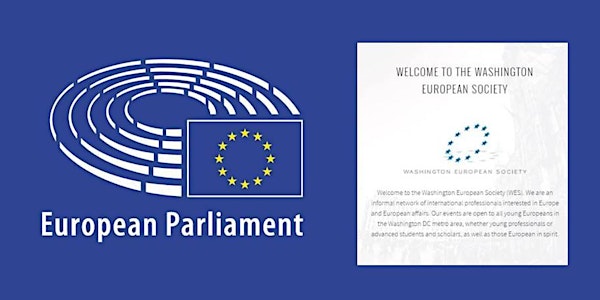 Eplo-Wes: Post 2019 European Election reception
Description
The European Parliament Liaison Office in Washington DC (EPLO) and the Washington European Society (WES) are pleased to invite you to a 2019 Post-European Election reception with Erik Brattberg, Director and Fellow of the Europe Program at Carnegie Endowment for International Peace. The event will take place from 6pm to 8pm on Wednesday May 29th, at the European Parliament Liaison Office in Washington DC (2175 K St NW, Washington, DC 20037 - Please use the entrance on 22nd street).
Next to free drinks and the excellent networking and socializing opportunities, you will have the chance to learn more from our expert speakers about the results of the European Parliamentary elections and its impact on the political landscape in the European Parliament. This reception is the closing event of a series of EPLO-WES events that were programmed around the European Parliamentary elections.
We hosts this event as an informal Happy Hour reception where the added value to our members is to have a direct conversation our expert speakers. Drinks will be provided. Join us and spread the word.
Places available on a first-come, first-served basis, and name registration is compulsory for security reasons. Don't hesitate to reach out to us if you have any questions.
We are looking forward to seeing you on Wednesday May 29th at 6pm at EPLO 2175 K St NW.)!
More info about our expert speaker:
Erik Brattberg is director of the Europe Program and a fellow at the Carnegie Endowment for International Peace in Washington. He is an expert on European politics and security and transatlantic relations. His current research at Carnegie focuses on the Trump administration's policies toward the EU and NATO, transatlantic cooperation in an age of great power competition, and Europe's relations with China and Asia.
He joined Carnegie from the McCain Institute for International Leadership at Arizona State University, where he was the director for special projects and a senior fellow. Brattberg was previously the 2014 Ron Asmus Policy Entrepreneur Fellow at the German Marshall Fund, a senior fellow at the Atlantic Council, adjunct senior fellow at Center for a New American Security, visiting Fulbright fellow at Center for Transatlantic Relations at Johns Hopkins University SAIS, visiting fellow at the European Policy Centre in Brussels, consulting researcher at SIPRI and European Council on Foreign Relations, and a research associate at the Swedish Institute of International Affairs. He also has work experience from the Folke Bernadotte Academy and Permanent Mission of Sweden to the United Nations in New York. (https://carnegieendowment.org/experts/1342)