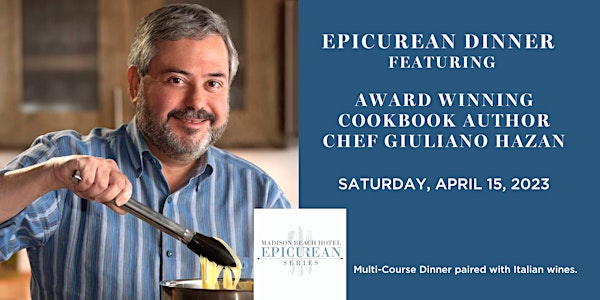 Epicurean Series | Dinner with Award Winning Cookbook Author Giuliano Hazan
An exclusive event featuring dinner with Award Winning Cookbook Author and foremost authority on Italian cooking Giuliano Hazan.
By Madison Beach Hotel, Curio Collection by Hilton
Date and time
Starts on Saturday, April 15 · 7pm EDT
Location
Madison Beach Hotel, Curio Collection by Hilton 94 West Wharf Road Madison, CT 06443
About this event
An exclusive five course event featuring dinner and wine pairings with Award Winning Cookbook Author Giuliano Hazan. Menu is paired with selected wines.
Giuliano is one of the foremost authorities on Italian cooking. He is an award-winning cookbook author and cooking teacher. Giuliano and his wife Lael offer week-long food and wine courses in Italy which Forbes named one of the top 5 foodie destinations in Italy.
This event is coordinated in partnership with Active Gourmet Holidays. Learn about Active Gourmet Holidays below.
------------------------------------------------------------------------------------
THE DINNER
Chef Giuliano Hazan will prepare hors d'oeuvres and multi-course plated dinner featuring his award wining recipes.
Each course will be paired with a selected wine. The evening begins with a welcome reception followed by a three course dinner inside overlooking the Long Island Sound. The evening concludes with an exquisite dessert.
Event begins promptly at 7 p.m. | Attire: Jackets
This ticketed and exclusive event has limited seating.
PRICING: $150 inclusive per person, includes all food and beverage, gratuity and sales tax.
SEATING: Upon check out, please indicate your seating preferences and let us know if you are attending with a group, but purchasing tickets separately. We will do our best to accommodate all seating preferences.
CULINARY DEMONSTRATION - DURING THE DAY - Join us at 11:30 a.m. for a cooking demonstration with Giuliano Hazan. Giuliano will demonstrate how to prepare the Halibut entrée. Pre-registration is required. Limited to 20 guests.
This event is available to those who have purchased tickets to the dinner event. Please register upon check-out. If you register for the culinary demo, but do not have matching dinner tickets, your demonstration tickets will be refunded.
------------------------------------------------------------------------------------
While we do our best to accommodate all requests, Dietary Restrictions may not be able to be accommodated due to specially paired and designed menus. Please reach out directly by email with any specific questions. Jpfeiffer@DHGHotels.com
Reception & Dinner Menu
Passed Hors d'oeuvres - to be announced
First Course:
Chilled Tomato Soup topped with goat cheese and diced cucumber
Second Course:
Risotto with Shrimp and Zucchini
Entrée:
Baked Halibut topped with Fresh Tomato and Red Onion
Dessert:
Sicilian Orange Tart
ABOUT GIULIANO HAZAN
Giuliano Hazan is the award-winning author of the best-selling cookbooks, Every Night Italian, The Classic Pasta Cookbook, How to Cook Italian, Thirty Minute Pasta, and Hazan Family Favorites. He teaches Italian cooking classes throughout the U.S. and at his school in Italy.
Giuliano is the only son of Marcella Hazan, the godmother of Italian cooking. Through six cookbooks and a lifetime of teaching, she preached a gospel of excellent ingredients, simplicity, and tradition that changed the way we cook. She lived a life of food, friends, and passion. Though she passed on in Fall 2013, her influence in the food world lives on through Giuliano and his passion for cooking and eating with family.
"Food has an amazing ability to give pleasure. It can give you wonderful pleasure and memories as it brings people together. It can define a whole era of time, a culture, a way of living." –Giuliano
Make it an Overnight!
Overnight accommodations are available at the award winning Madison Beach Hotel. Arrive early, stay for the weekend, and join us Saturday morning for the Culinary Demonstration at 11:30 Saturday, April 15!
Learn about Hilton CleanStay and how we are keeping guests safe. Learn More.
About Active Gourmet Holidays
Since 2002, Active Gourmet Holidays has been offering the finest in culinary and active travel. We take you to Italy, France, Spain, Portugal, Greece, Croatia, Slovenia and Peru. Each vacation is unique, but most include hands-on cooking lessons from talented chefs; vineyard tours with wine tastings and wine education; visits to food markets and local food producers; dinners at Michelin-rated restaurants; and excursions to local villages and renowned points of interest. Active Gourmet Holidays caters to single travelers, couples, small groups and culinary student groups and offers accommodations ranging from charming farmhouses to five star hotels, all set in unforgettable locales. In many cases, our getaways can be paired with active elements, such as hiking, biking, yoga and more.
Click to view Video from our inaugural Epicurean Series Weekend Experience , September 2018.
About the organizer
Madison Beach Hotel, Curio Collection by Hilton, a AAA Four Diamond hotel, is the only hotel with beachfront access in Connecticut. Located adjacent to the Long Island Sound, guests at Madison Beach Hotel enjoy amazing sunrises and sunsets. Featuring 33 guest rooms - 32 guest rooms overlook the Sound providing water views with furnished balconies.
Madison Beach Hotel is located in the quintessential town of Madison which includes wonderful shops for shopping local, restaurants for dining, and recreation including bicycling, golf and kayaking. The Connecticut Wine Trail and the local breweries provide opportunities to explore the local towns.
But you don't have to travel far from the hotel to enjoy culinary delights and relaxation. Our onsite restaurant, The Wharf provides exquisite culinary delights whether you choose al fresco dining on the porch, our dining room or the bar. Relax in our spa with a variety of treatments, or enjoy the beachfront with water activities including swimming and kayaking.