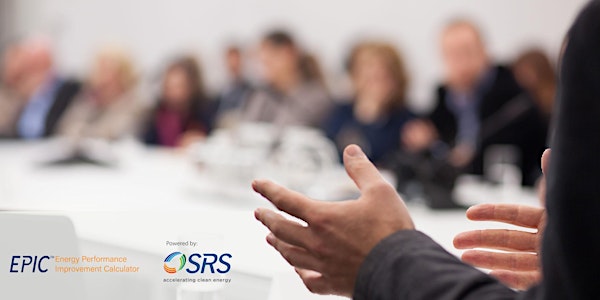 EPIC™ Master Class Webinar — 4/11/2023
This webinar is for energy efficiency and solar PV professionals
By Sustainable Real Estate Solutions
Date and time
Tuesday, April 11 · 9 - 10am PDT
About this event
In this free Master Class webinar attendees will learn how the Energy Performance Improvement Calculator (EPIC™) supports the time and cost-efficient development of energy efficiency + solar PV improvements in existing buildings.
Furthermore, attendees will learn how the EPIC best practice methodology: "energy efficiency first" and then "right-sizing" a solar PV system enables the consolidated business case that building owners need to confidently invest in improvements that will achieve their energy efficiency, electrification, and net-zero carbon emissions goals.
Moreover, project developers, HVAC and solar PV contractors will be prepared to answer key building owner questions:
• What is the upfront investment and operating cost impact to electrify my building?
• What is the optimized combination of EE and solar PV improvements for my building?
• What is the investment required to achieve net-zero carbon emissions for my building?
Featured Speaker
Tracy Phillips, CEM, CMVP, CDSM, PMVA
Tracy serves as Director of the Colorado C-PACE program for Sustainable Real Estate Solutions (SRS). In this role, Tracy uses EPIC to provide technical assistance and streamline collaboration with energy efficiency project stakeholders. EPIC has proven a critical tool to accelerate project scenario development and optimize the energy savings, CO2e emissions reduction and financial impact of energy improvements.
About the organizer
About SRS
Sustainable Real Estate Solutions (SRS) partners with state and local governments to administer commercial property assessed clean energy (C-PACE) programs. Founded in 2010 by experienced commercial real estate and energy efficiency professionals, the company's proprietary technology-enabled Energy Performance Improvement Calculator (EPIC™) tool streamlines the management of the data-intensive C-PACE technical and financial underwriting process. SRS's Investor Confidence Project-credentialed quality assurance methodology has facilitated over $650 million in C-PACE financing nationwide. SRS empowers C-PACE public-private partnerships across the country. The company is based in Newtown, Connecticut.