Description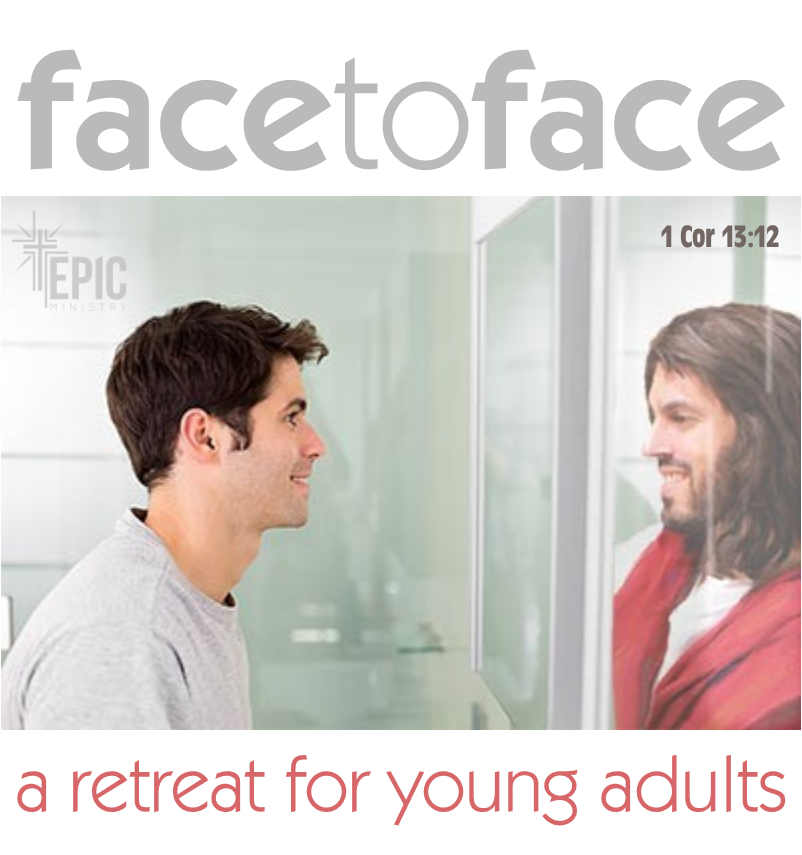 EPIC Ministry is blessed to host it's next retreat, "Face to Face," on February 1-3, 2019, at the St. Anthony Retreat Center in Kalihi Valley.
Our next young adult retreat redirects our hearts and minds to the image and likeness of Christ in us. Young adults centers on the words of St. Paul in his first Letter to the Corinthians: "For now we see only a reflection as in a mirror; then we shall see face to face." (1 Corinthians 13:12)

This weekend retreat will feature guest presenters, prayer and reflection, group activities, and of course, fun and fellowship in our EPIC way. It's a time to get away from the busyness and craziness of life in order to let loose a little, let go, and let God!
**ACTIVE MEMBERS receive a discount of 15% **
---
FAQs
What is the registration cost and deadline?

Regular Registration ($90) by January 28th.
Register by January 15th and receive a free EPIC Ministry 5th Anniversary Commemorative T-Shirt!


Late Registration ($100) up until retreat date
Can I pay by check or cash?
YES. If you register through this site, you need a valid credit card to reserve your space. However, we can accept other forms of payment. Contact us to reserve your tickets and make arrangements to pay by cash or check made payable to "EPIC Ministry".
Who can attend?
This is a retreat for young adults, which means it is open to anyone between the ages of 18-39 years old.

What if I can only attend part of the retreat?
We do have a "SATURDAY ONLY" option for $50, but it is strongly encouraged and recommended that all participants stay for the entirety of the weekend. We also understand that there may be circumstances that prevent you from being able to do so. Because this is a voluntary retreat for adults, you have the ability to leave if necessary. However, the registration costs remain the same and cannot be prorated or refunded.

If I can only stop by briefly, is it ok if I just visit?
We understand that we periodically have visitors join us. However, out of respect for those who sacrificed their time and resources for this retreat, any visitor who is unregistered and stays for an extended time will be asked to register for the retreat, which includes the full registration cost, or may be asked to excuse themselves from the retreat.
Do I need to bring my printed ticket from Eventbrite to the retreat?
NO. If you register through Eventbrite, we will automatically add your name to the participant list and you will simply need to check-in when you arrive.

What is EPIC Ministry?
E.P.I.C. stands for "Ever Present In Christ".
We are a peer ministry of young adults, ages 18-39, with a deep desire to know, love, and serve the Lord.
EPIC Ministry is rooted in the teachings of the Roman Catholic Church and shares its charism with the Congregation of the Sacred Hearts of Jesus and Mary (focusing on community and mission).
Our mission is simple: "To empower young adults to follow Christ by spiritual, social, and service paths."
If you have any additional questions or concerns...
Contact us via our website at www.epicministry.net