Description
THE EPIC MARRIAGE FIGHT EXPERIENCE!
If you are looking for a memorable way to celebrate your love that also helps knock-out some of those issues that seem to always make you go 10 rounds with your spouse PLUS gives you an incredible Fighter's Workout- The Epic Marriage Fight Experience is it!
Every great fighter needs a great Coach!

No black tie required! Start the the day with mini-seminars from San Diego's award winning authors and experts who will coach you on the top reasons couples give for fighting. Susan LeBron will help you Get Naked! and boost open communication. Relationship Coach & 35yr marriage veteran, Glen Kato, teaches you how to avoid hitting "below the belt", and you'll get priceless Financial intimacy tips from Fox 5 Financial Analyst, Laurie Itkin: The Options Lady. Your cherry on top will be America's #1 Marriage Podcast host and Founder of One Extraordinary Marriage, Alisa DiLorenzo, who will start you off on the 7 Day Sex Challenge!
The Main Event: You will run laps for your romance, and punch out your frustrations on heavy bags. Be prepared to sweat with your sweetheart as you engage in physical drills that are sure to take all you've got. All couples will be assigned an official fight trainer to guide you through a fighter's wokout.
Extras to enjoy: You could win one of several amazing Door prizes, Fun photo opportunities with gloves in the gym and ring, Meet & Greet the presenters, pick up a book and have it signed, Enjoy samples and "Deals of the Day" from top San Diego venders in the areas of Romance, Health, Spa & Fitness, Gifts, and Finance to help you both reach your potential as individuals and a couple.
The Epic Marriage Experience is $59 per couple.
Registration is @ 9am Seminars 10am-12:45 Fight Training 1:10-2:10
The Main Event Only is $40 per couple and available from 10:00am-Noon.
This is for couples wanting just the Fight Training w/ access to the "Extras". You will need to arrive early to pick your fight time slot and register for the door prizes.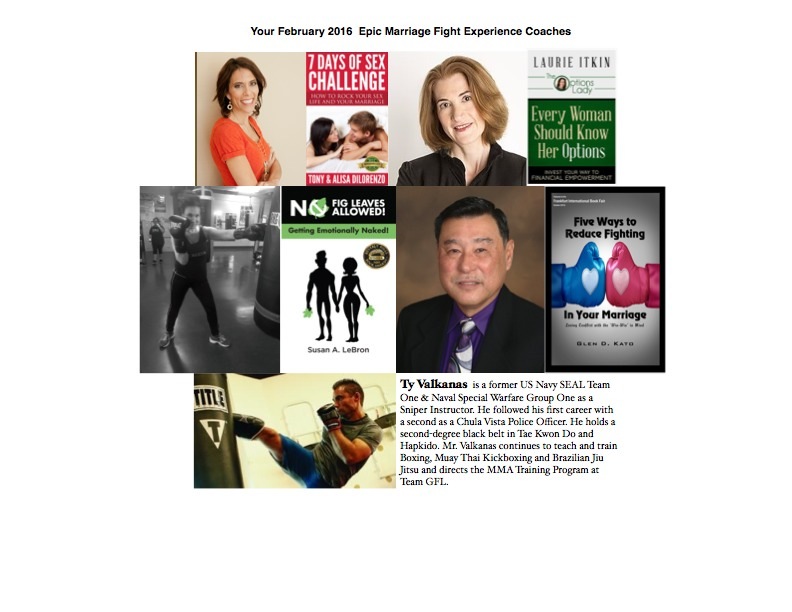 Organizer of Epic Marriage Fight Experience
Susan LeBron is a mother of six, Navy spouse, and the author of the Award Winning self-help workbook for couples, "No Fig Leaves Allowed! Getting Emotionally Naked!"  In addition to guiding groups of couples through her revolutionary Comfort Meter Exercise and promoting ways a couple can understand each other's needs and feelings, Susan finds collaborating with fellow authors and businesses to develop experiential learning events extremely fufilling.
To knock-out the top issues that most couples typically go 10 rounds about, she has created an exciting and unique event to remind them that they are partners, not opponents. This event is The Epic Marriage Fight Experience.  This experience not only provides practical advice and skills from highly experienced professionals, but gives them an opportunity to reach beyond their comfort zone, gaining new perspectives in how they relate to each other with a physical experience, and facilitates the transference of information. Every time they fight...they will remember that they need to work with, and not against each other, to resolve issues and fight for the relationship they deserve.