Description
EPIC Business Conference is a power-packed, two day, Kingdom-based, business conference for people in the marketplace who want to be world changers – entrepreneurs, business owners, business leaders and visionaries. We are called to ignite a movement to transform and disrupt the status quo of traditional business culture. Lasting societal transformation can only occur when it is rooted in personal transformation; understanding who you are, what you are called to do, and how you are to impact the lives of others. In short, manifesting the Kingdom of Heaven, personally and in business.
What you will learn
You will learn how to live a life beyond limits by changing the way you think, expand your capacity to influence, pursue your God-given destiny and be EPIC in business.
Come experience--
Transformation- Challenging you to think differently and breaking limiting patterns
Activation- Discovering and learning how to apply your gifts for Kingdom purposes
Connection- Recognizing you can only achieve your God-given destiny with others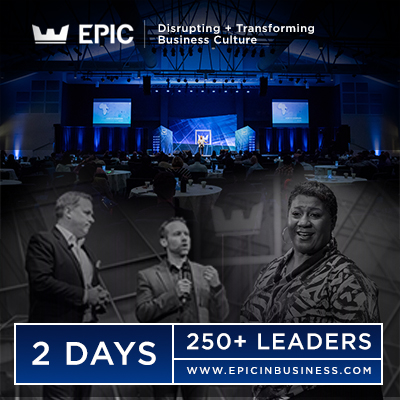 Speakers - To be annouced
Agenda Overview (subject to change)
Friday, March 1st
VIP Attendees
Pre-Conference Session 9:00 AM - 11:30 AM
Registration & Coffee - 9:00 AM - 9:30 AM
Pre-Conference Session- 9:30 AM - 11:30 AM
Lunch (on your own, available on site) - 11:30 AM -12:30 PM
All Attendees
Main Conference
Registration & Exhibits - 11:30 AM - 12:30 PM
Conference Sessions -12:30 PM - 5:30 PM
Networking Reception - 5:30 PM - 7:00 PM
Saturday, March 2nd
All Attendees
Main Conference (continues)
Coffee & Exhibits - 8:00 AM - 9:00 AM
Morning Conference Sessions- 9:00 AM - 12:00 PM
Networking Lunch (lunch provided) - 12:00 PM - 1:30 PM
Afternoon Sessions- 1:30 PM - 6:00 PM
FAQs
I am not a business owner. Is the EPIC Conference still for me?
Yes, if you have a desire to see your sphere of influence transformed for the Kingdom.
How will my email address provided when purchasing my ticket be used?
Email addresses provided during the ticking process will be shared with EPIC in Business, LLC, the organizer of this event. Any communication you may receive from EPIC in Business, LLC will include an option to be removed from all future communications by sending your request to epicinbusiness@gmail.com.
What's the refund policy?
Registrations will be not be refunded after the first conference session. Requests for registration cancellations MUST be received in writing prior to the start of the conference. Please contact epicinbusiness@gmail.com if you have questions.