Description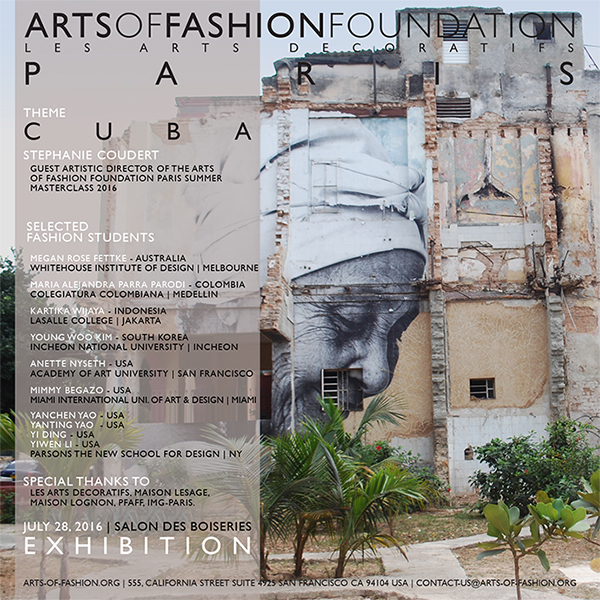 EPHEMERAL FASHION EXHIBITION - THURSDAY JULY 28, 2016
THEME CUBA
5PM to 9PM: Les Arts Decoratifs – Salon des Boiseries – 111, rue de
Rivoli – 75001 Paris (métro Palais Royal or Tuileries or Pyramides)

The 4-week Fashion MasterClass Program organized by the Arts of Fashion Foundation, hosted by Les Arts Decoratifs, at the Louvre, Paris runs from July 4 to July 29, 2016.

After Anthony Vaccarello (2010), Aurore Thibout (2011), Christine Phung & Lucile Puton (2012), Zoe Vermeire (2013), Raphaelle H'Limi & Kenta Matsushige (2014), To Long-Nam (2014/15), and Yiyu Chen & Haesung Bong (2015), this is creative Haute Couture designer - Stephanie Coudert, who has been invited to direct this new session. A group of 10 selected international fashion designers, studying fashion from Australia, Colombia, Indonesia, South Korea and the United States, will work during the 4-week around the theme Cuba. They will develop two innovative silhouettes, combining different Parisian Haute Couture craftsmanships including pleating and embroidery to be exhibited at the end of the program in the Salon des Boiseries - Les Arts Decoratifs, on July 28th, 2016 - 5PM
Thanks to Les Ateliers Lognon, Maison Lesage, Les Arts Decoratifs, PFAFF and IMG-Paris.
The goal of the Arts of Fashion Foundation abroad MasterClass Program series is to further develop and promote creativity in fashion, exchange of ideas, give fashion students access to the best possible sources of fashion education and to fund development of other creative and educational projects.
arts-of-fashion.org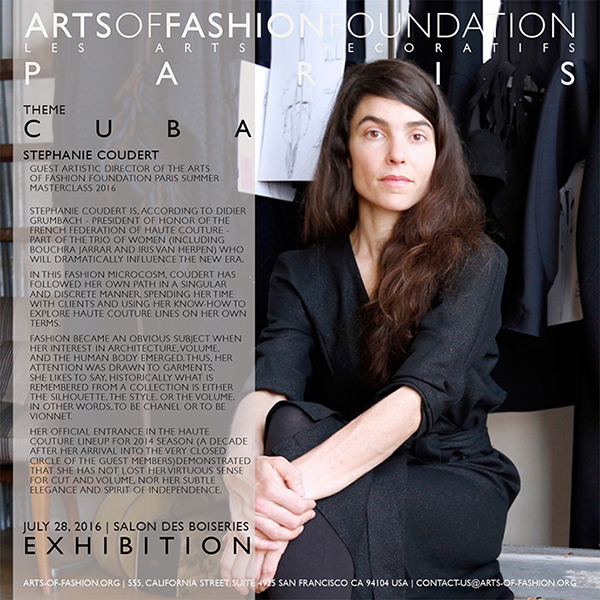 STEPHANIE COUDERT
Stephanie Coudert is, according to Didier Grumbach - President of Honor of the French Federation of Haute Couture - part of the trio of women (including Bouchra Jarrar and Iris Van Herpen) who will dramatically influence the new era.
In this fashion microcosm, Coudert has followed her own path in a singular and discrete manner, spending her time with clients and using her know-how to explore Haute Couture lines on her own terms. Fashion became an obvious subject when her interest in architecture, volume, and the human body emerged. Thus, her attention was drawn to gearments. She likes to say, historically what is remembered from a collecion is either the silhouette, the style, or the volume. In other words,to be Chanel or to be Vionnet
Her official entrance in the Haute Couture lineup for 2014 season (a decade after her arrival into the very closed circle of the guest members) demonstrated that she has not lost her virtuous sense for cut and volume, nor her subtle elegance and spirit of independence.
stephaniecoudert.fr