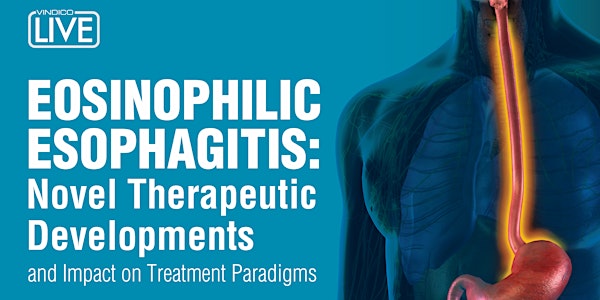 Eosinophilic Esophagitis: Novel Therapeutic Developments and Impact on...
Join in-person or virtually!
When and where
Location
The Westin Charlotte 601 South College Street Grand Ballroom C; Level 2 Charlotte, NC 28202
About this event
Activity Chair
Evan S. Dellon, MD, MPH
Professor
Division of Gastroenterology and Hepatology
Dept of Medicine
University of North Carolina School of Medicine
Chapel Hill, NC
Faculty
Claire Beveridge, MD
Associate Staff
Department of Gastroenterology, Hepatology & Nutrition
Cleveland Clinic
Assistant Professor of Medicine
Cleveland Clinic Lerner College of Medicine
Case Western Reserve University
Cleveland, OH
Mirna Chehade, MD, MPH
Professor of Pediatrics and Medicine
Director, Mount Sinai Center for Eosinophilic Disorders
Icahn School of Medicine at Mount Sinai
New York, NY
Ikuo Hirano, MD
Professor of Medicine
Northwestern University Feinberg School of Medicine
Chicago, IL
Overview
Eosinophilic esophagitis (EoE) is a chronic type 2 helper (Th2)-mediated inflammatory disorder that affects both children and adults. It is characterized by symptoms of esophageal dysfunction and esophageal inflammation with intraepithelial eosinophils. Once considered rare, EoE is a relatively new disease that is now commonplace. When left unmanaged, EoE can impact a patient's ability to eat properly, leading to food impaction and increased medical expenses. Real-world data indicate that many patients with EoE switch therapy frequently, demonstrating an unmet need for adequate control of disease-related symptoms. Many gastroenterologists and other relevant providers lack an understanding of the pathogenesis, guideline-based diagnostic criteria, and newly approved and emerging treatment options for EoE. These knowledge deficits may therefore exacerbate delays in diagnoses and, consequently, appropriate management. In this educational program, expert clinicians will review the pathogenesis and best practices for accurate diagnosis of EoE. They will also explore current treatment guidelines and the clinical data supporting the use of recently approved and emerging therapies for EoE. Interactive case discussions are included to challenge the audience's ability to apply the learnings from the didactic presentations.
Agenda
5:30 PM
Registration and Dinner
6:00 PM
Introduction and Pretest
Evan S. Dellon, MD, MPH
6:05 PM
Pathogenesis of EoE
Claire Beveridge, MD
6:20 PM
EoE Diagnosis: Advances and Challenges
Mirna Chehade, MD, MPH
6:40 PM
Case Presentation and Panel Discussion
Evan S. Dellon, MD, MPH
6:50 PM
Treatment of EoE: Novel and Emerging Therapies
Ikuo Hirano, MD
7:05 PM
Case Presentation and Panel Discussion
Evan S. Dellon, MD, MPH
7:20 PM
Posttest and Question & Answer
7:30 PM
Conclusion
Learning Objectives
Upon successful completion of this activity, participants should be better able to:
Identify the latest findings on the pathogenesis of EoE.
Summarize the criteria for diagnosis of EoE and tools to detect the condition.

Outline the clinical evidence for current, newly approved, and emerging therapies for EoE including the latest guideline recommendations.
Target Audience
The intended audience for this activity is gastroenterologists and other health care professionals involved in the management of patients with EoE.
This continuing medical education activity is provided by Vindico Medical Education.
This activity is supported by an independent medical education grant from Regeneron Pharmaceuticals, Inc. and Sanofi.
This event is neither sponsored by nor endorsed by ACG.
Vindico Medical Education is accredited by the Accreditation Council for Continuing Medical Education (ACCME) to provide continuing medical education for physicians.
Vindico Medical Education designates this live activity for a maximum of 1.5 AMA PRA Category 1 Credit(s)™. Physicians should claim only the credit commensurate with the extent of their participation in the activity.
Vindico Medical Education adheres to the ACCME's Standards for Integrity and Independence in Accredited Continuing Education. Any individuals in a position to control the content of a CE activity, including faculty, planners, reviewers, or others, are required to disclose all relevant financial relationships with ineligible entities (commercial interests). All relevant conflicts of interest will be mitigated prior to the commencement of the activity.
Faculty, topics, program schedule, and credit hours are subject to change. Recording of any manner is prohibited without written permission from Vindico Medical Education, Office of Medical Affairs and Compliance.