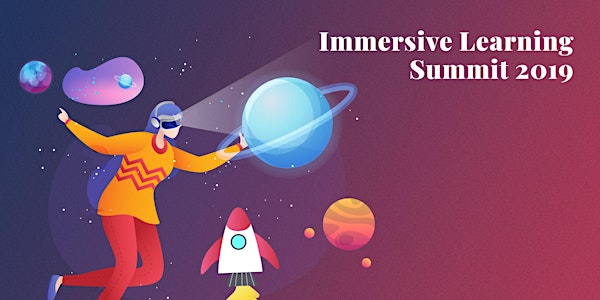 EON Reality: The Immersive Learning Summit
Free for educators and governments. Discover how VR and AR are vital for future-proofing the learners and workforce of the future.
When and where
Location
Worklife innovation hub EON Reality Bologna Worklife Innovation Hub, Via del Lavoro n° 47 40033 Casalecchio di Reno Italy
About this event
As learner expectations evolve, how can established Universities, Colleges, Schools innovation hubs, and governments keep up?
Technology doesn't wait around for humanity to evolve - but are fears of automation and job displacement founded?
How can educators remain relevant as the world continues to evolve?
The Immersive Learning Summit is for education managers and leaders, government stakeholders, technology cluster directors and those who need to understand how immersive technology like VR and AR will affect, evolve and future-proof their organisations.
The second decade of the 21st century is just months away. Education and technology are being redefined together, and quickly.
Learning design has become its own science, and the use of cutting-edge, immersive technology such as AR and VR have become core to the conversations about how we teach in the classroom and training space of the future.
How can we ensure that innovation hubs, technology clusters and learners benefit from the research and development in VR and AR? How do we embrace the digital transformation of education?
The Immersive Learning Summit by EON Reality will explore these key questions with thought-leading discussion, workshops, leadership strategies, case studies, and one-on-one investment meetings.
IMMERSIVE LEARNING SUMMIT AGENDA 2019 (Subject to changes)
Wednesday 25 September
10:00: DOORS OPEN, REGISTRATION, WORKSHOP SIGN UP, REFRESHMENTS
10:30 CHAIR'S ADDRESS | Welcome to EON Reality: Building A Technology Cluster
Dan Lejerskar, Founder of EON Reality
10:45
DISCUSSION PANEL + Q&A | Learn and Work in AR/VR: Why is immersive learning so important now?
Moderated by: Luigi Clivati, Business Development Director, EON Reality Italy
EON Reality -- Ridwan Othman, Senior Director AVR Solutions
2 VIP Guests
11am COFFEE, REFRESHMENT BREAK
11:15 SITE TOUR | The Tools for Immersive Learning in your Technology Cluster
12:00 NETWORKING LUNCH
13:00 BUSINESS SESSIONS | EON REALITY WORKSHOPS - Groups
Collaboration: Create the Business Model Around Your Innovation Centre
Nicola Poleschi, EON Reality Italia MD
Partnerships: Make Your Technology Cluster a Teaching & Learning Centre
Marcin Kasica, President of EON Reality Education
14.30 REFRESHMENTS & NETWORKING
15:30 CLOSING REMARKS | Rejuvenation Launch: The EON Reality Platform
Exclusive preview and presentation of The new EON Reality Platform
Ridwan Othman, Senior Director, AVR Solutions and EON Reality Team
16:00
DRINKS RECEPTION & CLOSE
Thursday 26 September, 2019
10:00: DOORS OPEN, REGISTRATION, WORKSHOP SIGN UP, REFRESHMENTS
10:30 WELCOME ADDRESS | EON Reality: Driving Immersive Learning Globally
10:45 INDUSTRY 4.0 | Rejuvenation Recap: EON Reality Immersive Platform, designed for Industry and Enterprise (Registered Delegates)
10:45 MEETINGS AND PERSONALISED WORKSHOPS | EON Reality Business Development team (VIPs only)
12:00 REFRESHMENT BREAK, NETWORKING
--CLOSE --