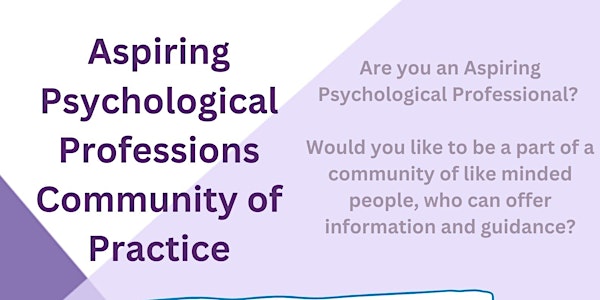 EoE Aspiring Psychological Professions Community of Practice *FREE EVENT*
Join a supportive group of aspiring psychological professionals from the East of England at their third meeting as a community of practice.
About this event
Are you an aspiring Psychological Professional in the East of England?
Would you like to be a part of a community that can help you realise your full potential? Then join this new community of practice (CoP) that offers information, advice, support, and encouragement as you move towards a career in the psychological professions!
The Aspiring Psychological Professions CoP wants to ensure that aspiring professionals are aware of the huge variety of careers available within the psychological professions and offers the space where each member feels supported and supports others on their way to success.
This is the third meeting of this community of practice and everyone training or considering a career in Psychological Professions is welcome to join and shape the future of this group!
Please sign up to this event if you would like to attend and a Microsoft Teams link to the event will be emailed to your registration email. If you do not receive this link, please email us at hpft.eoeppn@nhs.net
Ticket sales end at 12pm on the day of the event.
If you want to attend and have not reserved a ticket via Eventbrite, please email us at hpft.eoeppn@nhs.net to request the meeting link. See you then!