Event Information
Refund policy
Contact the organizer to request a refund.
Eventbrite's fee is nonrefundable.
Join the women of EO Philadelphia in the first annual celebration of Women's Entrepreneurship Day.
About this event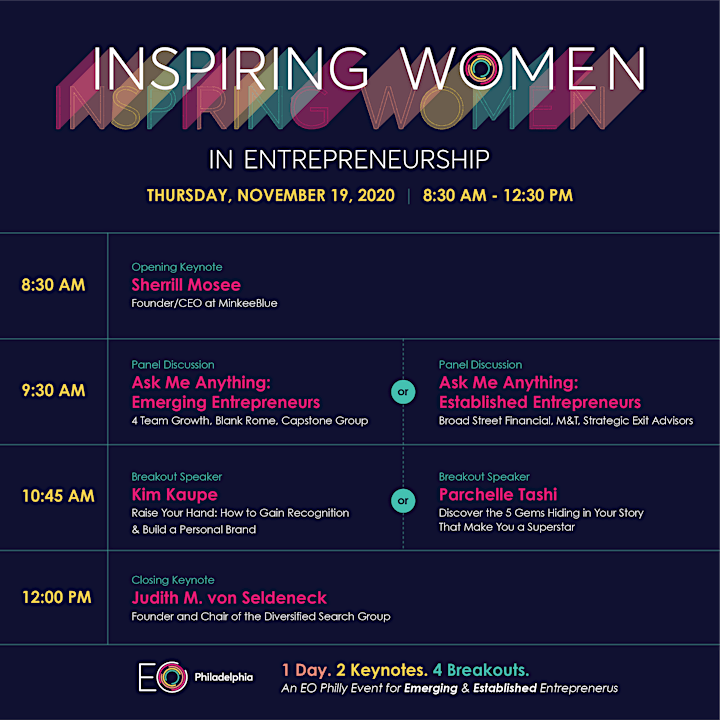 EO Philadelphia is proud to host its first Women's Entrepreneurship Day Conference.
The half-day, virtual event, is designed for women and their supporters in every phase of their entrepreneurial journey.
Over the course of two keynote sessions, attendees will hear the stories of amazing women founders who have achieved their dreams and continue the hustle. Established entrepreneurs will hear from experts on scaling and exiting a business. Emerging entrepreneurs will learn what they need to do to start and bootstrap their businesses.
At the end of the conference, everyone can join in on a virtual networking lunch to make new connections.
It is our hope that all women-focused on starting, growing, or leaving their businesses will draw value from our incredible speakers and the community of people doing the same.
Date: November 19, 2020
Time: 8:30a-12:30p
RSVP: November 17, 2020*
*Registration is required in order to attend.
Venue: Zoom- The link will be sent to registered attendees.
Attendees: The event is open to EO Members, Accelerator Participants, and entrepreneurs
Schedule:
Opening Keynote by Sherill Mosee, the Inventor and Designer of Minkee Blue (Session Link)
Ask Me Anything: Emerging Entrepreneurs Panel: Blank Rome LLP, Capstone Group & 4TeamGrowth (Session Link)
-OR-
Ask Me Anything: Established Entrepreneurs Panel: Broad Street Financial, M&T Bank & Strategic Exit Advisors (Session Link)
Choose a Session
Emerging Entrepreneurs- Raise Your Hand: How To Gain Recognition & Build a Personal Brand with Kim Kaupe, the Co-Founder of The Superfan Company (Session Link)
-OR-
Established Entrepreneurs - Discover the 5 Gems Hiding in Your Story That Make You a SuperStar with Parchelle Tashi, award-winning video producer and entrepreneur for over 10 years. (Session Link)
Closing Keynote by Judee von Seldeneck, Founder and CEO of Diversified Search (Session Link)
12:30 pm- Virtual Networking Lunch (Session Link)
1:30 pm- Wrap Up
Featured Speakers
Sherrill Mosee, inventor and designer of MinkeeBlue organizational travel and work bags set out to solve a problem she calls, the 'overload bag syndrome'. Like many women, Sherrill carried two or three bags to work—a purse, laptop bag, lunch bag, and sometimes shoes in her purse. She wanted one bag that was stylish and functional to meet the needs of her day - from commuting to the office, to meeting a friend for lunch, and going to the gym later in the day.
Sherrill, an engineer by trade is also the former president of Family Care Solutions, a nonprofit organization she founded to promote higher education among low-income women with children. The organization awarded over $3 million in childcare scholarships to help women with children stay in school and earn a college degree.
With no prior experience in fashion design, manufacturing or retail, Sherrill put her engineering degree to work and came up with the patented MinkeeBlue design. She has appeared on the Today Show, Katie Couric Show and has sold her bags on QVC. She is an alum of Drexel University and most recently the Philadelphia Fashion Incubator at Macy's.
Sherrill describes MinkeeBlue as a reflection of who we are and what we do in our daily lives – "Your day is in the Bag".
Judith M. von Seldeneck is the Founder and Chair of the Diversified Search Group, one of the country's top executive search firms. A pioneer in the search industry, she has been identifying and placing senior-level executive talent around the country for more than four decades. A born-and-bred North Carolinian, she began her career as an executive assistant to then-Senator Walter F. Mondale in Washington, D.C. Her road into executive search commenced in the early 1970s when she bought into a small Philadelphia firm founded to find temp jobs for women. Buying out her partners in 1974, over the next several decades von Seldeneck built Diversified Search into one of the top executive search firms in the nation. In 2020, Forbes ranked Diversified fifth in its annual ranking of the nation's top 200 top executive search firms. During the course of her career, von Seldeneck has been recognized by the executive search industry as setting the standard for retained executive search and has been active on numerous public, private, and not-for-profit boards of directors. Some of these include Citizens Financial Group; Tasty Baking Company; Teleflex, Inc.; CoreStates Financial Group; Meridian Bancorp; and AAA MidAtlantic. She has also served as Chair for the Philadelphia Chapter of the National Association of Corporate Directors. She currently serves on the Comcast and NBC Universal Joint Diversity Council and is Chairperson of the Women's Advisory Council. She was also a founder of the Forum of Executive Women, the largest association of women business leaders in the Philadelphia region.
Kim Kaupe is a co-founder, CEO, and one-of-a-kind teacher. In addition to running The Superfan Company, a fan engagement agency focused on creating products, programs and strategies for entertainers and brands, Kim serves up a street-smart business education in her weekly live series Coffee With Kim as well as her entrepreneurship-focused courses on LinkedIn Learning. She graduated with a B.A. in marketing from the University of Florida and roots loyally for her Gators. You might recognize her from ABC's hit primetime show, Shark Tank (securing offers from 4 out of 5 sharks!) or from her role as a judge in the 2019 Miss USA pageant live on FOX! Previously she was named to Inc.'s 35 Under 35, Advertising Age's 40 Under 40 and Forbes 30 Under 30. You can find her on days that end in 'y' at @kimkaupe on all socials (but especially Instagram!).
Parchelle Tashi is an award winning video producer and entrepreneur for over 10 years. With a wide experience working with well known brands and teams of all sizes, her expertise in production and operations is what she educates to empower today's leaders to keep up with the increasing demand for video.
Date and time
Location
Refund policy
Contact the organizer to request a refund.
Eventbrite's fee is nonrefundable.