Description
"One day you're going to wake up and there won't be any time left to do the things you've always wanted to do." – Paulo Coelho
Is there something you want to do, but you're putting it off because you're too busy or don't have the time, money, motivation, support or right "someone?"
What if the circumstances you're waiting for never happen?
Join us for a fun, interactive event where you'll take the Happiness Test, identify one priority that's important to you, and discover how to set that in motion now, not later. Prepare to laugh, reflect, connect, and be inspired. You'll have opportunities to discuss your insights and design a personalized plan of action. Perhaps most importantly you'll walk out with the clarity and courage to stop waiting for tomorrow and start creating the life you want today.
Everyone who attends will receive Sam Horn's latest book, Someday Is Not a Day in the Week: 10 Hacks to Make the Rest of Your Life the Best of Your Life, as a gift!
We will have happy hour drinks and hors d'oeuvres as well.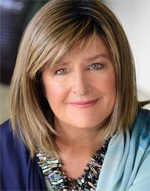 Sam Horn, CEO of the Intrigue Agency, believes life is too precious to postpone and there's no time like the present (and no present like the time) to be the person you want to be.
The good news is, you don't have to quit your job, win the lottery, or selfishly abandon your responsibilities to create the life, relationships and work of your dreams.
Discover for yourself why Sam's books have been featured on NPR, received endorsements from Tony Robbins and Seth Godin, and why she's hired by Intel, Nationwide, Cisco, Capital One, NASA and Boeing to show their team members how to communicate clearly and compellingly.
As Rene Ricard said, "Tomorrow is another day, but so was yesterday."
---
No-Show/Late Cancellation: Our standing event policy states members will be charged a $50 per person fine for RSVP-ing to an event but failing to show up to the event or cancel less than 2 days prior to the event. (Per person means if you RSVP plus one and do not show up, your fine will be $100.) There are no acceptable exclusions to this policy.