Event Information
Location
International Banquet Center, French Quarter Room
400 Monroe Street
Detroit, MI 48226
Description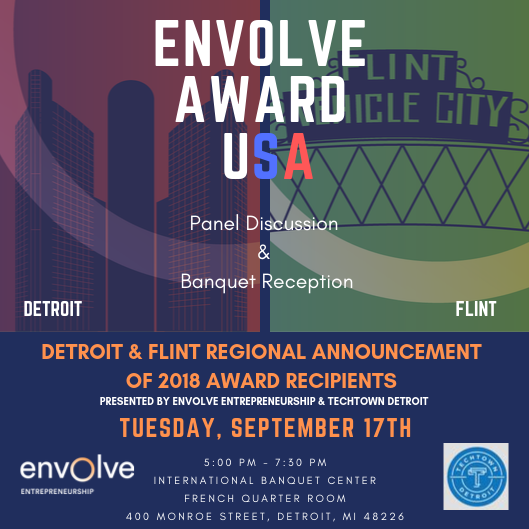 Envolve Entrepreneurship requests the pleasure of your company to announce the winners of the 2018 Envolve Awards USA!
The event will take place on Tuesday, September 17th, 2019 from 5:00 pm - 7:30 pm at the International Banquet Center, French Quarter Room at 400 Monroe Street, Detroit, MI 48226.
Envolve's annual entrepreneurship award funding program offers anyone - whether an experienced or first time entrepreneur - the opportunity to win individualized business support services and straightforward funding.
This event is free and will include a banquet reception and panel discussion featuring Cate Fisher, Pam Lewis, Linnette Phillips, and Sebastian Jackson, moderated by CEO of Envolve Christopher Upperman. Join us as we kick off this exciting event that includes food, drinks, and networking with Techtown Detroit!
We hope to see you there; follow us @envolveglobal on Instagram, Twitter & Facebook.
Check each of us out at...
Date and time
Location
International Banquet Center, French Quarter Room
400 Monroe Street
Detroit, MI 48226