Description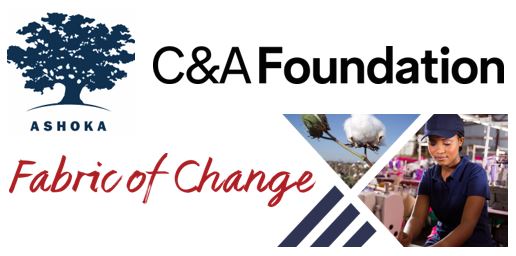 WE HAVE REACHED MAXIMUM CAPACITY - PLEASE JOIN THE WAITLIST AND WE WILL TRY TO FIND YOU A SPACE
Ashoka is bringing the Fabric of Change initiative to Toronto, in partnership with Fashion Takes Action and C&A Foundation. On the Sunday before WEAR, please join us for a day of community-building, exploring new avenues for collaboration, and developing social finance tools for growing your organization.
Fabric of Change is helping drive change in the apparel and fashion value chain, to reshape the industry as a force for good, building on the innovative work of Ashoka Fellows and other leading social entrepreneurs.
Registration for our Sunday program is first come, first served. The afternoon workshop at the Center for Social Innovation is intended for attendees of WEAR, brand representatives, and social entrepreneurs in the apparel/fashion sector. (We reserve the right to cancel the reservation of anyone we feel would not be an appropriate attendee.) A networking cocktail/dinner reception will follow at nearby restaurant R&D -- LIMITED SPACE AVAILABLE. Complimentary food will be included in both sessions; feel free to register for both.
Please reach out to fabricofchange@ashoka.org with any questions.
AGENDA (subject to change)
12:00 pm: Check-in and Lunch

12:45 pm: Introduction to Fabric of Change, hosted by Ashoka and C&A Foundation

1:00 pm: Social Finance Workshop*, hosted by Prof. Sara Minard of Northeastern University and Karsten Zengerling of the Financing Agency for Social Entrepreneurship

3:00 pm: Coffee/snack break

3:30 pm: "Un-conference" session, hosted by Denise Pinto and Robert Wakulat of Courage Co-Lab

5:30 pm: Closing and takeaways

6:00 pm: Happy hour and heavy hors d'oeuvres at R&D bar+restaurant
* Please note, the Social Finance Workshop is designed to be a hands-on session for social entrepreneurs to explore new strategies for raising capital for their organizations. If social finance is not relevant to your work but is still of interest, we welcome you to attend this session as an observer.