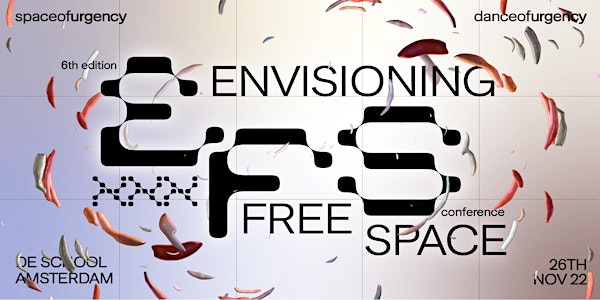 Envisioning Free Space Conference 2022
The Berlin-based Envisioning Free Space Conference arrives in Amsterdam - we invite you to participate in envisioning our future(s).
When and where
Location
De School 1 Doctor Jan van Breemenstraat 1056 AB Amsterdam Netherlands
Refund Policy
Contact the organizer to request a refund.
About this event
This November 2022, the Berlin-based Envisioning Free Space Conference (also known as Freit(T)räume) arrives in Amsterdam.
The conference creates a space for interdisciplinary collaboration to drive policy change. We are gathering to explore how to build a city whose citizens have the opportunity to shape the environment in which they live - by creating a space for experimentation and manifesting the discoveries that take place into actionable legislation.
From dusk till dawn, 24-hours at De School we will host workshops and panel discussions punctuated by nightly explorations of sound, visuals and performance by a rich and interwoven network of voices: urban change makers, political agents, spatial pioneers, scientists, artists, musicians and you. The conference program is organized around topics of DanceofUrgency and SpaceofUrgency, which have been developed internationally in the last 7 years. Together we'll manifest a vision of the future: a city for all, where night culture is culturally valued and embedded in urban policy and cultural free spaces are self-sufficient and thriving.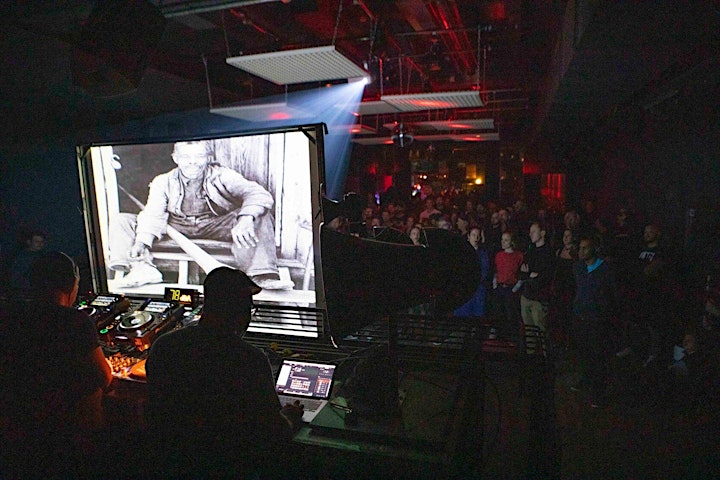 How can nightlife change the way we live in the daytime? We'll realise a city whose long-term social value supersedes short-term economic profit; a city where cultural free spaces are recognised as microcosms of our wider community and vital laboratories for social-ecological innovation. In a city where dance has a socio-political function and empowers people, it heals and helps us in times of crisis. In the sparks of last year's pandemic, recent protests and civil disobedience, we aim to unite voices and create solutions to the structural challenges of access to space, developing tools and practical solutions for venues and creatives to do the same.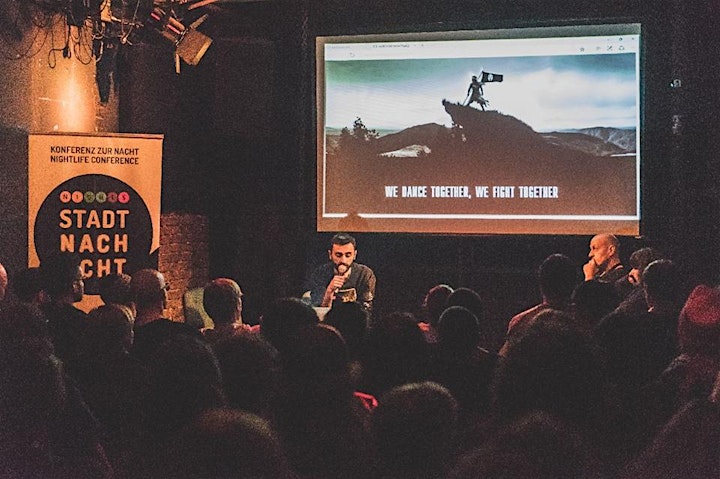 We invite you to participate in envisioning our future(s). Together, we'll examine how we might create more robust and equitable urban planning strategies and strengthen independent cultural spaces against future crises.
Together we'll explore...
->HOW CAN WE PROTECT OUR FREE SPACES, CLUBS, AND CULTURAL VENUES FROM HYPERINFLATION?
->IN A CITY THAT IS CONSTANTLY GROWING- HOW CAN WE GROW INCLUSIVELY?
->WHICH ROLE DO DANCING AND PROTEST PLAY IN EMPOWERING INDIVIDUALS TO SURVIVE URGENCIES?
->HOW CAN WE CREATE AFFORDABLE LIVING AND WORKSPACES FOR YOUNG CREATIVES?
->HOW CAN CITY ADMINISTRATIONS SUPPORT SELF-ORGANIZATION?
->HOW CAN INNOVATIVE TECHNOLOGIES AND GOVERNANCE STRUCTURES ENHANCE OUR RESILIENCE AND SELF-SUFFICIENCY?
->WHAT SOLUTIONS DO FREE SPACES OFFER FOR SOCIAL-ECOLOGICAL TRANSITION?
->HOW CAN WE ENVISION A SAFE(R) QUEER MIGRANT NIGHTLIFE?
->HOW CAN WE ENABLE THE NEXT GENERATION OF CULTURAL SPACES?
->WHICH NEW URBAN TOOLS AND PARTICIPATORY APPROACHES ARE MEANINGFULL ANTIDOTES TO GENTRIFICATION?
-> HOW CAN OUR INDEPENDENT CULTURAL SPACES BECOME TRULY SAFE(R) SPACES FOR FLEEING CREATIVES AND COMMUNITIES?
->WHAT WILL YOUR DANCE AND SPACE BE ABOUT? HOW CAN WE HELP YOU TO CREATE THAT SPACE?
SPEAKERS (more t.b.a.)
Naja Orashvili (Bassiani, Creative Collective Spectrum)
Giorgi Kikonishvili (Bassiani, Creative Collective Spectrum)
David Lezhava (act4culture, Creative Collective Spectrum)
Mark Angelo Harrison (Spiral Tribe, SP23)
Debbie Griffith (Spiral Tribe, SP23, Dharma Techno)
Aaron Trinder (Trinder Films, Free Party)
Ella Overkleeft (Rural Radicals, TEH)
Ricardo da Silva (Spaces of Adaptation)
Ramon de Lima (Stichting N8BM A'DAM)
Marc Wohlrade (LiveKomm, Stadt nach Acht)
Raimund Reintjes (Clubcommission e.V., Stadt nach Acht)
Selim Özadar (zusa, Mitost)
Ilgaz Yalcinoglu (Humboldt Universität zu Berlin)
Stacco ​​Troncoso (DisCO.coop)
Kadallah Burrowes (DisCO.coop)
Vajayjay Collective
Hannes Goetsch (BASIS Vinschgau Venosta, Next Generation of Cultural Spaces)
Philipp Kieser (Culture Assault)
Yann Kersaint (Berliner Projektfonds Urbane Praxis, DRAUSSENSTADT)
Lucas Counter (Kollektiv Spieltrieb e.V., Mapping Tool)
Iver Ohm (Hidden Institute, Mapping Tool)
Arno Bouma (Space of Urgency, Next Generation of Cultural Spaces)
Jan Beddegenoodts (Cameltown)
Wouter Pocornie (Bijlm3r Link, 26H)
Asja Föllmi (TU Delft)
Arjan van Timmeren (TU Delft)
Olga Ioannou (TU Delft)
Bureau Broedplaatsen (Gemeente Amsterdam)
Expeditie Vrije Ruimte (Gemeente Amsterdam)
Ivo Schmetz (Amsterdam Alternative, OT301)
Hay Schoolmeesters (Free Cultural Spaces Amsterdam, Culturele Stelling, Het Groene Veld)
Funders / partners:
Gemeente Amsterdam
OT301
Amsterdam Alternative
ADM Community Noord
Stichting N8BM A'dam
Stadt nach Acht
Culturele Stelling van Amsterdam
ADEV
De Fik
Mitost