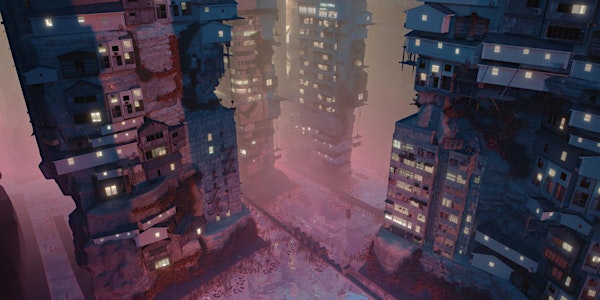 Envisioning a Planet City with Liam Young
As part of the exhibition program, we've invited Liam Young to present his vision for a Planet City.
When and where
Location
SPACE10 10 Flæsketorvet 1711 København Denmark
About this event
What if we radically reversed planetary sprawl?
Speculative architect Liam Young's Planet City imagines a single city for 10 billion people. In this fictional future, humans have cooperated to return stolen lands and surrender Earth's surface to a global-scale rewilding. Over multiple generations, people have retreated to just 0.02 percent of land for human habitation — an area roughly the size of an average US state. Here, they've built a hyper-dense metropolis to reverse centuries of colonisation, globalisation, endless economic extraction, and the exploitation of both natural and human resources.
Commissioned by the National Gallery of Victoria for the NGV Triennial, and exhibited at MAAT in Lisbon and the Barbican Centre in London, this work of speculative critical architecture is grounded in circular economy principles. The film shares how living together in a Planet City would create a vibrant borderless city of 7,000 languages, where there's a different cultural festival every day, and we can sustain human and non-human life amid anthropogenic climate change.
About the event
Forming part of our The Ideal City 2040 program, Young will share some of the research and thinking behind this vision of a regenerative future city, followed by a conversation with SPACE10 co-founder Simon Caspersen.
'In speculative cities, we can immerse ourselves in the various consequences of the decisions we face today. They can be both cautionary tales or roadmaps to an aspirational future.' — Liam Young
Collaborators
Liam Young is an Australian speculative architect and director who operates in the spaces between design, fiction and futures. He is co-founder of Tomorrows Thoughts Today, an urban futures think tank, exploring the local and global implications of new technologies; and Unknown Fields, a nomadic research studio that chronicles these emerging conditions as they occur on-ground. His visionary films and speculative world designs for the film and television industry are both extraordinary images of tomorrow and urgent examinations of the environmental questions facing us today. His fictional work is informed by his academic research and he has held guest professorships at Princeton University, MIT, and Cambridge. He runs an MA in Fiction and Entertainment at SCI-Arc in Los Angeles. He has published several books including Machine Landscapes: Architectures of the Post Anthropocene and Planet City.
How to attend
Our events are open to all and free to attend. Please register in advance.
Join us at SPACE10 in Copenhagen on Monday 22 August 2022 at 6pm CEST. We hope to see you there!
We're mindful of privacy rights and obligations under GDPR, so we'd like you to know that we intend to capture the event with a screen recording and/or photographs. The recording/photographs will likely be used to share our activities with our community, in articles or publication presentations. For further information, we encourage you to have a look at our Privacy Notice. If you in any way feel that we crossed a boundary and wish for your image not to be used, we highly welcome you to contact us — either at the event or through journal@space10.com. Thanks in advance, and we're looking forward to seeing you.