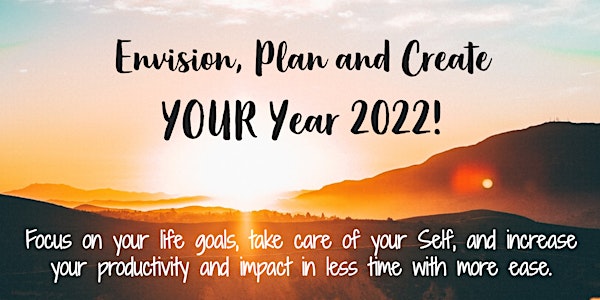 Envision, Plan and Create YOUR Year 2022!
Focus on your life goals, take care of your Self, and increase your productivity and impact in less time with more ease.
About this event
And suddenly, just like that, this extraordinary year enters its countdown.
The clocks are ticking, 2021 ends soon, 2022 is getting ready to begin.
Are you?
Are you ready to envision what is next in your life and what 2022 might bring?
Keen on putting your big, juicy goals into concrete words and scheduled actions?
Interested to learn proven techniques and step-by-step approaches to make your ideas and resolutions come true, while taking care of your health, personal growth and everything that matters to you?
Yearning to fuel your wildest dreams with clarity, confidence and abundant energy?
Seeking guidance and inspiring exercises when mapping out YOUR new year?
Then Envision, Plan and Create YOUR Year 2022! is for you.
This workshop consists of two sessions of 2 hours on Tuesday Jan. 11 AND Thursday Jan. 13, 2022 building on each other. Both sessions begin at 7:30pm EET (Cairo), 6:30pm CEST (Berlin), 5:30pm BST (London), 12:30pm EST (New York).
In the 1st workshop session on Tuesday, Jan. 11
you get more clarity on your purpose, strengths and life goals,
you envision and lay-out YOUR year 2022,
you integrate personal growth, health and relationships into your calendar too,
you formulate your magnetic goal statements, and
you prioritize and realistically schedule your goals for 2022.
In the 2nd workshop session on Thursday, Jan. 13
you sketch out your monthly and weekly goals and milestones,
you plan your activities to make them happen with clarity and ease,
you reflect on potential distractors and how to deal with them,
you are aware of powerful motivators and how to nourish them,
you benefit daily from modern time management hacks, and
you prepare yourself to truly lead and live the life you love.
Getting ahead for the future, now.
At the end of both workshop sessions, you will be energized, have clarity and confidence to begin YOUR new year. You will have your plan as well as all the tools and approaches you need to make your dreams and ideas happen.
Ultimately, you are ready to be the author of YOUR life and take the lead in 2022.
You will benefit from
a bundle of pre-course exercises,
access to and participation in two live workshop sessions of 2 hours and their recordings,
reflection sheets and templates for the exercises during the two workshop sessions,
additional links and resources to inspire you beyond this workshop,
more focus, clarity, dedication, energy and enthusiasm than ever to live the life you love in 2022!
Register now and secure your seat.
Bring your friends, team members and colleagues along.
Seats are limited. Book yours now.
I'm looking forward to offering you both workshop sessions!
Envision it, plan it, create it!