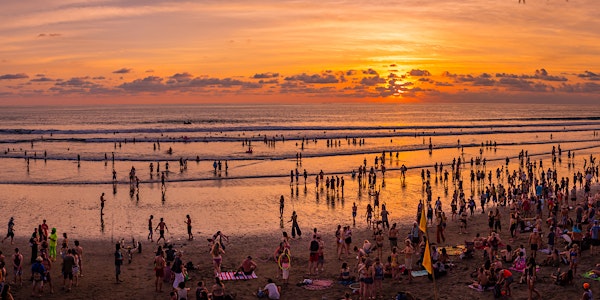 Envision Festival - All Tickets - 2018
When and where
Location
Rancho La Merced Uvita, Provincia de Puntarenas Costa Rica
Performers
Headliners
Opiuo
Autograf
Rising Appalachia
Pantyraid
Ott
Papadosio
Description
Envision Festival, Costa Rica's own and Central America's premier international festival, is a celebration dedicated to awakening our human potential. Envision provides a platform for different cultures to experience co-existing in conscious community, and inspire one another through art, spirituality, yoga, music, dance, performance, education, regernerative strategies, permaculture and our fundamental connection with nature.
The 8th annual Envision Festival takes place February 21st - 25th, where the rainforest spills onto the beach, Playa Hermosa de Uvita, Costa Rica. There is more to gain than just an adventure.
Additional Ticketing Pages can be found here: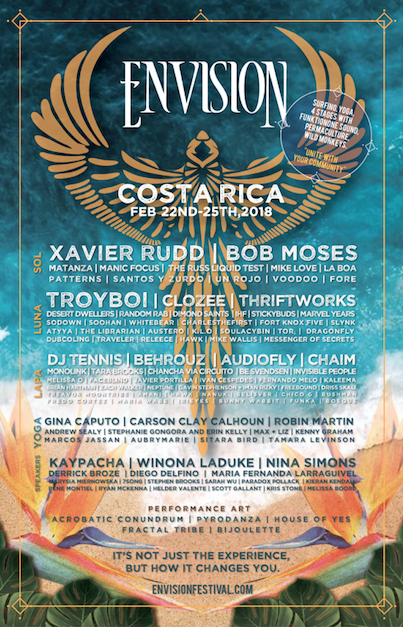 2018 ENVISION FESTIVAL FEATURED ARTISTS:
Sol Stage: Xavier Rudd, Bob Moses, Matanza, Manic Focus, The Russ Liquid Test, Mike Love, La Boa, Patterns, Santos Y Zurdo, Un Rojo, Voodoo, FORE, Vir and the Envision Orchestra
Luna Stage: Troyboi, CloZee, Thriftworks, Desert Dwellers, Random Rab, Dimond Saints, Imagined Herbal Flows, Stickybuds, Sodown, Soohan, Whitebear, CharlesTheFirst, Marvel Years, Slynk, ATYYA, The Librarian, Austero, K.L.O., Soulacybin, Tor, Dragonfly, Dubcoling, Traveler, Releece, Hawk, Mike Wallis, Irieyes
Lapa Stage: Dj Tennis, Behrouz, Audiofly, Chaim, Monolink, Tara Brooks, Chancha Via Circuito, Be Svendsen, Amani, Treavor Moontribe, Nanuk, Faceblind, Javier Portilla, Zach Walker, Melissa O, Brian Hartman, Freebound, Driss Skali, Ivan Cespedes, Bushman, Fredo Cortez, Bunny Wabbit, Funka, Fernando Melo, Maria Wabe, Bosque
NEW PAYMENT PLAN OPTIONS
Want to attend Envision this year but don't have the funds upfront? You can now opt to pay for your Envision experience in fixed monthly installments! Subject to approval, enjoy payments over 3 or 6 months at $0 down!
How to sign up for Affirm Payment Plans:
Select your ticket as you normally would and proceed to check-out

Under "Payment Method," select "Monthly Payments with Affirm" from the drop-down menu

Complete the Buyer and Address information on the page and click "Continue to Affirm"

Fill out the information for your Affirm application

If you are approved, select the plan you want, click Confirm Loan and you're done!

Your first monthly payment is due 30 days from the date that Eventbrite processes your order
Envision accepts no liability for non-payment using Affirm Plans.
For more info about Affirm, please visit this link: https://www.affirm.com/faqs/
3 and 2-day passes are now on sale for Envision 2018. 1 day passes are subject to availability and will be sold at the gate.
---
Residentes Centroaméricanos!
Ofrecemos precios especiales para los que tienen una cédula Costarricense o de otro país de América Central. Para comprar , clic aqui!
---
Airport Shuttles
Made it to Costa Rica? Now how do you get to Envision from the Airport? Don't worry about it, we got you. Travel straight to the Envision venue with other festival goers! We'll pick you up at the airport and drop you off at the ticketing office. We are happy to offer shuttle service this year starting Saturday, February 17th! Please note that pre-festival shuttles (Saturday-Tuesday) drop off attendees in Dominical and do not continue on to the venue.
*Important* Only our shuttles are allowed into Envision. Fake companies typically drop you off on the side of the narrow 2-lane highway to hike along the road with your bags to get in.
Airport Shuttles are for sale here!
Please Note: Departure times and locations are subject to change. Seats are limited and the most preferred options sell fast, so buy your bus ticket early. Got questions or need support with your purchase? Contact:
---
SOLO BUENO VIP EXPERIENCES + STYLISH, BAMBOO, BOUTIQUE CAMPING.
Ever wanted to live in a Bamboo Treehouse in the jungle? This your shot at an elevated tropical experience. We have treehouses, suites, bungalows and shady tent spots; lounges, comfy nooks and a hassle free experience planned out for you. There is also a VIP Hotel for those wanting to sleep offsite. Reserve your Experience Now!
---
CASA DE LUZ – YOGA CAMP
Become an active part of the Envision yoga tribe by co-creating this harmonious haven with like minded individuals. Come express your values of cleanliness and kindness while strengthening your practice!
---
IMPORTANT TICKET INFO:
Once you purchase, you will receive an order confirmation email from Eventbrite on behalf of Envision.

IMPORTANT: If you do not see your order confirmation in your inbox, make sure to check your junk/spam folder. If you still do not see your order confirmation, click here to access the Eventbrite help center.

If you are having any other technical ticketing-related issues with your order, click here to contact Eventbrite. For general festival info, click here.

Event is rain or shine.

Artists and schedule subject to change.

All sales final. No refunds or exchanges.

All multi-day passes include access to music, camping and access to all of our yoga & workshops.

Envision is a family friendly event. Children 12 & Under will be admitted for free if accompanied by an adult

Campgrounds open Wednesday at 2 PM for Early Arrival and Thursday at 10am for General Admission. Campgrounds will remain open until Monday at 12 PM. All guests must be packed out by noon on Monday. If you arrive before the gates open you will be turned away.

Prices are subject to increase at anytime without notice.

Ticket sales are limited by our venue capacity this year. In the event of a sell out, tickets will not be available for purchase at the gate and you will be turned away

Costa Rica implements a 13% Sales Tax that must be added onto the price we charge on every ticket. We realize that this is a substantial charge however it is beyond our control.
TICKETING FAQ:
Is tent camping included with festival passes?
Yes. 4-Day Weekend Festival Passes include tent camping. However, tents and camping packages are not included in the festival pass. If you would like Envision to supply you with this, they must be purchased separately.
What are the advantages of the Early Arrival Pass?
Early arrival allows Envision participants to settle into their new home in a more relaxed fashion before the scheduled events. Early arrival is a great opportunity to find that perfect shady campsite, meet your neighbors, and head to the beach for that first epic sunset. Early Arrival will also have exclusive access to a few yoga classes and workshops Thursday morning before the Box Office opens. There is no guarantee that all areas of the festival will be open on Wednesday.
---
FULL LINEUP
SOL Stage: Xavier Rudd, Bob Moses, Matanza, Manic Focus. Russ Liquid Test, Mike Love, La BOA, Patterns, Santos y Zurdo, Un Rojo, Voodoo, Fore


LUNA Stage: Troyboi, Clozee, Thriftworks, Desert Dwellers, Random Rab, Dimond Saints, IHF, Stickybuds, SoDown, Soohan, Whitebear, CharlesTheFirst, K.L.O, Slynk, AtYyA, The Librarian, Austero, Dragonfly, Soulacybin, Tor, Dubcoling, Traveler, Releece, Hawk, Mike Wallis, Irieyes


LAPA Stage: DJ Tennis, Behrouz, Audiofly, Chaim, Monolink, Tara Brooks, Chancha Via Circuito, Be Svendsen, Amani, Treavor Moontribe, Nanuk, Faceblind, Javier Portilla, Zach Walker, Melissa O, Brian Hartman, Freebound, Driss Skali, Ivan Cespedes, Bushman, Fredo Cortez, Bunny Wabbit, Funka, Fernando Melo, Maria Wabe, Bosque

Yoga: Donny Starkins, Aubry Marie, Sofiah Thom, Amber Zuckswert, Esteban Salazar, Anton Mackey, Dennice Sanhueza, Whaka, Gregorio Avanzini, Michael Stewart, Yaniv Shanti, Yali McGregor, Sarah Bonsall