ENVISION Empowerment Experience™

Saturday, January 20, 2018 from 1:00 PM to 6:00 PM (EST)
Event Details
That's right! We're back! 
Join us for ENVISION Empowerment Experience™!  This one-day experience, facilitated by Dr. Bahby Banks will take place on Saturday, January 20, 2018 in historic downtown Durham, NC.  This year's theme, "Passion", builds on previous year's content by offering women a structured plan to pursue their passion with clarity and vigor!  Our 2018 event is a follow-up to two highly successful, sold out events sponsored by businesses throughout the United States.  This rapidly-growing brand has brought attendees from as far as Miami, FL; Washington, DC; Columbia, SC; and Richmond, VA.
---
Want to learn more about ENVISION?   
Click the image below to watch an informational video!
(If you can't see the image, no worries! You can view my site!)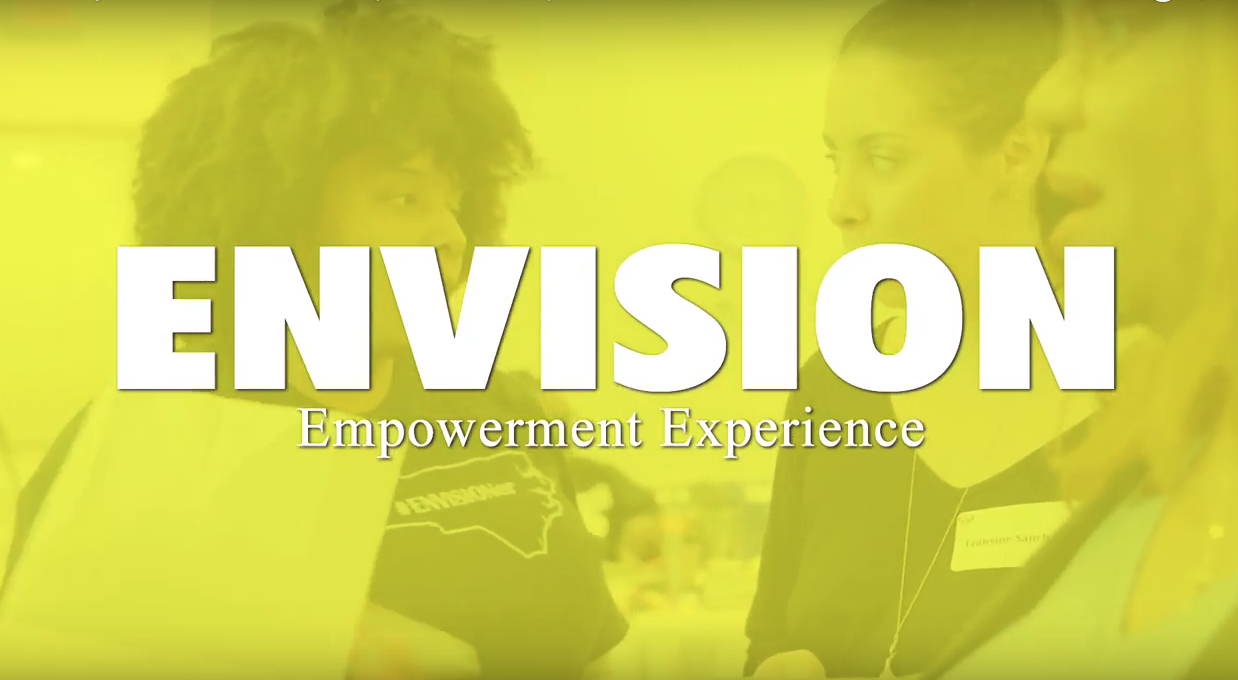 Whether you come alone or bring a group, we guarantee you will be embraced by this community and enjoy a day filled with lots of learning and laughter!  We're excited to have you join this collective movement to wellness and self-discovery!
---
ENVISION Frequently Asked Questions (FAQs)

1. How can I find out about sponsorship opportunities for ENVISION Empowerment Experience?
Please click  to learn about more sponsorship opportunities!  You can also view previous ENVISION sponsors here. 
2. Can I contribute to scholarship funds for ENVISION attendees?
Yes! Our goal is to make ENVISION accessible to women, youth and students from all walks of life.  Your financial contribution makes this a possibility! Please contact us for more information.
3. Is there a suggested age limit for attendees?
Due to content shared during the event, the recommended minimum age is 13.
4. Can men attend ENVISION?
At present, the annual event held in January is tailored to women.  As the ENVISION brand has grown rapidly, Dr. Banks has worked with various partners to modify content for mothers & daughters, millennials and college students.  Please learn more about these offerings here.
5. What do I need to bring?
Yourself :)

We encourage you to bring photos or other sentimental items to place on your vision board if you'd like to add them (this is completely optional).

Business cards (if attending our networking event)
 
6. What's included in the price?
Admission

Keynote speaker, Dr. Bahby Banks

Vision board materials (poster board, magazines, glitter, glue, scissors, construction paper, etc.)

Gourmet lunch, dessert, light refreshments and beverages

Gift bag
7. Is there a group discount?
We unfortunately cannot offer group discounts at this time.
8. What is the "ENVISION" experience like?
           Tip: follow the hashtags #RDUEnvision2016 or #RDUEnvision2017) 
9.  What's new this year?
Presentation: Dr. Bahby has a new "must-see", "must-hear" presentation that aligns with this year's theme ("Passion").  We can't say much, but her presentation includes a whirlwind adventure that has taken Dr. Banks through a journey of healing and reconciliation.  You don't want to miss this talk!  Two words.  Drumming.  Cuba.

10. Can I sign up to volunteer for ENVISION?
Yes!  We are looking for enthusiastic and energetic people to join our team! If you are interested in becoming a social media ambassador for ENVISION, please complete this interest form. We also have opportunities for volunteers to share their gifts on a variety of committees (e.g., hospitality, evaluation, AV, program).  Learn more about these opportunities and applyhere!  
11. What should I wear?
Come as you are!
We will have opportunities for you to stretch, dance and unwind a little. That said, please dress comfortably. 
Also, ALL "Bee" and  #ENVISIONer t-shirts are available for pre-sale through December 31, 2017.  Visit our online store ( or click the "SHOP" tab in the menu above ) and use the code "PASSION" for 15% off your purchase!!!
12. Can I take pictures?
Yes! We encourage you to share your personal experience with your friends and family! Simply type #RDUEnvision2018 when posting pictures or updating your social media status. This also allows you to connect with other guests.  

Videography is not allowed during this event. We would like to ensure that this is a safe space where women can freely share their experiences.

                                          *** Tickets are non-refundable and non-transferrable!**
When & Where
302 W. Main St.
Durham, NC 27701


Saturday, January 20, 2018 from 1:00 PM to 6:00 PM (EST)
Add to my calendar