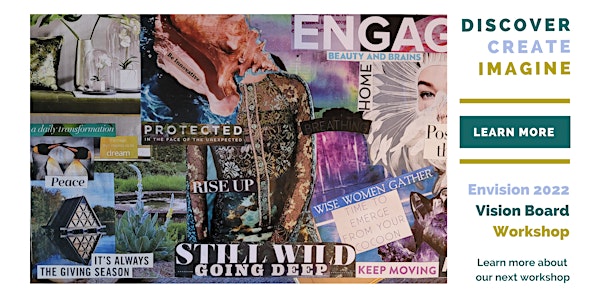 Envision 2022
Vision Boards are powerful & creative visualization tools. Join me to set your 2022 intentions in a hands-on, interactive, & fun workshop!
Refund Policy
Contact the organizer to request a refund.
Eventbrite's fee is nonrefundable.
About this event
Do you know what a Vision Board is? It's a way to manifest your dream life.
When you attend one of my Vision Board Workshops, you get clear on what you want to create in your life.
If you have never tried the process of creating a vision board, here is your chance to discover a creative visualization tool for setting intentions that is hands-on, interactive, powerful and FUN! It can be refreshing to get out of our thinking mind and into our creative body by using our hands and imaginations. By asking ourselves what we want things to look like and how we want to FEEL, we embrace and tap into our creative connection with the universe, god...whatever that means to each of us. Seeing your vision board every day aligns your brain with the outcomes you most want to attract. (Oprah, Ellen Degeneres, and Katy Perry all swear by Vision Boards!)
There's a process to make your Vision Board more powerful! So why doesn't everyone create Vision Boards?
Well, in my experience as a creative Organizer, Productivity Coach & Artist most of us never make the time. We let our busy, distracted lives keep us, well, busy and distracted. :)
It's time to change that.
In this workshop, I share my unique process to make your Vision Board more powerful as well as how you can create a practice to keep your vision board an active process in your daily life! I bring together my experience as an organizer, artist-designer, and productivity expert to help you gain clarity, tap into your creativity, and formulate your vision.
You will leave each workshop with a vision board of your own creation that will be become a powerful touchstone to bring you back to your intentions when you feel off course or unclear.
I would LOVE for you to join me for my upcoming Online Vision-Board Workshop!
Tuesday, December 28th, 5:30 PM - 8 PM, EST
This is an evening immersion for you to focus on your authentic life, core clarity, and ideal outcomes. If you know a friend who's also ready to jump into the life they envision, please send this along to them! Spots are limited so register now!
A limited number of free and $26 early registration tickets are available through December 14th at 12 AM (ET).
$48 tickets will offset free and lower price tickets. This option is availabel through December 28th at 1:30 PM (ET)
Please register, share with a friend and gather your vision board materials early!
20% of all ticket proceeds will be donated to Indigeneous Rising, an indigeneous environmental network project.
Can't make the December date? Email info@hkpowerstudio.com or visit Creatively Organized Spaces to get information about upcoming workshops or to gain access to future workshop recordings.