Description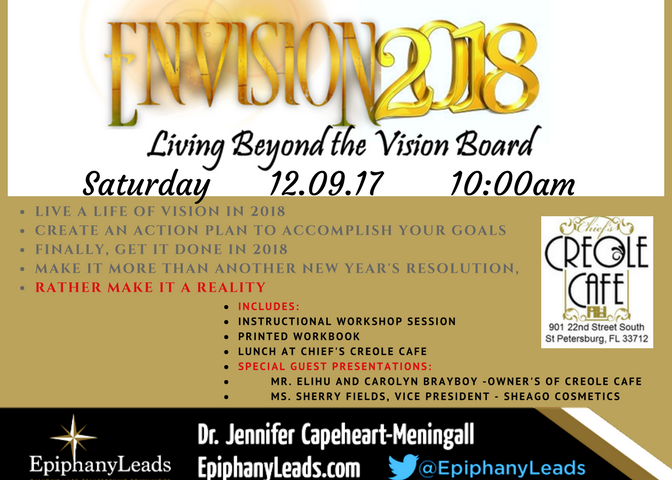 REGISTER TODAY - SPACE IS LIMITED
Spend time on December 9, 2017, with us at the "Envision 2018" workshop. As 2017 rapidly departs, we have the promise of 2018 to make the year you purposely pursue the Vision in your life.
Ask yourself, was 2017 the year you designed?

Were you able to accomplish anything you set out to start, or improve, or finish?

Did you achieve any of the goals attached to your unique vision?
If not, Envision 2018 will help prepare you for the change necessary to live out your life PURPOSELY. This 4-hour workshop will provide you with an opportunity to:

* Understand the Power of Vision for your life;
* Lay the groundwork for verbalizing and visualizing the unique vision for your life; and
* Commit to the work necessary to your vision, so that you can achieve the dreams, accomplish the goals, and actualize the truth of your life.

Be inspired by our Invited Guests:
1. Mr. Elihu and Mrs. Carolyn Brayboy - Owner's of Chief's Creole Cafe
2. Ms. Sherry Fields - Accomplished Entrepreneur (Featured in Essence Magazine, and Million Dollar Earner as a business owner)
There is more:
Enjoy the authentic food of Louisiana-style Creole cuisine, right here in St. Petersburg Florida.

If you already have a Vision Board - we will work together to make enhancements for 2018
If you do not have a Vision Board already, we will work together to create one for you to envision your vision.
* Vision Board Examples will be available
* Vision Board Supplies will also be available
Remember to bring photos, poems, special items to make or enhance your vision board.

Looking to see you there - Dr. Jennifer Meningall