EnvisAGE 2021: Virtual Reality Tourism for Seniors | Time of Your Life
Tour the world virtually at this experiential workshop.
About this event
About the Programme
COVID-19 has disrupted international travel plans, to say the least. Hailed as an alternative form of travel, countries such as Germany, Ireland, and the Maldives have turned to virtual reality (VR) to keep prospective visitors interested, rebuild consumer confidence, and prepare for the long road to recovery. Take a virtual trip around the world and get some inspiration for real-world travel at this immersive and interactive workshop.
A smart mobile device with QR code scanner will be required for this workshop.
The 'Reminiscence in Dementia Care' and 'Virtual Reality Tourism for Seniors' workshops will run concurrently, and participants will be able to attend only one of the two workshops. 
About the Speaker
Mr Jonathan Foo, CEO, VUE Networks
Mr Jonathan Foo is a veteran of the media and technology industries, with 27 years of experience in Filmmaking, Television Production, Channel Operations, Content Distribution and Digital Devices. Today, he continues to bridge both the media and educational industries, as CEO of Vue Networks and Associate Faculty and Principal Investigator at SUSS, where he leads the university's research in Virtual Reality (VR) solutions, and personally believes that VR is a great tool that can help people. Professionally, Jonathan is a founding member of the XR Education and Training Advisory Panel for the Academy of International Extended Reality (AIXR). He is also currently an IMDA SG Digital Scholar (Post Graduate) pursuing a Doctorate in Education at NIE, researching Virtual Reality Learning Environments. 
About the Symposium
EnvisAGE 2021: Envisioning Meaningful Ageing Together
Ever envisioned how ageing can be an enabling and empowering experience, when it is fully embraced by seniors towards a fulfilling, meaningful life? Step into the future with us as we invite professionals in gerontology and distinguished seniors to explore diverse aspects such as living arrangements, physical and mental well-being, reminiscence therapy, virtual reality tours, and entrepreneurship. Sign up for EnvisAGE 2021 today!
This event is organised by the National Library Board and the Singapore University of Social Sciences.
Online Programme/Event Administrative Information
This programme is conducted entirely online. You may access Zoom via the app or using a web browser
Please ensure that you enter a valid email address as you will receive an email with the link to the online programme/event near the day of the programme/event
The link of the programme should not be shared with others
Do ensure you have a strong internet connection. Using your mobile data is not recommended
The National Library Board, Singapore (NLB) reserves the right in its absolute discretion to disqualify or refuse admission to any registrant without any reason and notice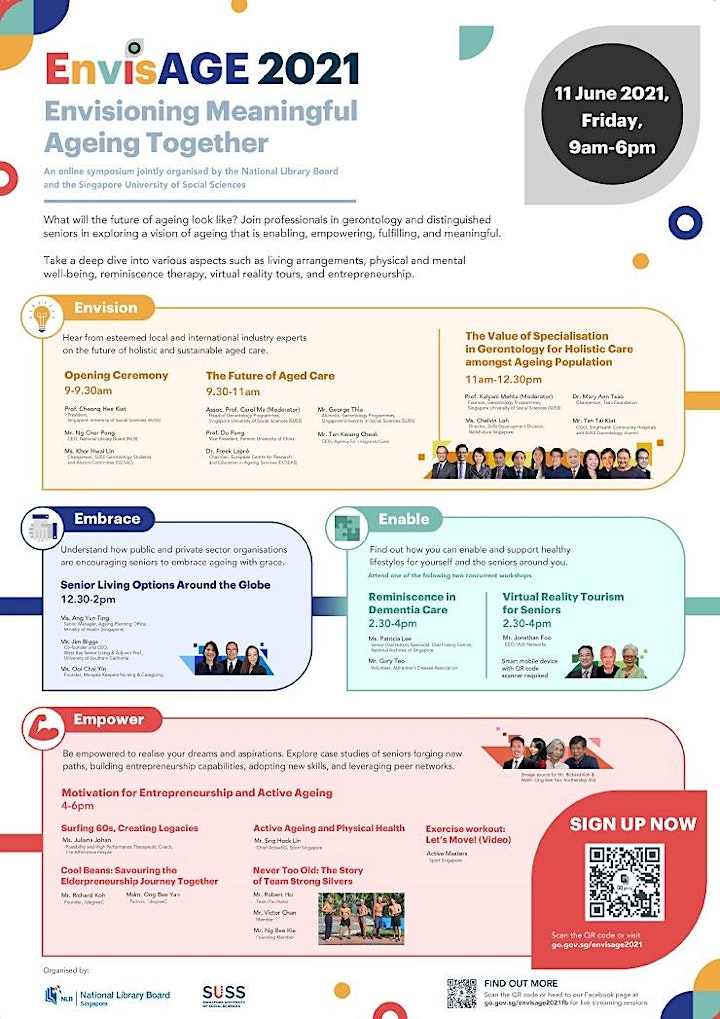 Organiser of EnvisAGE 2021: Virtual Reality Tourism for Seniors | Time of Your Life
The National Library Board (NLB) manages a network of 27 public libraries, the National Library and the National Archives of Singapore. NLB promotes reading, learning and information literacy by providing a trusted, accessible and globally-connected library and information service through the National Library and a comprehensive network of Public Libraries.