EnvisAGE 2021: The Future of Aged Care | Time of Your Life
About this event
#InCaseYouMissedIt
This programme will be streamed live on the Public Libraries Singapore Facebook page. Click here for more info.
-----
The world is experiencing a seismic demographic shift—brought about by increased life expectancy and declining birth rates. With the world's older adult population expected to double to 2 billion by 2050, are we prepared to address the needs and concerns of an ageing society? Have you envisioned any aged care services for yourself and your loved ones?
Join us in the opening ceremony and the first session of the symposium, to gain incredible insights, where our esteemed local and international speakers unpack the challenges faced by ageing societies, and how their respective nations are planning to tackle these issues with a sustainable and long-term perspective.
The opening remarks will be delivered by:
Prof. Cheong Hee Kiat, President, Singapore University of Social Sciences (SUSS)
Mr. Ng Cher Pong, CEO, National Library Board (NLB)
Ms. Khor Hwai Lin, Chairperson, SUSS Gerontology Students and Alumni Committee (SGSAC)
About the Panel Speakers
Moderated by: Assoc. Prof. Carol Ma, Head of Gerontology Programmes, Singapore University of Social Sciences (SUSS)
A/Prof. Ma heads the Masters and PhD Gerontology programmes at NSHD, Singapore University of Social Sciences. With a Bachelor's and PhD in Social Sciences with a focus in Social Gerontology from Lingnan University, Hong Kong, and a W.T. Chan Fellowship from the University of California, Los Angeles, A/Prof. Ma has extensive academic experience in the field of Gerontology. Her research interests include ageing, intergenerational communication and health, service-learning, and service leadership.
Prof. Du Peng, Vice President, Renmin University of China
Prof. Du Peng holds multiple appointments at the Renmin University of China—he is the Vice-President of the university and also the Director and a Professor at the Institute of Gerontology. He is also serving as Vice President of the China Gerontology and Geriatrics Society, and Vice President of China Population Association. His main research fields are ageing population and ageing policies.
Dr Freek Lapré, Chairman, European Centre for Research and Education in Ageing Services (ECREAS)
Dr Lapré is the Chairman of the European Centre for Research and Education in Ageing Services (ECREAS) in Brussels, Belgium, the knowledge centre of the European Ageing Network (EAN). He is also an Executive Professor at the TIAS Business School of the University of Tilburg in the Netherlands. His main research interest lies in service quality in nursing homes.Dr Lapré also works in the elderly care practice as a certified management consultant (CMC) mainly in the fields of housing, support services and health/social care for older people, in the Netherlands, the UK, the US, the Russian Federation and the PRC. He is also involved in executive training programmes for management in elderly care and services in Europe and China and was a visiting professor in the USA for a decade. He is the main author of a report about the future of long-term care in Europe that was written for the European Ageing Networkand also a member of the supervisory Board of care (rehabilitation) hotel "De Kim" in Noordwijk aan Zee in the Netherlands.
Mr George Thia, Alumnus, Gerontology Programmes, Singapore University of Social Sciences (SUSS)
Mr George Thia is a Chartered Accountant and Gerontologist, with 50 years of experience across multiple sectors and geographies. Mr Thia held leadership roles in both private and publicly listed blue-chip companies including Merrill Lynch, Sun Hung Kai Securities, Kay Hian (now UOB Kay Hian), and Morgan Grenfell. He was also the former Director and Chairman of the board of Mount Alvernia Hospital. Currently serving on the board of the National Cancer Centre Singapore, CH Offshore Limited & Yoma Strategic Holdings Limited, Mr Thia is also a member of the Investment Advisory Committee of a Private Equity Fund; Business Consultant on Mergers & Acquisition.
Mr Tan Kwang Cheak, CEO, Agency for Integrated Care
Mr Tan Kwang Cheak is the Chief Executive Officer for the Agency for Integrated Care (AIC). His work experience spans over two decades in the public, private, and non-profit sectors. He first spent more than a decade in the Singapore Administrative Service, serving the public sector in various appointments in the Ministry of Education, Ministry of Defence, Ministry of Manpower, and JTC Corporation. His last appointment in the public sector was Director, Manpower in the Singapore Ministry of Defence. He was subsequently the Senior Director for Operations, Brand Extensions, Business Planning and Human Resources in McDonald's Singapore, and the Assistant Executive Director in the Singapore National Employers Federation. He was also the Director for Human Resources and Talent Development in MOH Holdings Pte Ltd, the holding company for the public healthcare clusters in Singapore, before he became the Chief Human Resources Officer at NTUC FairPrice Cooperative Ltd in Singapore.
About the Symposium
EnvisAGE 2021: Envisioning Meaningful Ageing Together
Ever envisioned how ageing can be an enabling and empowering experience, when it is fully embraced by seniors towards a fulfilling, meaningful life? Step into the future with us as we invite professionals in gerontology and distinguished seniors to explore diverse aspects such as living arrangements, physical and mental well-being, reminiscence therapy, virtual reality tours, and entrepreneurship. Sign up for EnvisAGE 2021 today!
This event is organised by the National Library Board and the Singapore University of Social Sciences.
Online Programme/Event Administrative Information
This programme is conducted entirely online. You may access Zoom via the app or using a web browser
Please ensure that you enter a valid email address as you will receive an email with the link to the online programme/event near the day of the programme/event
The link of the programme should not be shared with others
Do ensure you have a strong internet connection. Using your mobile data is not recommended
The National Library Board, Singapore (NLB) reserves the right in its absolute discretion to disqualify or refuse admission to any registrant without any reason and notice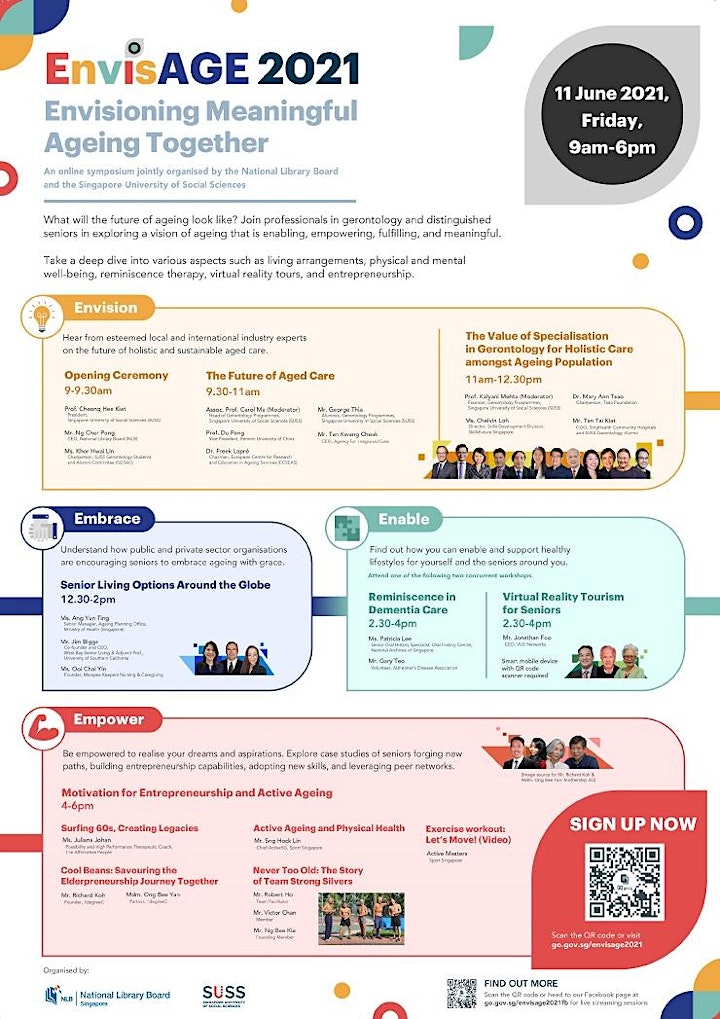 Organiser of EnvisAGE 2021: The Future of Aged Care | Time of Your Life
The National Library Board (NLB) manages a network of 27 public libraries, the National Library and the National Archives of Singapore. NLB promotes reading, learning and information literacy by providing a trusted, accessible and globally-connected library and information service through the National Library and a comprehensive network of Public Libraries.