EnvisAGE 2021: Senior Living Options Around the Globe | Time of Your Life
Take a closer look at the various senior living options in Singapore, China, Malaysia, and the United States.
About this event
About the Programme
Embrace ageing with grace as public and private sectors around the globe prepare conducive and independent living environments for their ageing populations. Hear from our experts as they share about global and regional trends in ageing and senior living concepts that have worked for their local communities. You will also get to explore these senior living options located in Singapore, Malaysia, China, and the United States virtually.
About the Speakers
Ms Ang Yun Ting, Senior Manager, Ageing Planning Office, Ministry of Health (Singapore)
Ms Ang Yun Ting is a policy officer at the Ministry of Health, Ageing Planning Office, with first-hand experience working on the development of the first assisted living pilot in public housing in Singapore. With almost a decade of experience in the public sector, she has worked closely with community partners and eldercare providers to improve service performances, led sector engagements to review national programmes, and conceptualised service delivery and care models to meet the needs of seniors.
Mr Jim Biggs, Co-founder and CEO West Bay Senior Living & Adjunct Prof, University of Southern California
With over 32 years of experience in the development and management of senior housing and continuing care retirement communities in the USA and China, Mr Jim Biggs is the Co-founder and CEO of West Bay Senior Living. He is also an adjunct lecturer at University of Southern California Davis School of Gerontology. 
Ms Ooi Chai Yin, Founder, Malaysia Keepers Nursing & Caregiving
Ms Ooi Chai Yin is the founder and administrator of all care services at Keepers Nursing & Caregiving Sdn. Bhd. since it was set up in 2017. The Dementia Care Centre opened in 2020 and caters for clients with dementia who require memory care and behavioural coaching. With a degree with honours in Nursing Practice and Development, Ms Ooi has a keen interest in medical and nursing emergencies and acute care interventions, and specialises in intensive care nursing. Her management experience ranges from opening new facilities to healthcare management to crisis intervention.
About the Symposium
EnvisAGE 2021: Envisioning Meaningful Ageing Together
Ever envisioned how ageing can be an enabling and empowering experience, when it is fully embraced by seniors towards a fulfilling, meaningful life? Step into the future with us as we invite professionals in gerontology and distinguished seniors to explore diverse aspects such as living arrangements, physical and mental well-being, reminiscence therapy, virtual reality tours, and entrepreneurship. Sign up for EnvisAGE 2021 today!
This event is organised by the National Library Board and the Singapore University of Social Sciences.
Online Programme/Event Administrative Information
This programme is conducted entirely online. You may access Zoom via the app or using a web browser
Please ensure that you enter a valid email address as you will receive an email with the link to the online programme/event near the day of the programme/event
The link of the programme should not be shared with others
Do ensure you have a strong internet connection. Using your mobile data is not recommended
The National Library Board, Singapore (NLB) reserves the right in its absolute discretion to disqualify or refuse admission to any registrant without any reason and notice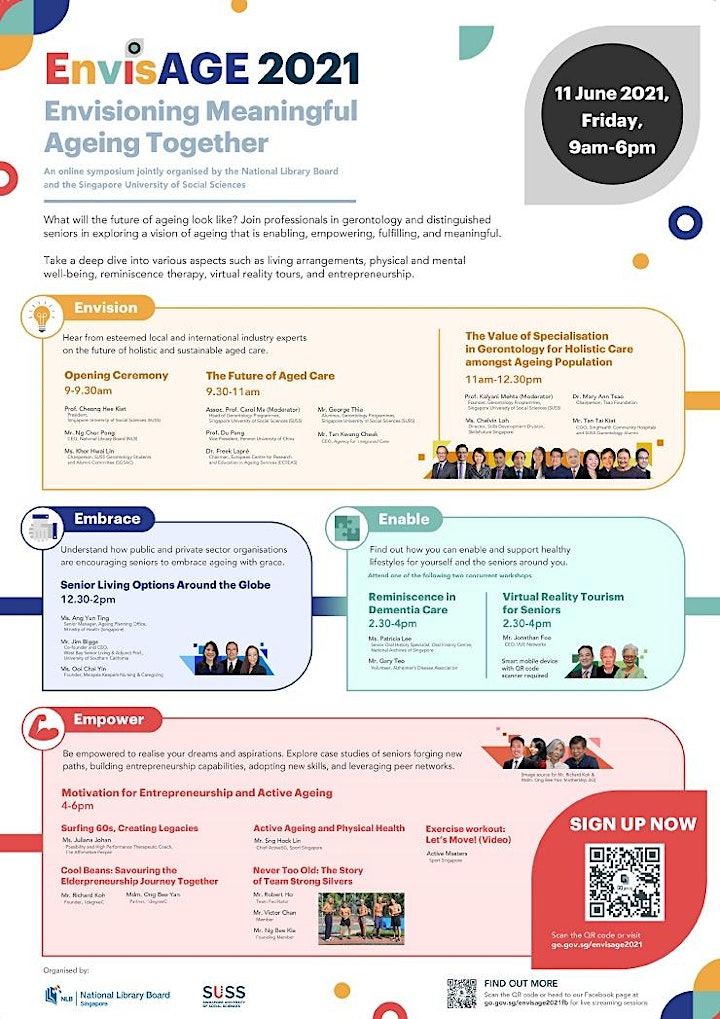 Organiser of EnvisAGE 2021: Senior Living Options Around the Globe | Time of Your Life
The National Library Board (NLB) manages a network of 27 public libraries, the National Library and the National Archives of Singapore. NLB promotes reading, learning and information literacy by providing a trusted, accessible and globally-connected library and information service through the National Library and a comprehensive network of Public Libraries.