EnvisAGE 2021: Reminiscence in Dementia Care | Time of Your Life
Learn how reminiscence can benefit persons living with dementia at this experiential workshop.
About this event
About the Programme
For people with dementia, their personal identity can seem to slip away as their cognitive abilities decline. But when they reminisce and share stories from their younger days, they are able to reflect upon important events in their lives. This act of recollection and reflection allows them to remember who they used to be in order to help them define their identity in the current moment. 
Through the use of reminiscence triggers such as photographs, documents, and oral history interviews, participants will understand the value of reminiscence in dementia care, and how it can help their loved ones develop positive feelings and cope better with the stress and frustrations that they encounter each day.
The 'Reminiscence in Dementia Care' and 'Virtual Reality Tourism for Seniors' workshops will run concurrently, and participants will be able to attend only one of the two workshops. 
About the Speakers
Ms Patricia Lee, Senior Oral History Specialist, Oral History Centre, National Archives of Singapore
Ms Patricia Lee is a Senior Oral History Specialist at the National Archives of Singapore. She has conducted oral history interviews with more than 250 people from all walks-of-life spanning more than 1,000 hours of interview time. These interviews include several oral history projects such as the Prisoners-of-war in the Far East; Political History of Singapore; History of the Public Service; and the Development of Medical Services in Singapore. Her current research focus involves the use of oral history in reminiscence work to engage the growing silver community in Singapore.
Mr Gary Teo, Volunteer, Alzheimer's Disease Association
Mr Gary Teo was involved in safety aspects of the construction industry before he retired in the 1990s. He started voluntary work with the elderly upon his retirement. He developed his compassion towards the elderly when his sister was diagnosed with dementia and he took on the responsibility of caring for her. Since then, he has been volunteering with the Alzheimer's Disease Association (ADA) on a weekly basis. He took part in the reminiscence programmes at the ADA in engaging the persons with dementia and saw the value of it in promoting their well-being.
About the Symposium
EnvisAGE 2021: Envisioning Meaningful Ageing Together
Ever envisioned how ageing can be an enabling and empowering experience, when it is fully embraced by seniors towards a fulfilling, meaningful life? Step into the future with us as we invite professionals in gerontology and distinguished seniors to explore diverse aspects such as living arrangements, physical and mental well-being, reminiscence therapy, virtual reality tours, and entrepreneurship. Sign up for EnvisAGE 2021 today!
This event is organised by the National Library Board and the Singapore University of Social Sciences.
Online Programme/Event Administrative Information
This programme is conducted entirely online. You may access Zoom via the app or using a web browser
Please ensure that you enter a valid email address as you will receive an email with the link to the online programme/event near the day of the programme/event
The link of the programme should not be shared with others
Do ensure you have a strong internet connection. Using your mobile data is not recommended
The National Library Board, Singapore (NLB) reserves the right in its absolute discretion to disqualify or refuse admission to any registrant without any reason and notice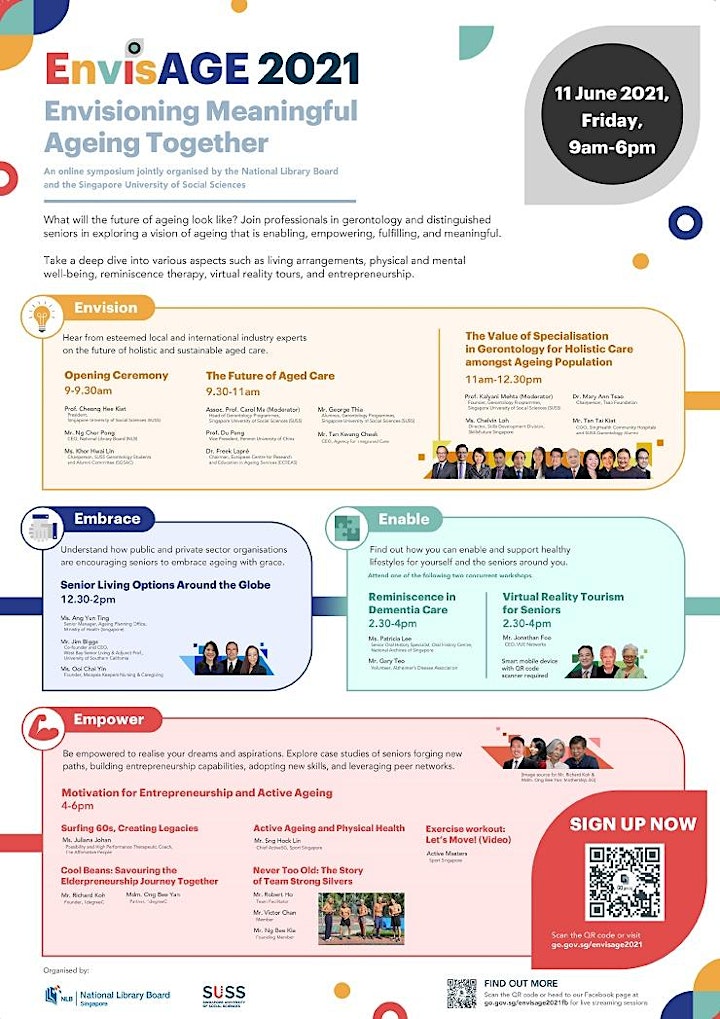 Organiser of EnvisAGE 2021: Reminiscence in Dementia Care | Time of Your Life
The National Library Board (NLB) manages a network of 27 public libraries, the National Library and the National Archives of Singapore. NLB promotes reading, learning and information literacy by providing a trusted, accessible and globally-connected library and information service through the National Library and a comprehensive network of Public Libraries.