EnvisAGE 2021: Motivation for Entrepreneurship and Active Ageing | TOYL
About this event
#InCaseYouMissedIt
This programme will be streamed live on the Public Libraries Singapore Facebook page. Click here for more info.
-----
About the Programme
There is no age limit on dreams—whether it is becoming your own boss or training for your very first marathon. Learn from these real-world examples—seniors who have forged new paths, built entrepreneurship capabilities, adopted new skills, and leveraged peer networks to achieve their hopes and dreams.
Look forward to the sharing by our inspiring speakers:
Surfing 60s, Creating Legacies by Ms Juliana Johan
Cool Beans: Savouring the Elderpreneurship Journey Together by Mr Richard Koh and Mdm Ong Bee Yan
Active Ageing and Physical Health by Mr Sng Hock Lin
Never Too Old: The Story of Team Strong Silvers by Mr Robert Ho, Mr Ng Bee Kia, Mr Victor Chan, Mr Qian Hong, Mr Ngai Hin Kwok and Mr Peng Lin Hua
Exercise Workout: Let's Move! (Video)
About the Speakers
Surfing 60s, Creating Legacies
Ms Juliana Johan, Possibility and High Performance Therapeutic Coach, The Affirmative People
Ms Juliana Johan is a gerontologist, Happy For No Reason Trainer, and a Rapid Transformational Coach for senior executives, entrepreneurs, and leaders. She utilises a complete range of validated tools and assessments for individuals and teams around the world to leverage emotional intelligence, neuroscience, and resiliency. She supports her clients as they unearth the source of their issues, reframe limiting beliefs, and strategically achieve their breakthroughs. She specialises in facilitating states of flow and purpose where you perform optimally and live everyday loving life with both achievement and satisfaction.
Cool Beans: Savouring the Elderpreneurship Journey Together
Mr Richard Koh and Mdm Ong Bee Yan, Founders, 1degreeC
A former regional business manager in the IT industry for 10 years, Mr Richard Koh responded to retrenchment head-on in 2016 by taking the opportunity to launch an online coffee business with his wife Mdm Ong Bee Yan. Besides co-owning the artisanal cold brew coffee start-up with her husband, former PR executive Mdm Ong is also an avid upcycler and part-time model.
Active Ageing and Physical Health
Mr Sng Hock Lin, Chief ActiveSG, Sport Singapore
As Chief ActiveSG, Mr Sng oversees the operations arm of the National Movement, driving community engagement and programming through the Sport Centres. Prior to that, as Dy Chief ActiveSG, he engineered the development of the Active Ageing Masterplan, and established a new Active Masters Division to bring Active Aging to the masses. During the Circuit Breaker last year, Chief SNG led Ops SAYANG, to provide alternative living areas for foreign workers in sports facilities. Mr Sng is currently a PhD candidate in Gerontology at the Singapore University of Social Sciences (SUSS) and was Chairman of SUSS Gerontology Alumni. He holds Master degrees in Gerontology from SUSS, in Training & Development from Griffith University, and in Transport System Management from National University of Singapore (NUS). 
Never Too Old: The Story of Team Strong Silvers
Comprising team facilitator Mr Robert Ho (aged 51), founding member Mr Ng Bee Kia (75), and members Mr Victor Chan (68), Mr Qian Hong (62), Mr Ngai Hin Kwok (71), and Mr Peng Lin Hua (81), Team Strong Silvers is a group set up to encourage seniors not just to age gracefully, but to inspire them to thrive with fitness even in old age. More than that, the team aims to break ageist stereotypes of older people, and hopefully motivate young people to take their health seriously and start pursuing fitness at an earlier age. 
Exercise Workout: Let's Move!
Active Masters, Sport Singapore
ActiveSG Masters Club believes ageing can be a positive force and age is just a number. The seniors at Masters Club have a wide variety of sporting activities to choose from and many of them are also active volunteers encouraging fellow seniors to get active.
About the Symposium
EnvisAGE 2021: Envisioning Meaningful Ageing Together
Ever envisioned how ageing can be an enabling and empowering experience, when it is fully embraced by seniors towards a fulfilling, meaningful life? Step into the future with us as we invite professionals in gerontology and distinguished seniors to explore diverse aspects such as living arrangements, physical and mental well-being, reminiscence therapy, virtual reality tours, and entrepreneurship. Sign up for EnvisAGE 2021 today!
This event is organised by the National Library Board and the Singapore University of Social Sciences.
Online Programme/Event Administrative Information
This programme is conducted entirely online. You may access Zoom via the app or using a web browser
Please ensure that you enter a valid email address as you will receive an email with the link to the online programme/event near the day of the programme/event
The link of the programme should not be shared with others
Do ensure you have a strong internet connection. Using your mobile data is not recommended
The National Library Board, Singapore (NLB) reserves the right in its absolute discretion to disqualify or refuse admission to any registrant without any reason and notice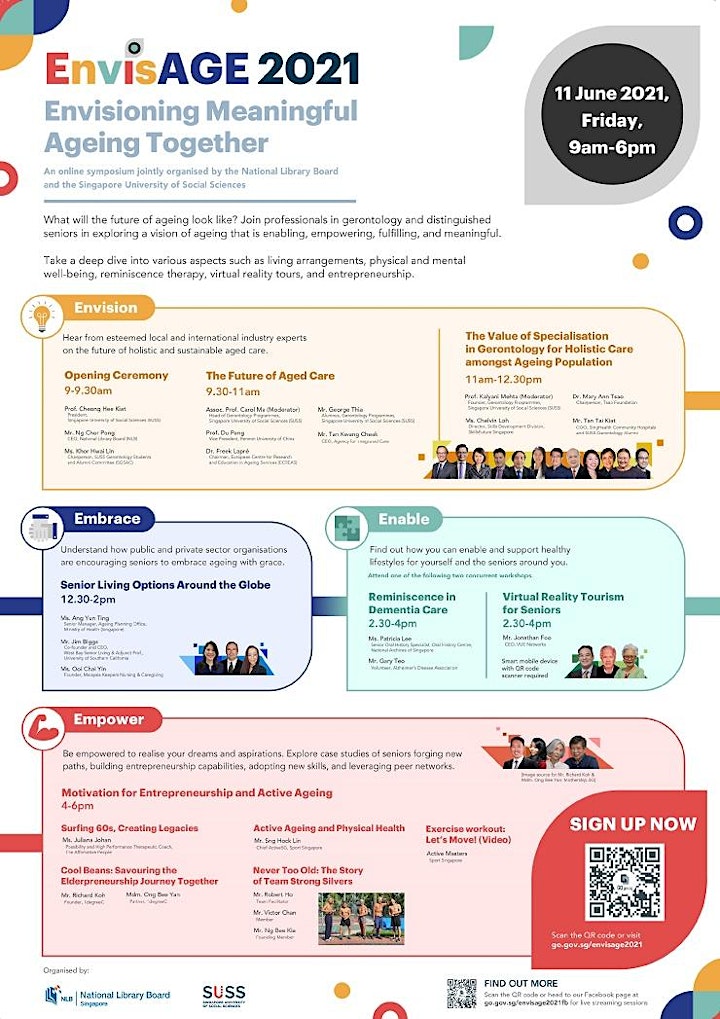 Organiser of EnvisAGE 2021: Motivation for Entrepreneurship and Active Ageing | TOYL
The National Library Board (NLB) manages a network of 27 public libraries, the National Library and the National Archives of Singapore. NLB promotes reading, learning and information literacy by providing a trusted, accessible and globally-connected library and information service through the National Library and a comprehensive network of Public Libraries.