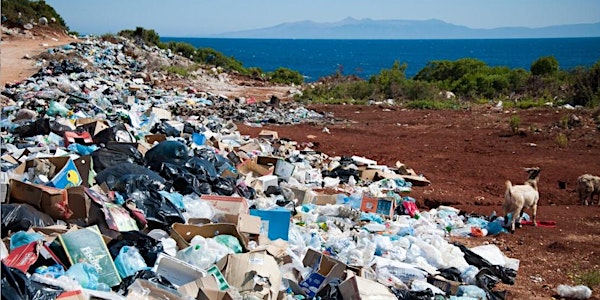 Environmental Workshop: Reducing Plastic/Leaving Plastics Behind!
Presentation and discussion on why you need to know the dangers and truth about plastic. It is not fantastic!
About this event
Workshop and Discussion - Reducing Plastic / Leaving Plastics Behind!
Crossroads and Connections: Building Relationships and Community is hosting this workshop 4 times. They will all be the same, so you only need to attend one. The workshop you attend will be relevant, impactful and compelling for participants and a step forward in educating and advocating for change and environmental health.
Registrants will have the opportunity to learn about the following:
The health, environmental and climate impacts of plastics and how it is a major crisis. The lies from the industry that produces plastics and the lie about recycling.
Practical day to day ways in which you can reduce and eliminate plastics from your home and world. For those who want to step up, a six-week plan and support will be provided to reduce plastics in your home and in your organizations.
An awareness of corporations that are major contributors to the plastics crisis and simple things you can do to advocate for the reduction/elimination of plastics.
Whether you are concerned about the environment, the planet or health, you are invited to join this timely and thoughtful discussion.
Please rally yourself, colleagues, office members, boards and others in your reach and sway to join us. It will be totally worth your time to gain the knowledge and ability to do something about plastics.
Who Should Attend?
This workshop is targeted for:
Anyone interested in learning about the crisis in plastics, more about climate change, a healthy environment and reduction of plastic pollution.
Learning about reducing plastic use in the home and at work.
An optional follow-up activity to engage in a 6-week personal structured 6-week plan to reduce plastic use.
Time: 6:30 PM to 8:00 PM
Date: Monday, October 17, 2022
Note that this event will also be held on 3 additional dates (Registration is separate for each of the dates. This registration page is for the date above.)
To register for a different date, please follow a link below.
About Your Moderator and Discussion Leaders
This session will be moderated by Dave Smith of Crossroads and Connections and facilitated by these highly passionate and knowledgeable individuals.
B. David Smith - Dave Smith is the founder and organizer for the Crossroads and Connections: Building Relationships and Community effort.
He worked for Good Schools Pennsylvania for 12 years where he built community engagement with 10,000 advocates and for the Clean Air Council where he built advocacy to 6.000. While with Good School PA he found great leadership in Donna Cooper, the Director and what he felt he is meant to do for the future.
His passion is to be a lifelong learner himself and to make community. mean something. While working with volunteers for three decades he is grateful for the opportunity to have public discourse and to have an impact. He still believes that we can make a difference and are called to do so. He values the Hurricane Outward Bound motto, "To serve, to Strive and not to Yield."
Married, lives in Lancaster, PA for the last 35 years. Avid college basketball fan along with camping and great wilderness experiences.
Raina Rippel started her career in 1999 as the first Executive Director of Physicians for Social Responsibility/Maine Chapter. Since then, she has served as Executive Director for multiple organizations, and is well-versed in environmental public health, as well as organizational start-up and development. After 9 years as the Founding Director of the Southwest Pennsylvania Environmental Health Project, where she worked on fracking and public health, she spent a year working on the frontlines of public health in PA as a Case Investigator during COVID. Most recently, she has been a Senior Fellow for the Halt the Harm Network, a nationwide network of grassroots leaders working to solve the myriad problems coming from the Oil & Gas Industry.
While at the Environmental Health Project, she received the 2016 Jean and Leslie Douglas Pearl Award, and the 2020 PennFuture Woman of Environmental Justice Award. In May 2022, Rippel started the latest chapter of her career, as the Executive Director of Communitopia, working on climate change with an emphasis on environmental justice communities. She lives south of Pittsburgh in Venetia PA and is the proud mom of a 10-year-old boy, an 11-year-old girl, an (almost) 17-year-old girl, and shares her family home with her life partner, a dedicated, compassionate horticulturalist who makes beautiful spaces every day.
Dianne Peterson is an Activist & Eco-Educator focused on plastics and their multi-faceted negative impact on our eco system and all it's inhabitants has been a longstanding concern of Dianne's and one of the driving factors in the founding of her businesses "Our Children Our Earth: Toys & Eco-Goods" and "Dianne's Dishware". Dianne has worked for nearly 2 decades to educate the public through: lectures, creation of events & programs and "one on one" consultations. She is devastated that the problems that come with the explosion of plastics in our world and yet is exhilarated with the hope and opportunity for change that this new public awareness & outcry offers.
After moving to Pittsburgh, PA, 7 years ago, she became involved with "Protect our Parks" (POP) and their fight against fracking under county parks. Since then she has continued to grow more involved with climate justice working with a variety of local groups including FCA Cares, (which she helped cofound) a group of concerned residents in the Fox Chapel Area working to keep fracking away from their schools & parks, 350 Pgh and Sustainable Pittsburgh's Plastics Collaborative group. She works regionally being a member of POPCO (People Over Petro Coalition), and Nationally with Break Free From Plastics (BFFP). Dianne is a steering committee member of PASUP (Pittsbughers Against Single Use Plastics) and the regional group A-Z Impacts of Plastics. Dianne trained as a climate reality leader with Al Gore in Nov of 2017. She has given testimony to the EPA & DEP and has also publicly spoken to township boards, Allegheny County Council, Pittsburgh City Council and the Allegheny County Health Dept.
Eileen Ryan is a climate and social justice activist who lives in Watertown, MA, where she helped pass the single-use-plastic shopping bag ban in her community in 2016. She is a trained public speaker on plastic pollution with Beyond Plastics, and recently started Beyond Plastics Greater Boston, a local group of Beyond Plastics that focuses on legislative change, corporate accountability, and individual education. She is the mother of three grown children.