Environmental Sustainability and Peace - Rotary Presidential Peacebuilding...
Description



The first of six presidential peacebuilding conferences around the world will examine sustainable global and local environmental practices, and their contributions to peacebuilding and peacemaking. Participants will discuss the impact of environmental issues on health, fresh air, clean water, vegetation and food production - and how improved environmental conditions are a fundamental condition of building peace within communities. The conference will bring together community leaders, youth, and representatives from the public, private and governement sectors.
Attendees will have ample opportunity to interact with experts in the field and to take part in an environmental project in and around Vancouver.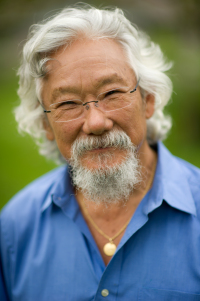 SPEAKERS
Dr David Suzuki - C

o-founder of the David Suzuki

Foundation
Maria Rodale - Chairman and CEO of the Rodale Institute and lifelong advocate of organic farming and gardening
Dr. Ira Helfand - Nuclear Expert, MD is co-President of the International Physicians for the Prevention of Nuclear War, recipient of the 1985 Nobel Peace Prize
Dr. Jonathan Patz - Director, Global Health Institute, University of Wisconsin
Chris Cochrane - Director of ReFed
Jess Housty - Councillor, Heiltsuk First Nation, Bella Bella


And other distinguished speakers…
ENTERTAINMENT
FRIDAY NIGHT'S WELCOME
The "

Spakwas Slulum" (Eagle Song Dancers - Squamish First Nations)

will be welcoming us at the Friday night social during the conference.
SATURDAY NIGHT'S WELCOME
The entertainment at the
Saturday
night banquet will feature the Langley Ukulele Ensemble. The group are currently celebrating their 35th Anniversary. The ensemble is internationally renowned and considered to be one of the top ukulele performing ensembles in the world. They were prominently featured in the 2008 award-winning document film, The Mighty Uke. The group is composed of 20 musicians, aged twelve to eighteen years, who perform 50-80 concerts a year. They have performed in Canada, Florida, Texas, California, Nevada, the Pacific Northwest, Japan and Hawaii. The ensemble was named Langley's Entertainer of the Year for 2005.
SCHEDULE


Friday February 9/18
5:30 p.m. – 7:30 p.m. Registration, House of Friendship
7:00 p.m. – 9:00 p.m. Reception
7:30 p.m. – 8:30 p.m. Welcome Speeches & Entertainment
Saturday February 10/18
8.15– 9.00 Opening Ceremonies: Anthems – Australia, US & Canada
Welcome Address RIP Ian Riseley, Fed, Prov, City Officials
9.00 – 10.00 Plenary Session One: The Challenge of the 21st Century – Setting the Bottom Line in the Anthropecene, Dr David Suzuki
Moderator Elizabeth May
10.00- 10.30 Coffee Break
10.30 –11.30 Breakout Session One:
a) Business of Sustainability Beth Keck – International Business / Corporate responsibility. Business leaders panel TBA.
b) Planting for Peace – Heiwa Rotary Hiroshima Survivor Trees
Dr. Ira Helfand, Nobel Peace Prize 1985, Co- Pres., Physicians for the Prevention of Nuclear War Jiro Kawatsuma, Hiroshima Survivor Hiroko Seki, Steve Yoshida, Lee Dombroski
Roots of Peace Heidi Kuhn, Gary Kuhn
c) Peacebuilding under Pressure, Will Plowright, Project Manager, Drs. Without Borders, Derran Moss, Humanitarian Affairs Officer, United Nations,
d) Biodiversity Sustains Us All. Glenn Raynor, – Jane Goodall Centre Democratic Republic of the Congo, Dr. Jamie Betchel Founding CEO of New Course, President of Kito, Jess Housty , Councillor Heiltsuk First Nations, Bella Bella, BC
e) Adaptive Solutions for Sustainable Systems Chris Cochrane, Re Fed, Re Think Food Waste, Prevention, Recovery & Recycling Deborah Harford , ACT Water, Food Energy Biodiversity, SFU, Linda Low, Peace Scholar Duke University
11.30-12.00 Plenary Session Two: Sustaining Health via a Low Carbon Economy – Dr. Jonathan Patz, Global Health Institute, University of Wisconsin
12.00-12.45 Lunch Buffet
12.45 –1.50 Peace Centres TRF Chair Paul Netzel
Plenary Session Three: Nurture the Soil to Feed the World Chris Cochrane, Re Fed. Maria Rodale, Rodale Institute. Dr. Navin Ramankutty , Institute of Resources, Environment and Sustainability, UBC
2.00 – 3.00 Breakout Session Two:
a) Protecting the Waters that Sustain Us Jess Housty, Heiltsuk First Nations, Dr. Simon Donner , Department of Geography, UBC; Salvador Rico – Rivers of the World.
b) Inspired Tree Planting – Interactive Session Youth Focus
c) No Sustainability, No Peace Prabha Sankaranayan – Mediators Beyond Borders International, Dr. Gregg Walker, Water Resources Programs, Oregon State University, Steve Goldsmith,MBBI.
d) Positive Peace, The Environment and Social Business – Rebecca Crall – Rotary International, Michelle Bresiauer – Institute of Economics and Peace
e) Peace Scholars in Practice, Will Plowright, Linda Low, Glenn Raynor, Wisdom Addo, Abiola Adimula
3.00 – 3.30 Coffee Break
3.30 – 4.30 Plenary Session Four: The Tree Solution
Douglas Justice, Botanical Gardens, UBC, Dr. Jamie Betchel, Kito, New Course; Kathleen Rogers, Earth Day Network;
4.30 – 5.00 Rotary Leadership Panel: Bringing Sustainability Home
TRF Chair Paul Netzel, RIVP Dean Rohrs RID John Matthews, Peace Scholar, Linda Low, Interact Rep,
5.00 – 5..15 Closing Session, RI President Ian Riseley
Saturday Night Banquet (Additional $110)
Banquet Speakers Ian Riseley, President Rotary International, Derran Moss – United Nations Office of Humanitarian Affairs. Peace Fellow University of Queensland.
Sunday, February 11/18
9:00 a.m. – 12:00 noon Hands On Environmental Projects
For more information visit:
Facebook page:RotaryPeacebuildingBC@groups.facebook.com