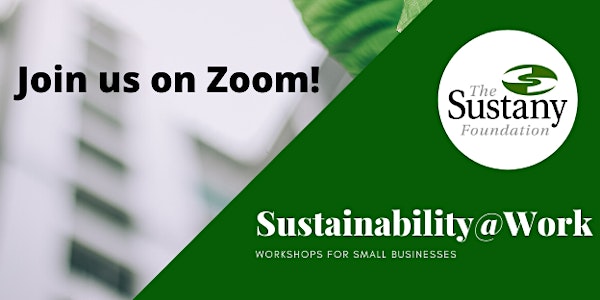 Environmental Pillar II: Reducing Waste - Reduce, Reuse, Recycle RIGHT
Sustainability@Work is a series of practical workshops for start-ups and small businesses wanting to explore sustainable/green practices.
About this event
NOW ON-LINE: We are happy to offer this session via zoom. You will receive the link once you register.
____________________________________________________________________________________________
Reducing Waste - Reduce, Reuse and Recycle RIGHT!
"There is no such thing as 'away'. When we throw anything away it must go somewhere."
Waste reduction is the result of practicing both source reduction and recycling. Source reduction, the most effective means of waste management, is defined as reducing the amount of waste that is generated. Source reduction efforts in combination with recycling programs equal waste reduction. Since food waste contributes to a large portion of carbon emissions, we will take an in-depth look at some innovative strategies in the food industry and help you understand the differences between some common terms such as compostable vs. biodegradable. We will also take a look at the circular economy concept and discuss ways start-ups and small businesses can leverage community partnerships. In this session we will cover both source reduction and recycling and how to implement these strategies while keeping your costs down.
Guest Speakers
Kali Rabaut, Founder, Suncoast Compost
Heidi Hoffeditz, Business Relations Administrator, Auburn Supply GroupMonica Petrella, Food System Program Coordinator, UF/IFAS Hillsborough County Extension
Travis S. Barnes, MPA, LEED AP, Recycling Coordinator, Public Utilities Department, Hillsborough County
Topics Covered
How to Conduct a Waste Audit
Circular Economy
Eco-friendly Products
Understanding Recycling
Minimizing Food Waste and Composting
Purchasing Co-ops
Conducting Zero-Waste Events
Content
The First Step: How to conduct or schedule a waste audit
Understanding the difference between biodegradable and compostable and unintentional "greenwashing"
Understanding proper recycling – a look at our local policies and guidelines
How to shift to eco-friendly products without breaking the bank
Product lifecycle and packaging – a look at circularity and packaging alternatives
Focus on Re-Use! A look at platforms and local resources for sourcing free or low-cost office furniture, equipment, supplies and many other items
This workshop is part two of our focus on the environmental pillar of sustainability. Other topics such as the social pillar, governance, ESG, marketing and social entrepreneurship will be covered in the remaining workshops. You may attend one, a few, or all of the workshops and can view the full schedule below: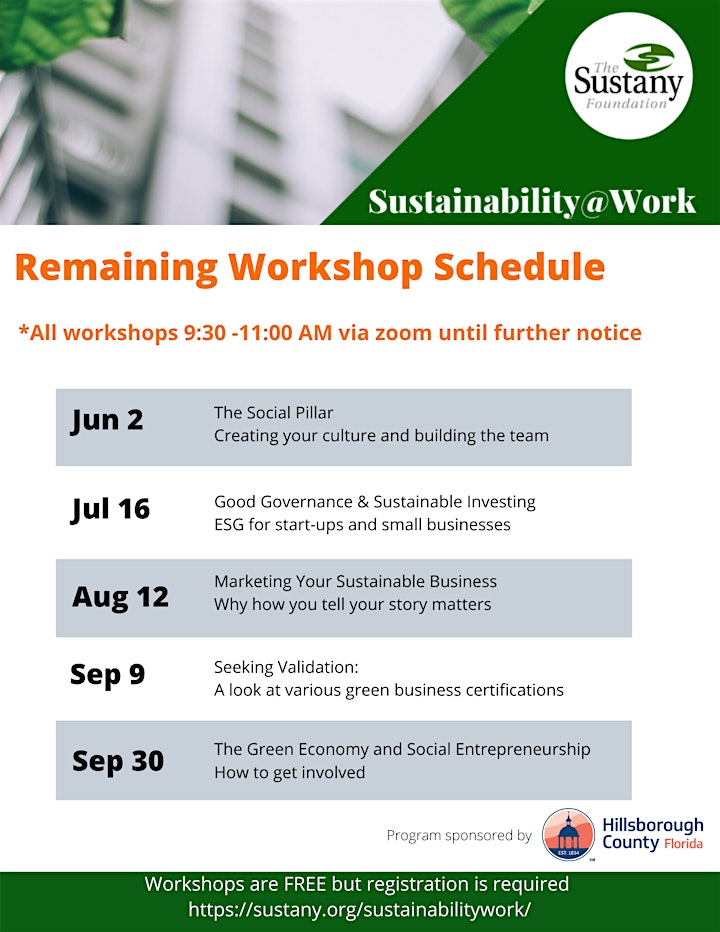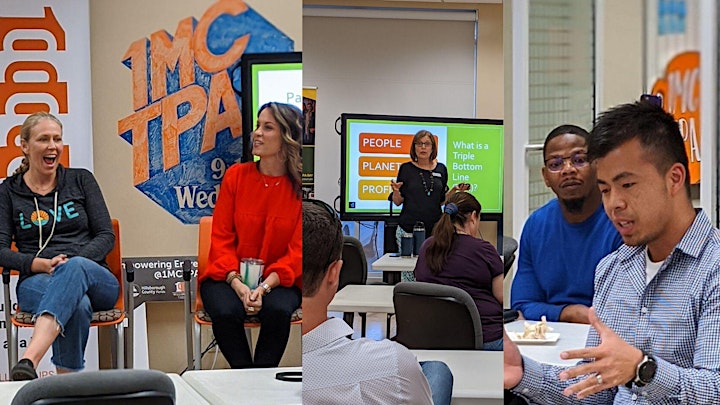 About the Program
Sustainability @Work is a series of workshops designed for start-ups and small businesses interested in learning more about how to become more sustainable and why it is not only important, but profitable. Each workshop will cover an important aspect of becoming a sustainable business.
The workshops are designed as stand-alone sessions and attendees may choose to attend one or all of them depending on their particular challenge or interest. The program is also designed to work as a cohesive series so a participant attending all sessions will be well prepared to create a comprehensive sustainability plan or work towards one of many certifications in the industry upon completion.
Attendees who are interested in pursuing a certification or getting a more formal assessment are eligible to apply for a free one-on-one consultation.
THIS PROGRAM IS MADE POSSIBLE WITH THE GENEROUS SUPPORT OF HILLSBOROUGH COUNTY GOVERNMENT