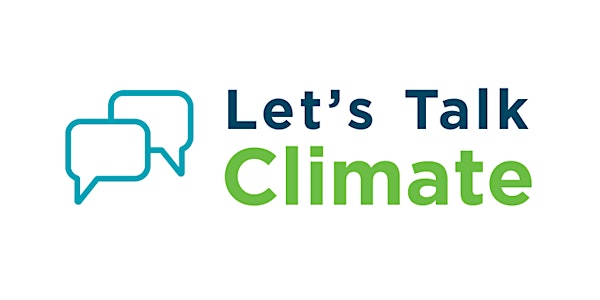 Environmental Justice: Youth In Action
Join us for the third episode in our environmental justice series featuring youth leaders working for environmental justice.
About this event
Low-Income urban neighborhoods in the United States are more likely to have poor air, water, and soil quality, fewer trees and green spaces, and little to no access to fresh and nutritious food markets. Youth working with Faith in Place and Young Evangelicals for Climate Action are actively living out their faith by working for environmental justice. Tune in for the third episode in our Environmental Justice series, and if you missed the other two watch them on ecoAmerica's YouTube channel here.
This Blessed Tomorrow episode of Let's Talk Climate will take place on August 25 from 2:00 - 3:00 pm ET / 11:00 am - 12:00 pm PT. Closed captioning will be provided.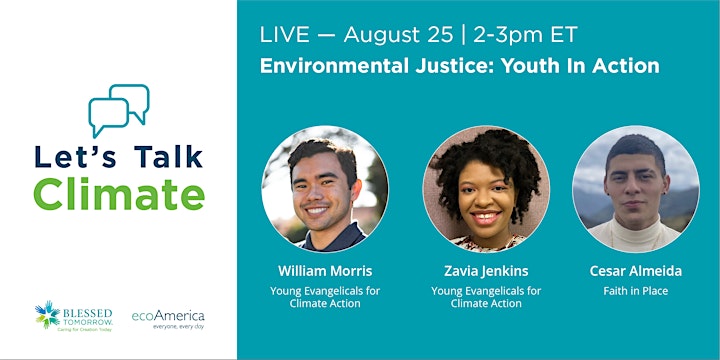 Speaker Bios:
William Morris (he/him) is a 26-Year-old climate activist located in Torrance, CA. He holds his degree in environmental science with an emphasis on ecological restoration and a minor in watershed management from Humboldt State University. William is a Faith Organizer with GreenFaith working on the People vs. Fossil Fuels campaign. He also works with Young Evangelicals for Climate Action (YECA) serving first as a field organizer and is now Co-chair of the steering committee. He volunteers with The Climate Reality Project, is the founder and chair of the Los Angeles chapter's Faith-based Communities Committee, founder and chair of the creation care committee at Faith United Methodist Church, is part of the leadership team with Faiths4Future, and a member of the board at Circle Faith Future. William also has worked with faith organizations abroad spending time in Kenya, Chad, and Indonesia. He spends his time engaging with faith communities, schools, universities, and organizations around the topics of faith-based climate justice and education. His work has been featured in Rolling Stone Magazine, ABC News, and the BBC.
Cesar Almeida is the Program Coordinator with Faith in Place. Cesar designs artistic and educational programs for youth and young adults to conserve and uphold ancestral forms, which include environments, cultures, and languages. This work challenges Western Colonial approaches to education by centering the learner's identity, embodying youth led approaches, and validating new media as literacy. Cesar aspires to continue developing programs and media that connect people to environment, culture, and community.
Zavia Jenkins (she/her) was born in Chesapeake, Virginia, and grew up along a salt marsh in Nassau County, Florida, in the Gullah/Geechee Nation. She often watched her community pray and honor the ancestors lost in the Middle Passage and witnessed her people's deep connection to the ocean, the land, their faith, and each other. Living on land inherited from her great-grandparents, with wildlife all around, largely influenced her decision to study marine science at Stetson University. While at Stetson, she interned with the St. Marys Riverkeeper and conducted her senior research in the Volusia Blue Spring. She also studied audio engineering and production. In 2020, she graduated from Stetson University with a bachelor's degree in Aquatic and Marine Biology and a minor in digital arts. Following graduation, she worked as an archivist for the Gullah/Geechee Nation and now enjoys her roles as a fellow for three environmental organizations: YECA, Thriving Earth, and Ocean Conservancy. Through these fellowships, Zavia collaborates with different communities to address climate change. Zavia continues drawing on her cultural foundation as she works to combine her interests in science and music to study acoustic ecology and highlight the important connection between cultural and natural soundscapes.
This episode will be moderated by Rev. Carol Devine, Director of Blessed Tomorrow at ecoAmerica.
Follow @BlessedTomorrow on Twitter, Facebook, and LinkedIn.
ecoAmerica's Let's Talk Climate provides guidance and support to climate activists as they seek to expand public support and political resolve for equitable and effective climate solutions. Let's Talk Climate features: nature/science, health, communities, faith, politics, people, and leadership in rotating weekly sessions with empowering information and fresh ideas. Join us at this critical time and invite your friends and colleagues to take part as together we build momentum toward our goal of getting every American to make climate solutions a priority in their lives.
Register for upcoming episodes here.
Watch previous Let's Talk Climate episodes on-demand here.
Follow @ecoAmerica on Youtube, Twitter, Facebook, LinkedIn and Instagram.